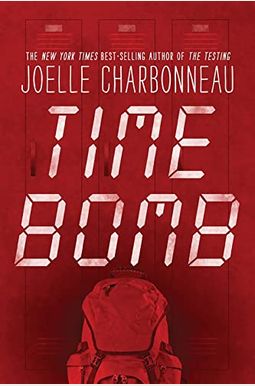  
Book Overview
This Description may be from another edition of this product.
Seven students trapped in their school after a bomb goes off must fight to survive while also discovering who among them is the bomber in this provocative new thriller from the author of the New York Times bestselling Testing Trilogy. Perfect for fans of This Is Where It Ends.
A congressman's daughter who has to be perfect. A star quarterback with a secret. A guy who's tired of being ignored. A clarinet player who's done trying to fit in. An orphaned rebel who wants to teach someone a lesson. A guy who wants people to see him, not his religion.

They couldn't be more different, but before the morning's over, they'll all be trapped in a school that's been rocked by a bombing. When they hear that someone inside is the bomber, they'll also be looking to one another for answers.

Told from multiple perspectives, Time Bomb will keep readers guessing about who the bomber could be--and what motivated such drastic action.
Frequently Asked Questions About Time Bomb
Book Reviews
(7)
Did you read Time Bomb? Please provide your feedback and rating to help other readers.
A school bombing told in a way that isn't traumatic for young readers.

Derived From Web

, Aug 1, 2021

This isn 't one I usually pick up for myself, but my students voted for our Book LIT - Club February 2009 and I'm so glad they did. This novel was fast paced, talked about something that every parent, teacher and student is terrified of in a way that isn 't traumatizing and addressed stereotypes in a realistic way. It is told from six perspectives so that we really get an inside look into each character. The ending came definitely not guessing the. I can 't wait for our book club to read this one. From it, some great conversions will come.
Boring, added nothing to a conversation already being had

Derived From Web

, Nov 2, 2020

I liked more than anything that I wish this book. But it was boring in the long run. The plot was slow because all the characters moved from one place to another. The book was done to throw the scent of who was the actual bomber. Each character was created to have secrets, but those weren't quite as interesting. I would never read again any of these characters. There was too much entangled into such a small book, but not enough. Further, I think it was VERY confusing for the author to imply that the Muslim kid was the one who was the bomber by another character, and then spoke as if she, a white woman, could be accused of being a terrorist through those eyes of that character. I disagree '' with 1000000%. It was disappointed. I wish I could get my time back from this book.
My 12 yr. old son and I loved the book, though some material was more grown-up

Derived From Web

, Jul 29, 2019

They both picked it up for summer reading, coincidentally. I think they picked it for the action, but then involved more intense storyline love, hookups, thoughts of self-harm, bombings, racism and some talk of violence. Here are also adult themes to discuss with your young adults when reading this book. In all, it is good.
3.5 Stars! Easy thrilling read!

Derived From Web

, Jun 25, 2018

This book was a quick read, suspenseful book! Every chapter has made me want to know more and more. This story follows 6 POVs, all sticking in the school when bombs go off. The school is not in session, but each student must go there for their own reasons. In the beginning, I believed everyone, but then you are able to narrow it down to who has done it. I liked the different stories my character had, each dealing with their own personal issues. In the end, I would have liked more info. I won 't say anything else.
Memories

Derived From Web

, Jun 22, 2018

Your story brought back memories of what it was like to be bullied in school for whatever reason. I hated the school. I have never considered killing one of them once. It was a different world then, with a lot less violence. Your portrayal of the differences that children make with each other was right on the mark. I believe that it does lead to the school shootings of today. If anyone could stop children from judging others as less than them, it would be parents. I also know that teachers do from experience.
Interesting Array of Characters and Relevant Subject Matter!

Derived From Web

, Mar 22, 2018

Thanks to NetGalley and Joelle Charbonneau for the opportunity to read and review Time Bomb with Houghton Mifflin Harcourt. Six discontented, unhappy students are each planning something that will change their lives and help them to be free of their problems. Each of the teenagers is dealing with different types of problems, secrets, religion, being an orphan, bullying and pressure from friends and family, but they end up together in the school after a bomb explodes. They help each other, but they are separated by the air of distrust. Finally, they discover who is responsible for the bomb attacks and fight for their lives. Intense with an interesting array of characters and relevant theme matter-5 stars!
you might be able to help someone if you know what is going on inside and not just outside.

Derived From Web

, Mar 16, 2018

Written very well, this is very important. Not what most people would think of jumping to conclusions from the name Time Bomb, it's just that people jump to conclusions about other people without really knowing them. It is more about what words and actions can do to the self-esteem of someone. I recommend that young adults read this book and also parents and teachers.