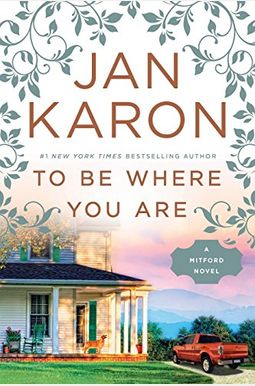 
 
To Be Where You Are (A Mitford Novel)
Book Overview
A NEW YORK TIMES BESTSELER
#1
New York Times
-bestselling author Jan Karon returns with the fourteenth novel in the beloved Mitford series, featuring three generations of Kavanaghs.
Wounds heal, bonds grow stronger, and celebrations continue.Welcome back to beloved Mitford.
After twelve years of wrestling with the conflicts of retirement, Father Tim Kavanagh realizes he doesn't need a steady job to prove himself. Then he's given one. As for what it proves, heaven only knows. Millions of Karon fans will be thrilled that it's life as usual in the wildly popular Mitford series: A beloved town character lands a front-page obituary, but who was it, exactly, who died? And what about the former mayor, born the year Lindbergh landed in Paris, who's still running for office? All this, of course, is but a feather on the wind compared to Muse editor J.C. Hogan's desperate attempts to find a cure for his marital woes. Will it be high-def TV or his pork-chop marinade? In fiction, as in real life, there are no guarantees. Twenty minutes from Mitford at Meadowgate Farm, newlyweds Dooley and Lace Kavanagh face a crisis that devastates their bank account and impacts their family vet practice. But there is still a lot to celebrate, as their adopted son, Jack, looks forward to the most important day of his life--with great cooking, country music,
Read More chevron_right
Frequently bought together
Frequently Asked Questions About To Be Where You Are (A Mitford Novel)
Books like To Be Where You Are (A Mitford Novel)
What should you read after To Be Where You Are (A Mitford Novel) Book? Here is a list of books to read if you read and loved To Be Where You Are (A Mitford Novel)
#1

#12

#1

#1

#4
Book Reviews
(16)
Did you read To Be Where You Are (A Mitford Novel)? Please provide your feedback and rating to help other readers.
Beautiful

Derived From Web

, Sep 22, 2020

Why did I choose this book?
Extremely disappointed!

Derived From Web

, Apr 5, 2020

I have read all the books in the Mitford series over the years and have always enjoyed each addition until now. Though I plugged my way through this book, it was a waste of money and my time. I continued to read because I kept thinking that it would surely pull together, but it never happened. As others have stated, there were too many characters and it was very difficult to follow with no true storyline. I also had the thoughts about whether Ms. Karon actually wrote this one. If it is found that she did not, I would like a refund!
What's not to love???

Derived From Web

, Jan 7, 2020

Author of great. The whole series loved. I read this series twice, the Christmas book half a dozen times. They just get better after you get to know the characters and the city of Mitfordl, after reading them.
These characters are so real, I miss them when I finish one of her books.

Derived From Web

, Nov 10, 2019

I love to immerse in a book by Jan Karon. This one ties many stories together, and seems to be a goodbye, but not necessarily since none of the main characters dies. I love the way Father Tim responds to questions posed to him with such compassion and wisdom. A local picture of a wonderful pastor and friend, husband and father.
A Huge Disappointment: totally different writing style.

Derived From Web

, Apr 23, 2019

I am so disappointed with this book ''. As someone else asked : Did someone else write this book? It is very confusing and hard to follow. It says "he" constantly, but jumps from character to character so that you never know what perspective it is from. I'm so disappointed! I read her previous books and found them very nice and soothing, albeit a lot of characters. This book is saturated with characters and overflowing with a choppy storyline that is extremely difficult to follow. I can not picture the characters or their homes. The dialogue is extremely difficult to follow. And what is up with the half-quote marks? I really think that someone else wrote this book. I loved the title, but '' inside the cover... not so much.
As much as I was excited to get to go ...

Derived From Web

, Jan 21, 2018

As much as I was excited to go back to Mitford, I feel that the series should have ended with the previous novel. Parts of this book don 't simply fit into the entire series. For one who reads a series, the details in this series were not quite accurate.
Always a good time in Mitford!

Derived From Web

, Jan 6, 2018

I read all the books by Tim Mitford and the father, Jean Lucey. Jan Karon brings me back to my youth when times were simpler, people were friendlier and everyone in the neighborhood knew everyone else. Ah, simple times in a good era. Go back to Mitford or go there first and enjoy!
Felt it was written in starts and stops

Derived From Web

, Dec 20, 2017

Jan Karon has been a tear-producing inspiration on my path with God. I am deeply grateful for her talent, her heart and her soul. The Mitford series is a classic that enriches the lives of those who read it. However, to be where you are a disappointment is. The story for me never had traction, as the previous books did, and for me it felt all over the place. It felt as if Ms. Kareon wrote it in starts and stops and there was not the grace and flow of the previous books, nor did it has the depth of previous character development. The one line that Dooley says to Lacey Love Deep is something I say to my children now and thinks that inspired sentence is the crown jewel of the book. This installment is not up to the excellence of her previous offerings, having just re-read one of the earlier books.
I Was Disappointed

Derived From Web

, Nov 19, 2017

I have read all the Midford books from the beginning of the series and have grown to love reading about characters and following their lives. I read about Dooley's wedding in the last book and found that somewhat disappointing, but this was actually kind of irritating as well as boring. I hear these books on CD and wanted to go back and hear the letter from Father Tim's brother as I did not know who wrote the letter til the end of it. I found some new characters unnecessary and boring ''. I would have heard more about old friends from MIdford and Father Tim and Cynthia. In the end, I have grown to know the people in these books and always like to keep it up, but maybe it is time for the series to end.
Welcome back to Mitford

Derived From Web

, Oct 24, 2017

These days we live in such an angry, offended and offensive world, it is so calming and peaceful to spend time in Mitford!