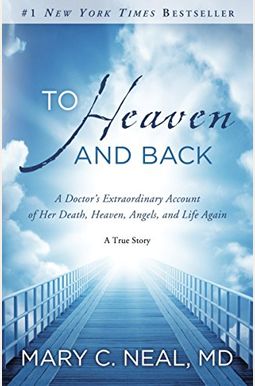  
To Heaven And Back: A Doctor's Extraordinary Account Of Her Death, Heaven, Angels, And Life Again: A True Story
Book Overview
#1 NEW YORK TIMES BESTSELER - One million copies sold Dr. Mary Neal (featured in the Netflix original series Surviving Death) tells the incredible story of the kayak accident during a South American adventure that took her to heaven--where she experienced God's peace, joy, and angels--and back to life again.
In 1999 in the Los Rios region of southern Chile, orthopedic surgeon, devoted wife, and loving mother Dr. Mary Neal drowned in a kayak accident. While cascading down a waterfall, her kayak became pinned at the bottom and she was immediately and completely submerged. Despite the rescue efforts of her companions, Mary was underwater for too long, and as a result, died.
To Heaven and Back
is Mary's remarkable story of her life's spiritual journey and what happened as she moved from life to death to eternal life, and back again. Detailing her feelings and surroundings in heaven, her communication with angels, and her deep sense of sadness when she realized it wasn't her time, Mary shares the captivating experience of her modern-day miracle. Mary's life has been forever changed by her newfound understanding of her purpose on earth, her awareness of God, her closer relationship with Jesus, and her personal spiritual journey suddenly enhanced by a first-hand experience in heaven.
To Heaven and Back
will reacquaint you with the hope, wonder, and promise of heaven, while enriching you own faith and walk with God.
Frequently bought together
Frequently Asked Questions About To Heaven And Back: A Doctor's Extraordinary Account Of Her Death, Heaven, Angels, And Life Again: A True Story
Book Reviews
(13)
Did you read To Heaven And Back: A Doctor's Extraordinary Account Of Her Death, Heaven, Angels, And Life Again: A True Story? Please provide your feedback and rating to help other readers.
Death

R Graham P

, Jul 12, 2022

Having had a Sudden Cardiac Arrest I found this book to be very insightful written by a scientific medically trained surgeon and her experience in her own death.
Great Start, then seems to slow down

Derived From Web

, May 11, 2022

So far, the NDE books I have read seem to lack depth on the actual NDE experience. This is no different. The story was very inspirational on the first half of the book and worth a read for that part alone. When reading this NDE, you have to have an open mind, because the stories can be fantastical at times, so skip this book if you are skeptical by nature. In addition, there is a good bit of theology, so if you are inclined to be disinterested in theology, skip this book.
And the second part reads more like her self-healing or psychotherapeutic statement over the loss of ...

Derived From Web

, May 11, 2022

I found that this book is basically composed by two parts. The author's main personal event and a slightly stretched memoir of her son's death. The first part, which unravels her trip to Peru after surviving a tragic accident, is interesting, but relatively short. And the second part reads more like her self-healing or psychotherapeutic statement about the loss of her dear son. Ironically, I felt that her emotions were even stronger in the latter part, where she is still struggling with harrowing memories surrounding her son's death. Overall, I felt like half of the book is about the event that might be interested in general readers, like me. And the other half could have been better if she kept it private to her family, friends or even her personal diary. But don 't quote me wrong on this. The second part still unreservedly shows that we are only humans after a colossal spiritual awakening.
Breathtakingly amazing

Derived From Web

, May 11, 2022

I come from a family of 7 siblings, I lost my baby sister at the tender age of 18 about to turn 19 only three months after his death. She was murdered by a worker of ours and I haven t been able to move on. After reading this book, it has definitely restored my faith and hope in God and my love for him. I remember always telling myself or talking to God about forgiving my sister murdered and at times I would feel guilty for doing so because I thought I was betraying my sister or betraying my family, but now through this book I understand the divine grace of God and thank the author of this book ever so dearly. Now my faith is restored xoxo.
Good Read

Derived From Web

, May 11, 2022

I am fascinated by the afterlife and I believe that this story is believable because she is a doctor and more scientifically based. She goes against all her colleagues and friends in the things they believe and speaks about her own experience. For one, it takes courage, for two, it helps me believe her story, because why would she want to put herself through all the ridicule if it is not true. It is not a hold on the side of your seat thriller, but in some parts it is, but in her experience it is very straightforward and I appreciate her sharing it. I am constantly trying to find proof of heaven and she definitely makes you believe that it could be true.
One of the best books on near death experiences by a physician who drowned and was resucitated.

Derived From Web

, May 11, 2022

Dr. Mary Neal, a spine surgeon of considerable reputation, drowned in a kayaking accident. After nearly half an hour under water without oxygen, Dr Neal was rescued and resuscitated by her friends. In her book, she describes her experience of traveling to Heaven and meeting with departed friends and family and the radiant presence of God. She is a scientist who continues to practice the art of surgery. Her writing is unique and, above all, is characterized by a spirituality resulting from her crisp and clear experience. Although I am skeptical of near death accounts, I find this book to be profoundly moving. Revern Browne Oler is an American-Christian clergyman.
Love this book!

Derived From Web

, May 11, 2022

I am a very spiritual person and I thought that the author's experiences helped confirm what I believed all my life. My daughter passed away at the age of 27 nine years ago and I have had many signs that she is great in Heaven. I have experienced the miracles that happened in my life. My father had several heart attacks 35 years ago when he was in his early 40's and had a near death experience and his story had a lot of simalarities related to Mrs. Neal's experience. He also said that he fought to stay in Heaven rather than come back. God had other ailments and he was returned to finish his work on Earth. I agree that we are meant to be at any given time and God will continue his Paln for us. I loved how the author expressed her deepest emotions and bound them into her spritual convictions. I would recommend this book highly ''. In fact, I plan to buy a few copies for Christmas presents.
Not cleaned off

Derived From Web

, Jan 31, 2021

The book cover was gross. It had little chunks of stuff stuck to it and was definitely dirty, on the sanitizing wipes I used to wipe it off. I'm fine with it not being in perfect shape. I knew it had a small tear on the front, but felt it could have been wiped off and cleaned before shipping it out. There are marks on the pages and some stains. But not completely surprising, being a used book.
Written for non-believers

Derived From Web

, Jun 24, 2020

Was very disappointed - the book was very verbose and many pages were written trying to convince the reader of the existence of Heaven. Hoping '' to read more about the actual experience of Heaven. My copy of this book will be donated to the local thrift store. Maybe someone who needs convincing will enjoy reading this book. This was my favorite part of the book.
With Deepest Appreciation

Derived From Web

, Oct 15, 2019

In her book, Dr. Mary Neal stated that she would be grateful if its outcome was to bring back even one individual on the path of believing in God. My reading of her book has accomplished exactly that and I am forever grateful.