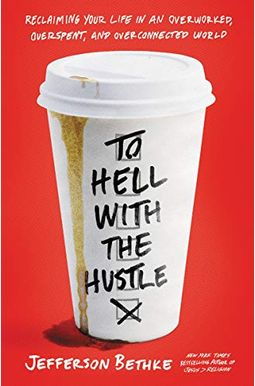  
To Hell With The Hustle: Reclaiming Your Life In An Overworked, Overspent, And Overconnected World
Book Overview
This Description may be from another edition of this product.
New York Times bestselling author Jefferson Bethke delivers a call to resist our cultural worship of connectivity and achievement before we lose the essentials that make us distinctly and deeply human.
Our culture makes constant demands of us. Do more. Accomplish more. Buy more. Post more. Tweet more. And in following those demands, we have indeed become more--more anxious, more tired, more hurt, more depressed, more frantic. What we are doing isn't working because, Jefferson Bethke argues, we have forgotten the fundamentals that make us human, the things that anchor our lives, providing us with roots and meaning.
In this highly anticipated new book, Jefferson Bethke delivers a wake-up call to resist our culture and embrace the slowness of Jesus. To stop doing and start becoming by proactively setting up boundaries in our lives and cultivating disciplines within them. He shows his readers how to find landmarks, anchors, and rhythms that provide depth and meaning and that push back against the demands of contemporary life. And he reveals that what the world teaches us to avoid at all costs--things such as silence, obscurity, solitude, and vulnerability--are the very things that can give us the meaning, depth, order, and the richness we are truly looking for.
Frequently Asked Questions About To Hell With The Hustle: Reclaiming Your Life In An Overworked, Overspent, And Overconnected World
Books like To Hell With The Hustle: Reclaiming Your Life In An Overworked, Overspent, And Overconnected World
Book Reviews
(17)
Did you read To Hell With The Hustle: Reclaiming Your Life In An Overworked, Overspent, And Overconnected World? Please provide your feedback and rating to help other readers.
Fabulous and Life Changing

Seriously so good! Makes you think about the way we have been taught to live our lives and how different Jesus calls us to be. Recommend to all of my Christian friends.
Buy this book!

Derived From Web

, Jun 5, 2020

Amazing reading! We need to remember quickly and really slow down our priorities. If I were to emphasize the book, I would highlight the whole thing. It will certainly be reread.
One of the Best Reads of the Year for Me

Derived From Web

, Mar 28, 2020

This book was a breath of fresh air, full of profound scriptural truths in the world of entrepreneurship, in an American culture that idolizes hustle and bustle. God had already taken my attention about my half-hearted attempts of Sabbath acknowledgment, but this book really helped me to move in the right direction towards Sabbath - Rhythyms, Rest and Margin. Any words I have for the impact it had on me and many others in my circles would be inadequate, I have recommended it profusely, as have all my peers who have read it. I am grateful for Jeff's work here. Executive leadership, discipline and evangelism, M.A.T.S. Christian apologetics is Christian apologetics.
Written for most of us. The entrepreneur for sure.

Derived From Web

, Mar 28, 2020

We're all missing the point. Jeffery, thanks for writing this book, my first of mine to read.
Easy read

Derived From Web

, Jan 25, 2020

Glad I read it, but not something I read again and again.
Much deeper than the title suggests.

Derived From Web

, Jan 15, 2020

I always hated the hustle attitude. It is the big or go home mentality. This way Jesus did not live. The interstate demands that we live culture. On the interstate, it is run over people or run over.
Meh.

Derived From Web

, Jan 5, 2020

I was not impressed with this book. I wanted more ''. It felt like an outlet for the author to ramble about his thoughts on overworking, rather than intentionally leading readers to understand and correct the burnout of life. It was spiritual and lacked the cohesion that could have led readers to really rethink their rhythms and choppy practices. I gave it two stars because it was a short easy read and those two things made me stay with it until the end. I pushed myself to finish the last 100 pages when I wanted to jump ship because it didn 't feel like there was any purpose in seeing it through. Other books seem to deal with the issues far better than this.
Good message, but execution leaves something to be desired

Derived From Web

, Dec 2, 2019

I really wanted to like this book ''. I have been a long-time follower of the Bethkes and love the message their family is preaching. This book was, however, very difficult to read because of the grammatical structure, sentence structure, flow, etc. I was so caught up in the structure of the book that it was hard to follow along with the thought process. A bit more practical advice would have also been nice, and there were statements I would have liked to have seen references for that weren 't included. While I think the message behind the book is different, I think that a pertinent editor would have made a huge difference.
It's okay to slow down!

Derived From Web

, Oct 22, 2019

I was seriously underlining on every page! A must read for someone in any season who is looking for an excuse to slow down and actually enjoy life!
Slow down in life, but HUSTLE and buy this book!

Derived From Web

, Oct 19, 2019

The way Jeff has articulated and elaborated on this idea of living simply and saying no to the hustle has been a challenge personally to practice, but not a challenge that has yet disappointed. This book is highly recommended!