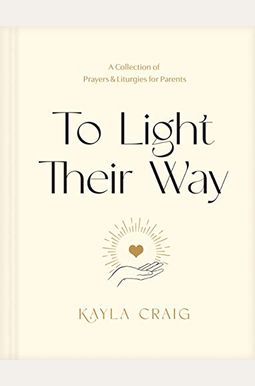 
 
To Light Their Way: A Collection Of Prayers And Liturgies For Parents
Frequently Asked Questions About To Light Their Way: A Collection Of Prayers And Liturgies For Parents
Book Reviews
(10)
Did you read To Light Their Way: A Collection Of Prayers And Liturgies For Parents? Please provide your feedback and rating to help other readers.
so thankful to be able to "borrow" these prayers from Kayla!

Derived From Web

, Jan 28, 2022

It's a great read, said Elizabeth Long, who has done extensive research on the book. For the past couple years, I have been so very timely and have received so many good words to pray during many difficult times where I just did not have words of my own. So many prayers were compiled into this beautiful book, Ava said. Its the kind of book that I always keep close by and when I am feeling overwhelmed or unsure of what to pray, I can almost allow find a prayer to borrow that gives words to exactly what I needed to pray. Our prayers have helped give us comfort during this difficult time, she said. I was reminded that family vacations are what really made me want to go last month. They gave me words of comfort when I was overwhelmed by the sibling fighting and conflict in our home, she said. I have an ever-growing list of people I plan to gift this book to the second and third copies become available.
Came very dirty with pages warped. Not Happy

Derived From Web

, Dec 11, 2021

So frustrated, ordered this book as a gift and out of the box it looks like it was moldy and dirty and scratched up. It also seems like the pages were soaked and then dried, making them appear to have been cut. The box it came in with was perfectly fine and there were no issues with the other products, Mr. Dhaliwal said. If you pay $18 for a new book, it should arrive looking new.
An invaluable resource to help families reflect on the holiness of every day

Derived From Web

, Oct 12, 2021

In her book, "The Whole Family Catechism," Craig has compiled a wealth of sacred texts for family life. Prayer has the power to shape the hearts of parents and their children toward God, allowing them to see the presence of God in the many ups and downs of life's journey. But finding the right words can be especially difficult for most of us, especially when we are worn out. Through her prayers, Kayla's focus shifts to the moments big and small that reveal family holiness -- sacredness in the ordinary. The language of these prayers is full, and expansive—pointing to a compassionate God who has room for everyone, he said. In her soft, yet powerful, words, Kayla dances, weeps, and breathes. Whether you are a Christian or not, this book will help you raise your children in the most comfortable and appropriate way. It'll be a blessing to you, too. Catherine Montgomery, director of Family Ministries, said many knew him as a "gentle giant."
A true gift for parents...and kids love it, too!

Derived From Web

, Oct 11, 2021

It's great to see the littles at my house get very excited when a package arrives in the mail. After opening the box and looking over this beautiful book, I thought they would lose interest because it's a prayer book, not a picture book, Sosa said. It's just that Microsoft doesn't do SQL Server. Right there on my kitchen floor, I flipped to the Contents page to find something appropriate for the moment. A Prayer for Reading Together, by the way, was also on my list. I couldn't stop reading it, and I got choked up. A beautiful moment, Tunick said. The kids enjoyed it too, because of the closeness it brought us, he said. We're delighted to have found the book, said Simon Schama, director of music for AOL Europe. It takes tough parenting moments and makes them bearable, and it can escalate happy moments to pure joy. I'm so happy to light their way is on my kitchen counter, ready and waiting for me when I need it most.
A fantastic prayer companion on this parenting journey

Derived From Web

, Oct 8, 2021

She has such a gift for naming the hard things, wrapping them in tender promises and buoying up our hearts with the hope she weaves through each of her prayers. I appreciate so much that this book of prayers brings deep compassion and kindness to both the hard and the happy, Raymond said. I did not grow up in a liturgical tradition, but I have found liturgy to be a grounding, calming thing, he said. In the midst of a world that groans and weeps, her words bring a sense of calm, rooted in the present moment, and the invitation to see His goodness in every single moment. For any parent that feels like they have no more to give, for those who have maybe lost the ability to pray, or wonder is it even worth trying, can we just say, "Lyle?"
An incredible resource

Derived From Web

, Oct 6, 2021

As a pastor, I can say this book is invaluable. It also offers prayers for parents and kids of all ages. This gives so many great templates to pray, even if they are not Christian.
Life-Giving Prayers for Weary Parents

Derived From Web

, Oct 6, 2021

This book is a wonderful collection of prayers for parents. Some are small breath of hope. I didn't grow up in a liturgical faith setting, but I find that written prayers allow me to pray more of what is in my heart, he said. I'm so grateful for the work Kayla put into gathering these beautiful prayers into one book, Mary said. It's such a treasure, Tunick said.
Beautiful and Spirit-filled book of prayers!

Derived From Web

, Oct 6, 2021

I am not a parent, but I have loved following Kayla Craig's Instagram account, @liturgiesforparents. There are prayers for life, everyday occurrences, and, my favorite part, breath. I especially liked the Scriptural basis for the breath prayers, he said. I may impress many copies. I also read these prayers through the lens of someone who doesn't have children. Most of the prayers are written for parents and from that perspective, but edited to be used as prayers for children who are not your own. The only criticism I have of the book is that some of the prayers were too long. I would like to hear more prayers that kids could say, too. I received an advance copy of the book, and I immediately agreed to share my thoughts.
A book for all times that you will turn to again and again

Derived From Web

, Oct 6, 2021

This book is such a great present for parents. It speaks of times of celebration, frustration, and everywhere in between. She is particularly gifted in giving words of prayer in those times when you can't seem to find the words. The liturgies and prayers in this book are just what parents need to help connect to God in the midst of life, he said.
Putting to words the prayer of my heart

Derived From Web

, Oct 5, 2021

I have followed along since she started @liturgiesforparents on Instagram and have loved the way she guides prayerful reflections for various parts of parenthood. The book is broken down into eight parts, including situational prayers, prayers for character growth and broader parenting journey. I highly recommend this book to any parents. It puts words to the prayers of my heart, McCartney said.