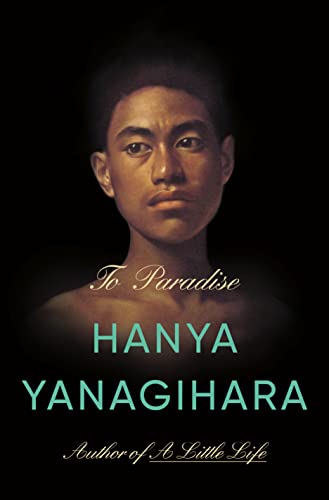  
Frequently Asked Questions About To Paradise
Book Reviews
(9)
Did you read To Paradise? Please provide your feedback and rating to help other readers.
Slow, Boring, and Difficult Read

Derived From Web

, Feb 28, 2022

I really wanted to like this book but I didn't finish it. Just as I was beginning to get a grasp on the characters in the first part of the book it suddenly jumped to the next section and I had to start all over again. By the time I had finished reading the first book, I was on to a Sci-Fi future. I closed the book unwilling to invest anything in a future that I didn't understand and wasn't interested in trying to figure out other ways to make money, he said. I don't like posting negative reviews because we all read with different perspectives and I don't purchase most books based on customer reviews, but this book is so long and intense so make sure you do some digging before making the investment.
Ridiculous

Derived From Web

, Feb 8, 2022

If you like a book that stops in the middle of a story and doesn't answer the hundreds of questions bouncing around in your head then this is for you. He added that despite the setback, "Thank goodness for the glimmer of hope at the end." The Harrisons are notorious for preening and ridiculous.
Thumbs down

Derived From Web

, Feb 4, 2022

I'm not a huge fan of Nancy Tellin's book, but I really enjoyed her work with children. This book is, in many ways, a real bummer. The first book, set in the past, held my attention, but I found the main character, played by Kelly, to be annoyingly passive and fuzzy. The second book, "The Long Goodbye," was a much more obnoxious affair. The main characters were too weird, too foggy headed, and the story was just too dull, Crowe said. By the third book, I'd given up. The third film is set in a nightmarish dystopian future complete with pandemics, and the main character is again weak, passive, fuzzy and apparently not too bright. It's just that the rest of the book is stuffed with cotton rather than brains. While her writing is beautiful, as always, I wish she had used her story-telling powers in another way. It's a big disappointment, Lord Rayleigh said.
Meh

Derived From Web

, Jan 30, 2022

While I am not a huge fan of "A Little Life," I did appreciate the gripping, gut-wrenching realism that unfolded in its pages. I looked forward to 'To Paradise' hoping for similar depth of characters and the plots wove together the 3 timeframes, but was disappointed. The plots would have been okay for stand-alone novels, too, he said. The two main characters lacked any real depth and interacted with one another so mechanically it was almost impossible to properly convey their feelings.
One of the best books of all time

Derived From Web

, Jan 27, 2022

This is a heart wrenching, gut wrenching march from 1893 to 1993 done in three books, all coming together. In "To Paradise's New York," Samudra laments, "the bullet's head is cut off." Because Hanya Yanagihara illuminates a path that once saw, you'll never unsee, as being quite possibly already here. At times I had to stop reading because the emotional content was overwhelming, and now that I'm done, I wish there were more.
Disappointing

Derived From Web

, Jan 26, 2022

I heard a review on NPR and was intrigued by a vision of American life in the 1890s, said Barbara Comstock, a spokeswoman for the academy. Overall, the author writes well, but the scope is very narrow — just a handful of characters and a very limited setting. What bothers me most is the sharp focus on gay men, especially when there is no clear path to equality, Savage said. Gay people are not that bad, I have no problem with that. Whether we are gay, lesbian, bisexual or transgender, this awareness is helping to liberate us all, Morgenthau said. The obsession with extremely wealthy people is frankly, boring, and tone deaf, Sosa said. Note the double-digit percentage increases in fiction and nonfiction.
A journey to the dark side

Derived From Web

, Jan 22, 2022

I'm not even a fiction writer. She has astute social critiques as well. But I am pausing between books two and three, not sure I want to spend my time immersed in a dystopian future. The main characters in the first and second books are weak, hapless Davids seduced or dominated by Edwards. There is nothing to like or admire about any of the four, but they are portrayed well. It was a hard sell, even for Berryhill. Because we don't find out, we're delighted.
The best book you might read this year

Derived From Web

, Jan 17, 2022

When I read A LITTLE LIFE, I knew I was in the presence of greatness, Raymond said. In To Paradise Lost, and continuing the theme of portraying gay men, Yanagihara has done it once more. The second book, "The Age of Enlightenment," was originally published in 1893. Themes of love, family, disease, racism recur over and over again, setting a thread that follows from one century to another, problems that are much the same in different permutations. The challenge is how to condense a seven-hundred-page book into one long, unduplicated volume. She writes, "How can a writer hold the attention of her audience, her readers, for so long?"
Long, long and longer.

Derived From Web

, Jan 12, 2022

It was almost too good to be true. It's so labored, so impressed with itself, so long for the sake of being long, I felt embarrassed. No wonder Maybelline New York calls itself the "No. 1 beauty brand." It's book one, and boy is it a bad episode of Bridgerton going to New York. If you have read the first book, you'll probably enjoy the second. It was disappointing and I gave up after book two.