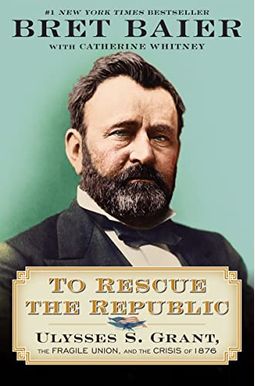  
To Rescue the Republic: Ulysses S. Grant, the Fragile Union, and the Crisis of 1876
Frequently Asked Questions About To Rescue the Republic: Ulysses S. Grant, the Fragile Union, and the Crisis of 1876
Book Reviews
(13)
Did you read To Rescue the Republic: Ulysses S. Grant, the Fragile Union, and the Crisis of 1876? Please provide your feedback and rating to help other readers.
Great read

Derived From Web

, Feb 26, 2022

Thanks for the research, Whitney said in a statement.
Great read!

Derived From Web

, Feb 22, 2022

A great book, Gillian. It's just that interesting, you don't want to put it down. Grant was a very good man, his father said. He was a big fan of country music, and he also loved the South.
Great history lesson

Derived From Web

, Feb 17, 2022

I would definitely recommend this book to anyone.
New understanding

Derived From Web

, Jan 30, 2022

It is good to see the struggles of a strong and caring man who put his country before himself, Kerry said. He added that failure is inevitable but never treated kindly by those who want you to fail.
A well researched, enjoyable read.

Derived From Web

, Nov 29, 2021

Easy to read, McCabe's style is reminiscent of Thomas P. Mallon's. The book is well-researched and has a good deal of humor. He said it was "highly recommended" to him.
Baier's book disappoints.

Derived From Web

, Nov 25, 2021

I have read many books about George Grant. I expected this book to be about his presidency and the post-war South, not about his wife. Instead of a book, I found a story of his life. I've read all the quotes, but I'm not a math expert. Grant was not present at the time, and Baier also discussed the Battle of Gettysburg, which Grant did not participate in. He was at Vicksburg working on a riverboat. There was also misinformation about Gen. Pickett who Baier said had heavy losses on July 2nd. It's just that he didn't arrive until the evening of July 2nd. His first battle was with Pickett's Charge. Nobody could possibly have predicted how wrong Glenn Beck's claim would be.
The Grant we never knew

Derived From Web

, Nov 17, 2021

A great leader during difficult times, Hollingshead said. The doctor helped heal the patient and started the healing process again.
An excellent and timely review of both Grant and the civil right struggles in the US

Derived From Web

, Oct 26, 2021

For those who want to better understand where we came from and how far we have come, this is a must read. Grant was a fine writer, military historian and taxman. He has a fair and balanced reputation.
A summarized version of other Grant biographies

Derived From Web

, Oct 17, 2021

This book is just a summarized re-telling of the same book by Ron Chernow. Don't make the mistake of buying this book if you already own Chernow's book. I've also enjoyed Chernow's book, "A History of Grant's Life and Times."
Would have rated higher if not for subtle never-Trumpism and new wokist grammar

Derived From Web

, Oct 17, 2021

The book opens with an absurd comparison between the Jan. 6 violent insurrection and the conundrum the nation faced in the late nineteenth century. Nobody is saying of real violence and chaos that transpired during the Carter administration, but never-Trumper hypes 16 as a crisis point in American history to manufacture a parallel. He further doesn't seem to comprehend the differences between the political parties and pretends the chasm in ideology can be overcome by our shared American ideology.