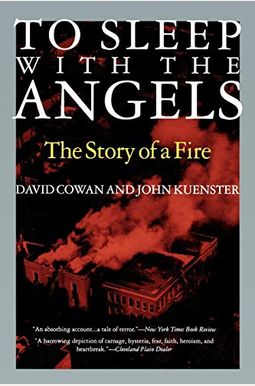 
 
To Sleep With The Angels: The Story Of A Fire
Book Overview
On a grey winter day in December 1958, one of the deadliest fires in American history took the lives of ninety-two children and three nuns at a Catholic elementary school on Chicago's West Side. The blaze at Our Lady of the Angels School shocked the nation. It left many families physically and psychologically scarred for life, destroyed a close-knit working-class neighborhood, and sowed popular suspicion of the church hierarchy and city fathers. No one was ever prosecuted for setting the fire; to this day it remains an officially unsolved mystery. In To Sleep with the Angels, two veteran journalists tell the moving story of the fire and its consequences. David Cowan and John Kuenster have worked for years, talking with hundreds of sources and ferreting our documents to reconstruct a minute-by-minute narrative of the tragedy and the sorrows of its aftermath. It is a story of ordinary people caught up in a mind-numbing disaster. In gripping detail, the authors describe the fear, desperation, and panic that prevailed among children, teachers, firefighters, and parents in and around the stricken school building on that cold Monday afternoon. Beyond the flames, the story of the fire at Our Lady of the Angels became an enigma whose mystery has deepened with time: its cause was never officially explained despite evidence that it had been intentionally set by a troubled student at Read More chevron_right
Frequently Asked Questions About To Sleep With The Angels: The Story Of A Fire
Books like To Sleep With The Angels: The Story Of A Fire
Book Reviews
(14)
Did you read To Sleep With The Angels: The Story Of A Fire? Please provide your feedback and rating to help other readers.
Heart breaking

Derived From Web

, May 30, 2022

An interesting story about a school fire. The Lessons learned were for making schools safer. Liked that there was follow-up on different people who were there.
An excellent, historical account of this horrific fire at Our ...

Derived From Web

, May 30, 2022

An excellent, historical account of this terrible fire at the Catholic school of Our Lady of the Angels in 1958. It was a heartbreaking story but I could not put it down. I remember when this fire happened - I was 13 years old at the time, and I had always been curious and had many questions about the fire and why so many people died such terrible deaths. I am very glad that I read it. If you have ever wondered about this fire, how it started, why it spread so quickly or had any other questions about it, this book is one you should definitely read.
Heartbreaking

Derived From Web

, May 30, 2022

I had never heard anything about this fire and was interested to see what happened. The story was so heartbreaking and hit me close to home, since I attended a Catholic school very much like the one in the story.
A Must Read for Anybody Interested in this Tragedy

Derived From Web

, May 30, 2022

Riveting and details first-hand accounts from students, parents, clergy, and first responders. Couldn 't put it down. The Archdiocese of Chicago and the Chicago Police Department were never culpable and remains a cold case today. A disaster that changed the fire regulations for public buildings and school buildings throughout the country.
So Moving. So Helpful.

Derived From Web

, Nov 23, 2021

I am a crusty old combat marine that has also shot, field dressed and killed over 150 deer, antelope, elk and Caribou over nearly 5 decades. I thought I was kind of tough as a grizzly bear hide. I read nearly everything on war, but nothing moved me as this book - the true story of the Chicago fire of 1954 that burned nearly 100 elementary school children and their teachers to death. Thank children for the honor by reading their story. But on the way there, brace yourself. May God bless you all and you too.
Riveting!

Derived From Web

, Jul 24, 2021

The authors obviously researched in depth and wrote very well about the events that led up to one of the most horrific events in the history of Chicago. I was about the same age as the students who attended the school Our Lady of the Angels when the fire occurred, but was not old enough to comprehend what happened at the time. Then the whole thing was swept under the rug from a news perspective. It is one of those books that I couldn t put down until I was done.
Still haunted by this event 60 years later.

Derived From Web

, Apr 17, 2020

I was impressed with the inclusion in this book of the role the Chicago Catholic Diocese played in the miscarriage of justice when the kid who set the fire stood before a judge, who evidently was cowed by the powers of the Catholic Church & its friends in the Catholic Church. The role the Catholic Church and its friends played in this case. This book is a very well written and equally important historical document that should be read by everyone, because the many things contained in this masterfully written book are as relevant today as they were in 1958. Yes, I was a child when this horrific event happened and I remember seeing the news coverage on TV then and being deeply haunted then and still today.
Fascinating book

Derived From Web

, Jul 14, 2019

I enjoyed this book because I grew up in Chicago and although I was only three when it happened, I remember my mother telling me how terrible it was and how it influenced the whole city. It was a very compelling story and I have seen the graves at the cemetery ; my family is all buried there now. I could identify where many of the places were born, especially St Annes Hospital, because that is where my brothers and I were born.
I Remember The Day It Happened

Derived From Web

, Jan 31, 2019

The radio was on in the car when we heard the news. This would have been between 430 and 500 p.m. We were all quiet. This book brought up things that I did not know at the time. Until now, I did not know about the stance of the Catholic Church or about the possible ladders or about the short arsonist. In this book, so much information is contained. I have never forgotten that ride home from work and the feeling of sadness and thinking about how it was so close to Christmas. I am glad that I read it.
Intense

Derived From Web

, Dec 21, 2018

I was moved as a firefighter beyond words. This truly made me think and stop thinking about many things.