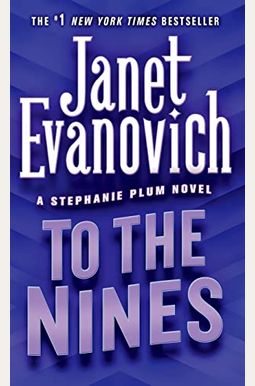 
 
Book Overview
Janet Evanovich's Novels
Are The Hottest Bestsellers In America!
# 1 New York Times# 1 Wall Street Journal#1 Los Angeles Times#1 Entertainment Weekly#1 Publishers Weekly
Stephanie Plum's got rent to pay, people shooting at her, and psychos wanting her dead every day of the week (much to the dismay of her mother, her family, the men in her life, the guy who slices meat at the deli.oh, the list goes on). An ordinary person would cave under the pressure.
But hey, she's from Jersey.
Stephanie Plum may not be the best bounty hunter in beautiful downtown Trenton, but she's pretty darn good at turning bad situations her way.and she always gets her man. In
To The Nines, her cousin Vinnie (who's also her boss) has posted bail on Samuel Singh, an immigrant who becomes an illegal alien by violating his Visa and extending his stay in the United States. When the elusive Mr. Singh goes missing, Stephanie is on the case. But what she uncovers is far more sinister than anyone imagines and leads to a group of killers who give new meaning to the word hunter. In a race against time that takes her from the Jersey Turnpike to the Vegas strip, Stephanie Plum is on the chase of her life.
Evanovich's sharpest, funniest, sexiest entry in the series since the early days.-People (Critics Choice)
Frequently bought together
Frequently Asked Questions About To the Nines
Book Reviews
(6)
Did you read To the Nines? Please provide your feedback and rating to help other readers.
What has New Jersey's bond jumper into now? There ...

Derived From Web

, Feb 8, 2022

What is New Jersey's bond jumper doing right now? There are so many twists and turns in this book that you will need to read it to believe it. From Las Vegas to Burg. She is trying to find dead people. Why? She is looking for a bail jumper who is from India who worked in a factory near Burg. Why did he take the family dog with him? This novel is in line with the other writings that get her going with her former high school friend and Ranger as well. Not for people under the age of eighteen. Both language and sexual content. It's DP. Castro Valley is in CA.
Stop after this one!

Derived From Web

, Feb 8, 2022

I was thrilled to find a series that I could tear through. These are better than your junk food. I won't give a synopsis of this story or the previous eight books, since others have done a great job of it already. The series takes a nose dive from here. The books 10-19 are terrible. The books 1-9 are funny, and the scenes with Ranger kept me awake. The series is a letdown from book 10 on. I can't believe the author wrote them. The main character's internal dialogue is completely gone by book 14. Two men in her life are no longer interesting and one wonders why they have any interest in her. The reviews of the books beyond this one are very good. It will save you time and money. The series is over here.
Like Jack Benny...

Derived From Web

, Jan 7, 2022

Much of the humor in Evanovich's books is in repetition. The audience is prepared to laugh when the joke comes. I'm thinking, when asked, your money or your life. The fork was in the road. Terrible things happen to her hair, and a car gets destroyed, while she eats impossible quantities of food. A mixture of comedy, mystery and suspense.
Vegas here I come

Derived From Web

, Jan 7, 2022

The book is great. Lots of activity. She can get into some messes. A good heart is what she has. Who is new? Two men chase her. Which one will she pick? Who is trying to kill her? I have to buy the book to find out. Is she able to make it?
Another clever installment

Derived From Web

, Sep 12, 2021

In terms of excitement, action, tension, and suspense, this book is certainly dressed to the nines. There is a mystery surrounding the disappearance of Mr. Samuel Singh, a vanished immigrant who has posted bail on his cousin, who is also on the trail of him. The trail leads her out of New Jersey and towards Las Vegas as the plot gets more complicated with the involvement of a killer group. As usual, the title was clever, as all the narrative therein, and I thought the pun building off the classic movie was clever, but it might come across as cliche to some readers.
LAUGH OUT LOUD

Derived From Web

, Sep 8, 2018

The whole series is written so well that you get wrapped up in the crazy life of the character. All of them have a mystery. Add Morelli and Ranger and you are hooked. I don't have enough. I would love to be from NJ and have a cousin who works at a bail bonds office. If only They make me want to eat doughnuts. The characters come to life so vividly you think you are there with them. It's!