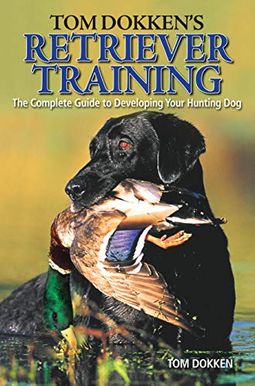 
 
Tom Dokken's Retriever Training
Book Overview
Hunting Success Begins Here
In
Tom Dokken's Retriever Training
, America's leading trainer helps you channel your hunting dog's huge ambition so he works for you, the way you want, and does so happily. After using the time-tested methods in
Tom Dokken's Retriever Training
, you'll have a reliable retriever that: - Obeys commands on- and off-leash
- Retrieves birds to hand
- Remains steady to shot
- Quarters and flushes upland game
- Finds downed birds
- Takes hand signals
Frequently Asked Questions About Tom Dokken's Retriever Training
Books like Tom Dokken's Retriever Training
Book Reviews
(13)
Did you read Tom Dokken's Retriever Training? Please provide your feedback and rating to help other readers.
Necessity

Derived From Web

, May 22, 2022

Gives solid descriptions of different strategies, breaks it into steps and includes helpful pictures. The only problem I have with the book is that I wish the order of some of the advice would be reevaluated. My recommmnedation would be to read the first 5 or so chapters as soon as possible and preferrably before you have purchased your dog or any equipment or supplies for your dog.
Highly recommend this book!

Derived From Web

, May 22, 2022

Exactly what I was looking for, as I needed a quick refresher since my current hunting companion is 8 and I have a pup coming in 3 weeks. I picked a few new things that I had not thought of before.
No need to buy another book

Derived From Web

, May 22, 2022

After reading the book and using the techniques in my yellow lab, I can tell you that any future dogs my family gets will require nothing more than covers this book. Sure, a Chihuahua won 't be retrieving birds, but the basic obedience commands are the same and will help train any dog to listen to and off the leash.
best book ever

Derived From Web

, May 22, 2022

This book will help you find, help your dog. What i mean is i got it ready to lay and i learned basic commands and my dog already learned to rip off sweet book has everything you would need.
Good, all around training book

Derived From Web

, May 22, 2022

GWP - Training was successfully used for GWP. Concise Information is Concise. Solid concepts of training are :
Very Good Book

Derived From Web

, May 22, 2022

It is written in a way that is easy to read and also enjoyable.
Great read!

Derived From Web

, Dec 24, 2020

I started this book thinking that it would be very difficult to get through, not the case at all, I was really interested in his techniques and ideas about things. Definitely referring to this book when I get my lab pup in January. 4 out of 5, just because there are a few parts in the book that are a little confusing.
Good resource

Derived From Web

, Oct 13, 2020

We have purchased 2 books for gifts for friends with new puppies. The book is a new resource for anyone with a valuable dog! It brings you through hunting training to basic training.
Easy to read

Derived From Web

, Jun 11, 2020

Very easy to read the book with tons of great pictures. We get our puppy in the next few weeks and I have already read through the entire book and plan to read right before I start the training. I can 't wait to start using the techniques in the book and see how well my dog does.
Great informative photos-good for beginners

Derived From Web

, Feb 17, 2020

Well illustrated with lots of informative photos on each or every other page. Laid is out in a way that is not intimidating to a beginner. So broken out by age, so that you can focus on this area. Puppy responds well to training.