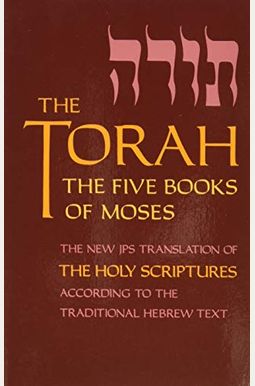 
 
Frequently Asked Questions About Torah-Tk-Large Print
Books like Torah-Tk-Large Print
Book Reviews
(8)
Did you read Torah-Tk-Large Print? Please provide your feedback and rating to help other readers.
Receiving Yahovah's blessings

Derived From Web

, May 9, 2022

And these Words which I am commanding you today shall be in your heart, 9 and you shall write them on the doorposts of your house and on your gates. I put the entire book of deutromny in a nice frame on chapter 6, so it can read properly. Good or bad, these are some of the adjectives that describe Elohim's greatness.
First 5 books of the Bible

Derived From Web

, Aug 25, 2021

Ha ha.... i thought the Torah was the list of books of the Bible. The Torah is the first of the five books that Moses wrote.
Husband Bday gift

Derived From Web

, Jan 20, 2021

My husband asked me to buy this book for his birthday. He wanted it - out of the blue, Tunick said. It was an odd request, because we are Protestant, and he said he wanted it to study and read to learn the differences between it and our Christian Bible. He said the Torah is almost identical to the KJV. I haven't read it yet, but am interested in learning more about the differences. He seemed happy with the outcome of the inquiry. He rarely lets me get him anything for birthday and Christmas, so I was happy to buy him something he actually wanted.
Awesome!

Derived From Web

, Jul 20, 2020

UPS repacked it and covered it in some slimy stuff. The second or third package they have opened and repacked and tampered with. There is no guarantee that there will be no more opening packages, making everyone look bad and causing added exposure during these times.
Don't waste $$ on this book

Derived From Web

, Jul 13, 2020

You're better off purchasing the Apochrypha that was left out completely of the Bible! It was a waste of money and time.
The Torah an important book to read

Derived From Web

, Mar 1, 2019

I am not jewish but I always wondered what the five books of Moses and the Ten Commandments were. Abraham would reveal about their close relationship with God and how did that feel. After that the bible reveals that God was less personal with people. People need a personal relationship with God to be saved, he said.
Good tchotchke, not so good portable Torah

Derived From Web

, Jun 7, 2018

This book is glued together so poorly that it cannot go outside, without completely falling apart. For those of us who believe the Torah should not be thrown on the ground or tossed out, this would be a very bad buy for you. If you only plan on keeping it relatively unused, as a sort of tchotchke almost, than it's perfect. It's great to have a sewn or imitation leather version if you really want it to travel with you.
Excellent

Derived From Web

, Mar 29, 2017

My large Hebrew Study Bible is daunting, with thin pages and endless explanations on side columns, and not something I can read when I'm eating, which is a bad habit I have. This book, however, is perfect in every way. I was raised Catholic, but wanted to know what I was missing, so I found it easy to understand and packed with insight. If all youngsters had to read just these five chapters, I think the fear of God they'd feel would result in better behavior throughout America. It has replaced any NT books I might have had.