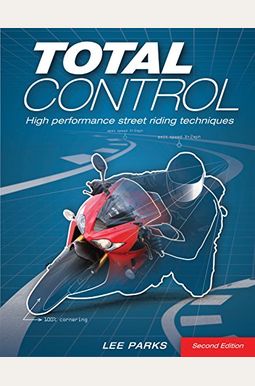 
 
Total Control: High Performance Street Riding Techniques, 2nd Edition
Book Overview
Total Control delivers what other high-performance riding books only claim to offer: the skills to let you put your bike where you want it. Practicing the techniques outlined on these pages is the fastest and easiest way to master your machine.

Writing in a clear and understandable style, accomplished instructor and road racer Lee Parks demystifies the techniques used by top professionals and shows how to apply them to high-performance street and track riding, no matter what kind of bike you ride. Parks explains the psychological dynamics of fear and concentration, as well as what it takes to achieve true mastery of your motorcycle.

Total Control gives you everything you need to develop the techniques and survival skills necessary to become a proficient, accomplished, and safer street rider. High-quality photos, detailed instructions, and professional diagrams highlight the intricacies and proper techniques of street riding. Readers will come away with a better understanding of everything from braking and cornering to proper throttle control, resulting in a more exciting yet safer ride. By breaking down skills into small and easily learned modules, Total Control offers the most effective riding curriculum ever developed.

Total Control is the must-have instruction book for sport, touring, cruiser, and adventure riders who want to taking their riding skills to the next level in the shortest amount of time.without taking unnecessary risks.
Frequently bought together
Frequently Asked Questions About Total Control: High Performance Street Riding Techniques, 2nd Edition
Books like Total Control: High Performance Street Riding Techniques, 2nd Edition
Book Reviews
(11)
Did you read Total Control: High Performance Street Riding Techniques, 2nd Edition? Please provide your feedback and rating to help other readers.
He seemed comfortable around the chaos and had some program on riding

Derived From Web

, May 23, 2022

I met Lee for the first time in 2008 at the Indy race. He seemed comfortable around the chaos and had some riding program. This should be the industry standard for safety training in the USA. Never before has an author gone to so much trouble with riding, racing and reviewing material, then boiling it down to digestible chapters for your enjoyment. Many of the chapters have been expanded, improved and refined to provide even more information on my favorite subject ridings in control.
A newer version worse than the previous one

Derived From Web

, May 23, 2022

I finished reading this new version of the book and compared it to the previous version, which i also own. The previous edition contains LESS information, while the new edition is. The two versions are approximately the same, but the largest difference is that the new version removes all the diagrams that teach practice. I have also taken the Advance Riding Clinic full course and these diagrams are the basis of the course. Once again, i am baffled as to why the new version of this book omits the most important features, which are the most helpful in practicing the teachings of the book.
Even better than the first edition

Derived From Web

, May 23, 2022

Book is great! Don 't listen to the review that says it is worse than the first edition! I bought both and regret it because of this. Both read in parallel and the second edition is much better, more information and better illustrated.
What can I say it is a bible for riders

Derived From Web

, Sep 15, 2021

Gives you through knowledge about motorcycle physics, how to drive, how to be a better rider. I know there are lots of good YouTube channels explaining a whole bunch of motorcycle stuff so that if you want to ride your limit or mount your bike, but this goes beyond. If you want to be great at what you love, get this book ).
Awesome book, must have for any rider

Derived From Web

, Aug 24, 2021

This should be the first book that anyone buys after buying a motorcycle. I recommend riding really solid foundations and in-depth equipment book that I definitely recommend. I have 3 years of road riding under my belt and am getting a ton out of it on braking, throttle, traction, etc. I would also buy Sport Riding Techniques if you're looking for another book and a different perspective ; they're both great and should be must-reads. These, together with some youtube vids and an intermediate class or two, should be considered a mandatory first year curriculum for new riders. Candidly, I should have read this and others shortly after my first class and would not have nearly the amount of close calls. Can not recommend continued learning and this book as part of this regiment enough.
Best motorcycling book I have read

Derived From Web

, Sep 4, 2019

This is the best : It has some of the good looks out for cars doing silly stuff'chapters with good insights, but the heart of the book is on how to handle your motorcycle. I would recommend this book highly ''.
Must read for all motorcycle riders

Derived From Web

, Apr 22, 2019

This book and the techniques it teaches go far beyond the sport riding. I have taken 3 of Lee Parks Total Control courses and my skills have dramatically improved in conjunction with this book. Any motorcycle rider on any motorcycle can benefit from the lessons contained in this book. Lee Parks does a good job of bringing high-performance riding techniques and applying them to real life to improve your skills and safety.
great

Derived From Web

, Feb 15, 2019

This is a must read for all motorcycle riders and especially for those who want to live again and again.
Great book

Derived From Web

, Oct 24, 2018

Great book with a lot of useful information and contains many tips on how to know if you ride a bike.
Great book for anyone riding or thinking about riding a motorcycle

Derived From Web

, Sep 26, 2018

Excellent explanations and the basis for training methods and bike set-up to make you the best rider you can be. Destroys long held beliefs and old teachings that were passed as the proper riding method. Makes you a better rider if you follow the instructions, depending on what you want to achieve.