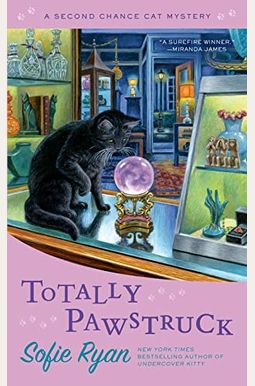  
Book Overview
Secondhand store owner Sarah Grayson and her inquisitive rescue cat, Elvis, will need to close the book on a killer in the newest installment of this charming New York Times bestselling series.
Although Sarah Grayson is often tending to the contained chaos of her delightful secondhand store in North Harbor, Maine, plus dealing with the quirky personality of her rescue cat, Elvis, she still takes an occasional night off. But her evening out comes to an abrupt end when Sarah discovers Stella Hall, a member of the library board, standing over a body in the street. Although Stella admits that she and the victim had fought about several things including library funding, she is adamant that she is innocent and the real killer is on the loose. Sarah is eager to help, but even with the assistance of Charlotte's Angels, the senior citizen detectives who rent out part of her shop, there is still a vast amount of circumstantial evidence linking Stella to the crime. The odds may be stacked against them, but Sarah and Elvis, along with the Angels, will work hard to check out the suspects and catch a killer.
Frequently Asked Questions About Totally Pawstruck
Book Reviews
(10)
Did you read Totally Pawstruck? Please provide your feedback and rating to help other readers.
Love these books

Derived From Web

, Mar 5, 2022

Whenever I open my pre-ordered books by Sofie it feels like family. All characters are phony, not real. Their personalities are all different, yet all lovable. I can 't wait for the next book of Second Chance.
Choices

Derived From Web

, Mar 4, 2022

We all have choices that we make through our lives that define who we are. Some are bad and some good. The man killed made choices where he was not very well liked and when the angels looked at who might have killed him, he had more enemies and friends, that is so sad. Make good choices so.
Great series

Derived From Web

, Feb 23, 2022

This is a fantastic series, a well written, great cast of characters and a well thought out plot. She hopes that she continues with this series.
Love every character in this series!

Derived From Web

, Feb 8, 2022

This was a ruined revenge story. A story of a man that most people don 't like. How he has ruined lives of people, even his own family. The murderer found out that he had lied, and grief took over.
Warm and wonderful Makes me want to spend time with them.

Derived From Web

, Feb 7, 2022

Totally Pawstruck, the 9th book in Sofie Ryan's delightful second chance cat mystery series is the best in an OUTSTANDING cozy mystery series. I love the fact that Ms. Ryan allows her senior sleuths to be the active intelligent and kind people that many older seniors truly are. They offer much of the humor, but is based on their wit and their individual eccentricities. It is never fun at them poking. This mystery still touches my heart even more than they usually do, and Ms. Ryan makes every victim count, even the ones who aren 't quite so nice.
Great time spent with Sarah and Elvis

Derived From Web

, Feb 7, 2022

What an excellent read in a long series. In this volume, the Comradatary of the Angels, Sarah, Avery, and Mac are in the forefront, as they help a friend of Sarah's grandmother, who is literally holding the murder weapon over the not quite dead body. With a lot of questions, detours and just plain wrong turns, it is the little things that add to the truth. Highly recommended!
Valentine's Day at Second Chance Store

Derived From Web

, Feb 5, 2022

A little different kind of mystery at the Second Chance store, with the gang of senior citizens, music fans and others, plus Elvis the cat and a beautiful Valentine's Day finish.
Takes Too Long To Move

Derived From Web

, Feb 4, 2022

While this entry into the Second Chance Cat mysteries starts with a murder, the story and plot stalls for more than half the book. The usually wonderful heroine and her best friend, Jess, find the elderly Stella Hall over the still breathing body of the odious Victor. They keep defending Stella for pages and endlessly with other characters. Somewhere in the middle, the action enters the story and the plot does thickens. Too late, too little. I love this series, but as with Ms. RyanKelly's recent book Magical Cats, the author seemed bored. With a lot of my favorite writers, I noticed that. Covid - miseries perhaps? If you love Second Chance Cat, read it. I look forward to the next ''.
Excellent Read

Derived From Web

, Feb 4, 2022

Sarah Grayson has a second-hand store in North Harbor, Maine, and a rescue cat named Elvis, both of which keep her busy. But a nigh tout comes to an abrupt end when she finds a family friend, Stella Hall, standing over a man's body. Sarah and the Angels take the case to find the man's killer. I absolutely love Elvis, who is the purrfect cat! The book is well-written with well-rounded characters and relationships that are well-done. From the beginning, I was drawn into the engaging story and kept hooked until the end. The intriguing mystery will keep you on your toes and guessing throughout the entire time. I highly recommend both book and series, which is best read in order.
Great mystery!

Derived From Web

, Feb 4, 2022

This series is my favorite! Can 't wait for the next one! These characters really enjoy with all their chemistry and wit. Never want to end this book by this author!