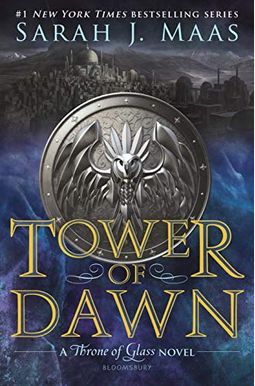 
 
Tower Of Dawn (Throne Of Glass)
Book Overview
This Description may be from another edition of this product.
Discover Sarah J. Maas's #1 New York Times bestselling Throne of Glass series-now available for a limited time in a brand-new miniature format This exclusive edition highlights Chaol Westfall.
Delightfully compact with lightweight pages for easy travel, this miniature volume of
Tower of Dawn
is perfect for any book lover's coat pocket or purse. Complete and unabridged, this character edition celebrates Chaol Westfall by highlighting his name in Antica Blue ink. Read the sixth book in the epic saga
Time
Magazine
called, One of the best fantasy series of the past decade. Chaol Westfall has arrived in the city of Antica to forge an alliance with the Khagan of the Southern Continent's vast armies and to seek healing at the famed Torre Cesme. Yrene Towers, a healer, has no desire to help the young lord, yet she has sworn an oath to assist those in need and she will honor it-despite the shadows from his past, which could engulf them both. While they become entangled in the political webs of the khaganate, deep in the mountains, long-awaited answers slumber. Answers that might offer their world a chance at survival-or doom them all . . .
Frequently Asked Questions About Tower Of Dawn (Throne Of Glass)
Book Reviews
(10)
Did you read Tower Of Dawn (Throne Of Glass)? Please provide your feedback and rating to help other readers.
This One is Outstanding!

Derived From Web

, Aug 23, 2020

When the story began, I was concerned about so much backstory of new characters until I realized that this whole book was to be about Chaol and Nesryn's journey. And what a fantastic story is it? It was worth a whole book. Regardless of the magic, the healing journey was truly beautiful and such a lesson in healing. All we learn about the many aspects of this epic, revealed information and wonderful new characters made this an excellent book. Even the writing improved. Can 't wait to read the finale, can 't wait to read the finale.
A complicated cast of characters brings marvelous world-building to an end

Derived From Web

, Feb 15, 2019

Like many, I have been reading this series for years. It is sometimes a challenge to expect, as one might expect with a hero who changes personas and lays like a rug at the drop of a hat. She's a rogue, a disruptor and won my admiration for her quick wit. This final book in the series keeps the previously released... at a minimum... in a book. But it's so much more than a wrap-up, even as most of the couples who have been flirting find themselves ( often in unexpected circumstances ). The story moves very quickly as the many threads begin to come together. Personally, I find this book to be the most well-written and intricately plotted book of the series. I confess to having shed a few tears at some of the twists and turns. But mostly in admiration of the author's skill, which has grown in her series with each book. It is that growth and its successes that will keep me as a fan. Well done and thank you!
Chaol is the worst

Derived From Web

, Nov 1, 2018

I have no idea why an entire book would be dedicated to the most hopeless, ignorant, idealistic waste of a charecter, but here it is. In an amazing series by a talented author, a giant pile of unnecessary drivel is about a whiny man child, driven by self pity and mistrust of everyone and everything not up to his ridiculous moral standards. I hope the last book is worth reading, this was NOT.
So good!

Derived From Web

, Apr 15, 2018

She blows an amazing relationship in Book Two... and has you questioning what she has done? '' and maybe even feeling like she took an amazing series and ruined it, but what she rebuilds from Book 3 to this one... well she makes it all work and just clicks into place! This is an amazing series!!! After reading a review saying more or less that it was "safe", I bought book one for my 11 year old, just not old enough for some of the scenes in this book. But I'm so glad I picked it up to find out what my daughters fuse was about! A truly amazing series! Can 't wait for book 7!!! ! !
Another fantastic book from Sarah J. Maas

Derived From Web

, Sep 19, 2017

I loved this book and I love Sarah's writing so that it wasn 't much of a surprise. I will say that I was delighted to be introduced to a few new characters and settings. I will say that I was delighted to be introduced to a few new settings. The infusion of new things was great for the series. The infusion of great things was new to the series. I have to say that I was a bit sad that the book wasn 't longer. I felt that the characters were interesting enough and the new lands could have led to a longer more rich story. I still give this book a very high rating, as Sarah J Maas stories, no matter length, are still fantastic.
Simply Amazing

Derived From Web

, Sep 16, 2017

When I read that this book was about Chaol, I was bitterly disappointed, as all I wanted to read was about Aelin. But this book was also wonderful and showed us another part of the wonderful world that Sarah J Maas built. We follow Chaol and Nesryn and their journey of healing, love, and investigation into the Varg. As well, we meet many new characters who earn a place in our hearts and will also play a part in the fight against the Varg in the future. Can 't wait until the next book.
Not as good as the rest of the series

Derived From Web

, Sep 8, 2017

This book is a departure from the flow of the other Throne of the Glass series. There are new, interesting characters, but the story lines of the two main characters were slow moving and not particularly interesting. Had I started here, I wouldn't continue with the series. The previous books in the series were so good that I am still excited for the next one. This one was just a let down.
Fantastic!

Derived From Web

, Sep 7, 2017

Where do I start? The ending had me in tears, like always thanks to Sarah J Maas. I'll be honest, it was slow. The first 30 chapters were really slow and I didn't know if it would take off, but it did and I'm just at a loss for words. Chaol redeemed himself, I didn 't know if it could happen and it did. I was not a fan of Nesyrns chapters until she went off and did her own thing that night when I began appreciating her own chapters. Aelin is a fantastic new character, whom I can 't wait to see in the next book in action and finally meeting with Yeren Towers. I love these books, I know people hate them, but I find it so awesome how someone can create entire new worlds and just make them seem so real. I look forward to the last book very much ''.
Amazing addition to a series that I love.

Derived From Web

, Sep 6, 2017

I can not say enough good things about this book! I went into this novel with minimal expectations, thinking ahead of time that I probably wouldn 't enjoy it as much because my favorite characters were not involved in the plot. Though Aelin and Co were not present, I loved it absolutely. My feelings for Chaol were mixed to a little negative but after going on this journey with him over 600+ pages, he is probably one of my favorite characters in the series. As always, Sarah drops plot twists and information that makes me literally cry at how seamlessly she ties everything together. Beautiful novel, stunningly talented author and fantastic world building. I can 't wait to see what she does next.
I Was Ready for Disappointment​

Derived From Web

, Sep 5, 2017

I was dismayed when I found out that this would be Chaol instead of Aelin. I was so dismayed that I didn 't even remember the release date. I received a notification that my pre-order had been hunkered and loaded to read. More out of a sense of duty than anything, since I read all Sarah's books the day they are published. This book was beyond anything I've imagined. I've loved it ''. It kills me to wait a year in-between these books, but it is worth it. Read anything by this author and you will not be disappointed. This book was absolutely included.