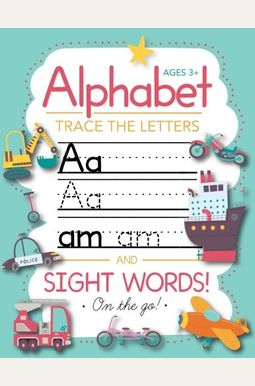 
 
Trace Letters Of The Alphabet and Sight Words (On The Go): Preschool Practice Handwriting Workbook: Pre K, Kindergarten and Kids Ages 3-5 Reading And Writing
Frequently Asked Questions About Trace Letters Of The Alphabet and Sight Words (On The Go): Preschool Practice Handwriting Workbook: Pre K, Kindergarten and Kids Ages 3-5 Reading And Writing
Books like Trace Letters Of The Alphabet and Sight Words (On The Go): Preschool Practice Handwriting Workbook: Pre K, Kindergarten and Kids Ages 3-5 Reading And Writing
Book Reviews
(9)
Did you read Trace Letters Of The Alphabet and Sight Words (On The Go): Preschool Practice Handwriting Workbook: Pre K, Kindergarten and Kids Ages 3-5 Reading And Writing? Please provide your feedback and rating to help other readers.
Teaching handwriting is a lost art today

Derived From Web

, Dec 24, 2019

As a retired 5th grade teacher, we weren 't required to teach handwriting, because it is typically taught in 2nd through 4 th grades. We had to teach it, however, out of our curriculum, because the students were busy learning computer skills. We couldn t even read their cursive, and when we expected to be able to read their cursive, forget it! We bought these books and taught it ourselves. It is a sad day when students leave high school still not writing legibly. I purchased these for my grandchildren to get them ready for these pre-school lessons.
Skip this one.

Derived From Web

, Oct 24, 2019

I wish I would have read reviews of this book instead of just looking at the overall rating. This book is a junk book. As others have stated, the description of each word is ridiculous and not relatable to a 3-5 year old. X-mas for X was especially phoning it in. Additionally, it is incredibly simple. It says for 3-5 year old, so I bought this for my 4 year old, but after doing about 1 page, I passed this down to our 2.5 year old to use. Skip this one.
Really

Derived From Web

, Aug 30, 2019

I have ordered three of these books for my children. When I scrolled through the pages, I noticed that the letters Q, X '' and Z '' were missing from the pages. I would NOT recommend that you buy this book. Total disaster, utter disgrace to the alphabet. Someone should be fired.
Toddler learning tool

Derived From Web

, May 15, 2019

My son has a hard time at school, so we bought these to help him at home. His little sister has started using them too. Never too early to learn!
X is X-mas Sleigh. ????

Derived From Web

, May 4, 2019

To be honest, I didn 't pay attention that this book was all about modes of transportation. I feel like some of them are a bit of a stretch ''. For example, the L is an ocean liner, but my four-year-old thinks it is a boat. B is a biplane, but my 4 year old thinks it is an airplane. It has been counterproductive for teaching the alphabet.
Terrible book

Derived From Web

, Apr 21, 2019

The words they chose for each letter are the most random and obscure words. Like O for Old Airplane, Y for black and white taxi, but the picture is yellow, or my favorite X for X-max Sleigh... Like What?!? Absolutely terrible choice. Do not waste your money on unnecessary expenses.
Works good book just as good as a few others so will keep this one

Derived From Web

, Feb 18, 2019

Works good book just as good as a few others so that will keep this one 1. Works good book just as good as a few others so will keep this one 1. There are a lot of pages uppercase and lowercase with the site words 2. The layout is well done and they're able to write the upper and lower case letters and move towards the site words at the end of the book with other exercises, so it is a good book and there are a lot of pages 3. has the full alphabet and a lot more.
What Were They Thinking?

Derived From Web

, Dec 3, 2018

The tracing part is okay. The tracing part is tracing. But the matching images are bizarre R for retro car, W for walking boat, Y for yellow boat, and the kicker X for X-Mas Sleigh, only 5.99, but it is back.
Lots of Words Related to Movement/Vehicles

Derived From Web

, Oct 15, 2018

I am not sure that it is right to deduct a star from this product for the following reason, but I am. All the noun words with the pictures are related to things that move. And some of the words are rather obscure, just to fit the theme. I would have preferred words used more often for learning. However, the front does say On the Go in smaller letters and has all vehicle images. If you look at the image of the back of the book provided by the seller, you see the words and photos on the move. I just didn 't notice when I was purchasing. I was just focused on the alphabet and the sight words. It would have been nice to also have the pages perforated so that the pages could be torn for easier writing.