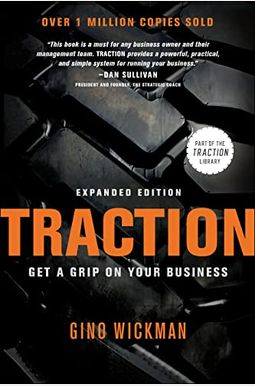 
 
Traction: Get A Grip On Your Business
Book Overview
Do you have a grip on your business, or does your business have a grip on you?
All entrepreneurs and business leaders face similar frustrations--personnel conflict, profit woes, and inadequate growth. Decisions never seem to get made, or, once made, fail to be properly implemented. But there is a solution. It's not complicated or theoretical.The Entrepreneurial Operating System(R) is a practical method for achieving the business success you have always envisioned. More than 80,000 companies have discovered what EOS can do. In
Traction
, you'll learn the secrets of strengthening the six key components of your business. You'll discover simple yet powerful ways to run your company that will give you and your leadership team more focus, more growth, and more enjoyment. Successful companies are applying
Traction
every day to run profitable, frustration-free businesses--and you can too. For an illustrative, real-world lesson on how to apply
Traction
to your business, check out its companion book,
Get A Grip
.
Frequently bought together
Frequently Asked Questions About Traction: Get A Grip On Your Business
Books like Traction: Get A Grip On Your Business
Book Reviews
(7)
Did you read Traction: Get A Grip On Your Business? Please provide your feedback and rating to help other readers.
Self Promoting Marketing Brochure Rehashing Management 101

Derived From Web

, Dec 11, 2020

Airport convenience stores have this kind of consulting. The author states his method will solve all your problems in the first four paragraphs. He claims to have the expertise of his mentors. He claims to have turned around and sold his family's business. He bragged about his dad. Did you say you turned around the family business? I think dad wasn't that great. The family of books used to funnel more consulting business from executives who shouldn't be in their seats because they need to be seen doing something. There are a lot of pages. I suppose to increase the page count. The author is deceiving you. He's trying to open a bank account.
Practical and useful

Derived From Web

, Aug 22, 2020

I have been running businesses and coaching CEOs for 30 years. One of the most useful guides for turning a good business into a great business is Traction. The man knows about businesses, people, and processes. His six segments cover everything that is needed to get hold of a business, plan its future, get everyone aligned, and move forward with purpose and efficiency. His useful tools for holding meetings, for planning, for evaluating people, for measuring results are all available for free on- line. Every manager would have a copy of this book and we would follow the meeting pulse suggested in Traction if I were still running the company.
Not Traction!

Derived From Web

, May 30, 2020

I crack open " Traction" today and it opens with a Revolutionary war letter, but I am still reading. I get to read chapter 2 and chapter 3 of the Revolutionary War stories. The book under the dust jacket is actually a book about the rifleman. How can this happen? Is that right?
Don't bother.

Derived From Web

, Feb 17, 2020

The whole scheme is based on the fact that an incompetent business owner is looking to bring in a competent individual to make the business succeed.
The value of this book depends on context

Derived From Web

, Sep 16, 2018

The front of the book made me think. Do this, follow these steps, everything will work out. The model became clearer as I read on. I started to see similarities between the author's framework and the books I' ve read before. The recognition made it clear that the key tools are trust, teamwork, leadership, commitment, vision, alignment, accountability, process, data, and so on. The approach that other people have crafted as their own was as important as the author's approach. The core principles are the same even if you put a different name on the package. Progress is possible if the leadership team recognizes the building blocks and assembles them diligently. The framework has potential with that in mind. The book has value in my opinion.
... a small business and this is by far the best book I've ever read

Derived From Web

, Feb 11, 2018

This is the best book I' ve ever read and I own a small business. I turned my side hustle into a legit job that pays my bills and this book has helped me immensely. Everything is laid out with action steps that you can take right away to improve your business. It has tests that you can complete to gauge where your business is at, on a level of success, and you can also track your progress.
Very helpful system to keep your company on track if you have big dreams for it.

Derived From Web

, May 14, 2017

One of the most helpful books I' ve read is this one. If you' ve read any of the E- Myth books, you' re on the right track but this book gives the science behind building systems and how to write them and implement them as well. If you have big dreams for your business, this information will help you stay on track. If you want to follow an actual company implementing what you' ve learned, you should first read his book Get a Grip. It makes it easier to comprehend.