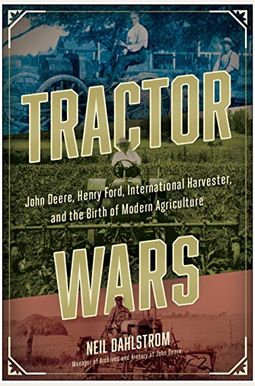  
Tractor Wars: John Deere, Henry Ford, International Harvester, and the Birth of Modern Agriculture
Frequently Asked Questions About Tractor Wars: John Deere, Henry Ford, International Harvester, and the Birth of Modern Agriculture
Book Reviews
(7)
Did you read Tractor Wars: John Deere, Henry Ford, International Harvester, and the Birth of Modern Agriculture? Please provide your feedback and rating to help other readers.
Just not very well written

Derived From Web

, Mar 22, 2022

I was very intrigued when I first saw the book. It was widely acknowledged that the console did not deliver on its promises. If there were another 50 pages with some profiles of the key personalities making the major decisions, the book might be worthwhile, he said. Sad how it under-livees, Tunick said.
An Interesting Book on Tractor Innovation.

Derived From Web

, Mar 13, 2022

I enjoyed this book and I gave it a 3 out of 5 review because it needed more illustrations and diagrams of the early tractor designs. Overall, a good book, but a more comprehensive version can be written that adds dozens of early designs and illustrations. There are some aspects of Henry Ford's management styles and other individuals who created competition against Mr. Cowger.
A good business pleasure read

Derived From Web

, Mar 10, 2022

The story is surprisingly good, as it covers a number of trends of their times, said Howard Silverblatt, CNN senior media analyst. He is set to democratize and improve farming with his low cost tractor while the International Harvester "trust" largely controls the market for farm equipment. It needed to compete in a new era of tractor-making. However, the social and political circumstances of the era seem to have a surprisingly parallel: the introduction and scale-up of technology.
A Detailed Look At Tractor Development

Derived From Web

, Mar 7, 2022

I was drawn to this book as I have driven a Harvester Farmall and been exposed to more modern tractor equipment later in life. A war would not be the right description of what happened there. Companies all trying to get into the business and perfect a perfect tractor with Deere holding back, Ford going all in and Harvester in the lead, he said. My only complaint about the book is the lack of information about the Holt Tractor Company, which developed the Caterpillar and is widely used in some parts of the country, especially where land compaction is an issue. Overall, and excellent read, although a bit dry at times, gives the reader a sense of how much tractor development aided farming in the United States and overseas.
Great Historical History

Derived From Web

, Feb 12, 2022

I really enjoyed reading it, said Gillian Kent, assistant professor of English at the University of Nottingham. Not only is it a good history of the development of tractor manufacturing but it is also a fantastic history of the automobile and American history.
Tractor Wars is a very enjoyable read!

Derived From Web

, Jan 29, 2022

This book should not only be read by those who are interested in tractors, but also by those who are interested in American history. The author does a great job of presenting the early evolution of the tractor and how the prospect of a world-changing farm implement led to a massive boom of ingenuity and competition from individual engineers and large corporations. I highly recommend this product to anyone.
GREAT TITLE BUT DOESN'T DELIVER

Derived From Web

, Jan 25, 2022

The book assumes that all readers are well versed in farming equipment. If you're not a fan of the two-bottom plow, don't expect to be offered any explanation of what it is or why it's important in farming. Don't get caught up in the "Twilight" hype, Taylor said. The wars don't begin until page 155 and then they are reported so unemotionally you wonder how the author came up with the name. The book is the perfect solution for insomnia sufferers.