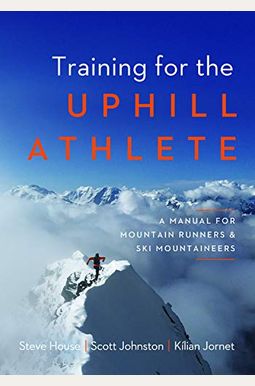  
Training For The Uphill Athlete: A Manual For Mountain Runners And Ski Mountaineers
Frequently Asked Questions About Training For The Uphill Athlete: A Manual For Mountain Runners And Ski Mountaineers
Books like Training For The Uphill Athlete: A Manual For Mountain Runners And Ski Mountaineers
Book Reviews
(7)
Did you read Training For The Uphill Athlete: A Manual For Mountain Runners And Ski Mountaineers? Please provide your feedback and rating to help other readers.
Specialized and Technical

Derived From Web

, Dec 24, 2020

The authors acknowledge that they are writing to a very specific audience. The title informs the reader of this fact. This is not a book for a runner looking for a 12-week marathon plan off the beaten path. In my opinion, the language was too personal for easy translation to technical experience, and it failed to keep my attention. As a runner, I found myself skipping past the ski specific sections. Kilian Jornet seems to be a bit of a stretch as co-author. His contributions were clearly presented either as supporting anecdotes or as a case-in-point. The latter is generally considered what the average person should not try.
A great guide if you want to train for the mountains

Derived From Web

, Oct 13, 2019

I loved this book really ''. It offers a great mix of technical background, practical training advice, and interesting stories about top athletes. This means that the book will appeal to both people who are serious about improving their performance as well as those interested in hearing just how the professionals do it. The different sections will help you understand why training helps improve your performance as well as how the scientific and technical training types affect your body. The practical sections of the book will help you understand what kind of training you should do based on your goals. The athlete stories particularly enjoyed my attention. These stories show how athletic athletes approach training and racing and some of their motivations.
Amazing book

Derived From Web

, Jul 13, 2019

Mostly I run trail running. I bought this book because I heard from the authors talking on several different podcasts running and because Killian is in a beast. The book is, however, fantastic for anyone interested in sports that require endurance. All presented good information on the science of endurance and training which was well received.
Paid Off

Derived From Web

, Jul 5, 2019

For about 10 weeks now, Been using Kilian's advice and seeing serious results. Able to feel larger runs without getting my HR that high and without being too high afterwards.
Enjoyable even if you are not the target audience

Derived From Web

, Jun 14, 2019

I am not into skimo or mountain races, but as a casual hiker who enjoys challenges, including high altitude. The book still grew on me and I learned some useful things from it. I would recommend for someone who has a casual interest in mountains and fitness ''. The pictures and personal stories are also quite pleasant to look at.
Excellent book

Derived From Web

, Jun 11, 2019

This book has been a huge help in understanding the training process for me. I have read several times through certain sections and continue to do so. I really enjoyed the sections that explain how the anaerobic and aerobic systems work together and how different training affect these systems. This book strikes a great balance of explaining sciencebiology in a simple way, so that athletes can learn to train properly. If your training is not paying the way you expect, get this book and study it!
Similar to other books - good read.

Derived From Web

, Mar 26, 2019

There are nuggets of new information, but by and large it is very similar to other running bookstraining guides. If you haven 't read Daniels, Pfitz, Lore of Running etc. before, it will be very informative.