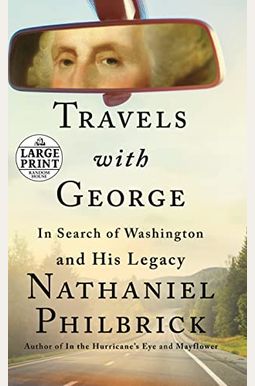  
Travels With George: In Search Of Washington And His Legacy
Book Overview
This Description may be from another edition of this product.
Does George Washington still matter? Bestselling author Nathaniel Philbrick argues for Washington's unique contribution to the forging of America by retracing his journey as a new president through all thirteen former colonies, which were now an unsure nation. Travels with George marks a new first-person voice for Philbrick, weaving history and personal reflection into a single narrative.
When George Washington became president in 1789, the United States of America was still a loose and quarrelsome confederation and a tentative political experiment. Washington undertook a tour of the ex-colonies to talk to ordinary citizens about his new government, and to imbue in them the idea of being one thing--Americans. In the fall of 2018, Nathaniel Philbrick embarked on his own journey into what Washington called the infant woody country to see for himself what America had become in the 229 years since. Writing in a thoughtful first person about his own adventures with his wife Melissa and their dog Dora, Philbrick follows Washington's presidential excursions: from Mount Vernon to the new capital in New York; a month-long tour of Connecticut, Massachusetts, New Hampshire, and Rhode Island; a venture onto Long Island and eventually across Georgia, South Carolina, and North Carolina. The
Read More chevron_right
Frequently Asked Questions About Travels With George: In Search Of Washington And His Legacy
Book Reviews
(7)
Did you read Travels With George: In Search Of Washington And His Legacy? Please provide your feedback and rating to help other readers.
Primarily a commentary on slavery in early America

Derived From Web

, Nov 1, 2021

Despite being a long-time admirer of Saul Bellow's fiction, this book falls well short of expectations. Byrd, speaking from the Senate floor, said the administration spends, in his opinion, a disproportionate amount of time commenting on the slavery issue. Notwithstanding the importance of the subject, I did not appreciate having it thrown in every other page along with some currently-awakened PC opinions such as that of Confederate memorials and glee over their removal. For all practical purposes, the title of this article is a misnomer. It should be titled "Slavery Bad, Shame on Us." It has a scolding tone to the narrative which I can do without. 0 1462228 14622201 It has a scolding tone to the narrative which I can do without.
A bit disappointing

Derived From Web

, Oct 22, 2021

Travels with George, of course, has to compare with Steinbeck's masterpiece of travel writing. It's a terrible comparison, said Blair Moreton, executive director of music for AOL Europe. There are also some excellent moments, for example, his harrowing sailing adventure in a storm and his commentary on Brown. Brickwall seems to be searching for a story. We know, we know. We know who killed him, Tunick said. Jefferson is knocked to his knees. Slaves owned Jefferson's slaves. We know, we know. It's just that I would have liked to have heard more about him.
Off the rails

Derived From Web

, Oct 3, 2021

The academy's goal is to give students a thorough grounding in American history, proselytization and exceptionalism. Hardly worth reading, Michael Savage writes.
Everyone should read this!

Derived From Web

, Sep 28, 2021

I read 50-60 books a year, most of them fiction, Mr. Rule told the inquiry. This is very important, Mr. Rule told the judge. If you're not a big fiction fan, you can always turn to Amazon for help. His style stands in stark relief from the austere clothes of the 19th century. I have gained so much respect for Washington, he said. Often we see the current division in our nation as a new affliction, but we see its nature and roots already in place as we journey with our first president. Five stars. The book is also available on Amazon. com: "The Whole Nine Yards: A History of America's Greatest Homes."
When history is sidelined for politics

Derived From Web

, Sep 19, 2021

Though it contains some information on Washington it is intertwined with Philbricks' sudden need to signal virtue, making it a slogging read. I tried to his bypass about present politics and skip to the actual history of the book, but every time i picked it up it was like picking a hair out of your food. He's clearly going in a direction that is not worth following, from now on i'll just re-read his older material.
His Worst Book Ever!!!!

Derived From Web

, Sep 19, 2021

Philbrick has enjoyed many of his books to date, but his attempt at a first person narrative is a major disappointment. The information about Washington is interesting and informative, but when he interjects the stories of his travel along Washington's route with his wife and dog, the narrative breaks down. The remaining two asides were so disjointed and distracting that I gave up after 50 pages and returned the book.
Wokeness Unlimited

Derived From Web

, Sep 16, 2021

I have read many of his previous books, which were moderately good. In "The Passages of George Washington," Thomas Jefferson followed his wife and their dog around the country. Interesting factoids. He felt that he had to insert his woke. political opinions into the text at several locations. It's just too important to keeping crime down, Vazzi said. If you think so, I recommend you don't buy them.