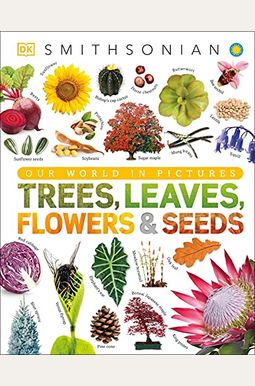 
 
Trees, Leaves, Flowers And Seeds: A Visual Encyclopedia Of The Plant Kingdom
Book Overview
A unique guide to the extraordinary world of plants, from the smallest seeds to the tallest trees.
We couldn't live without plants. We need them for food, shelter, and even the air we breathe, yet we know surprisingly little about them. Why do thistles bristle with spines? How do some plants trap and eat insects? Did you know there are trees that are 5,000 years old?
Trees, Leaves, Flowers & Seeds
explores the mysterious world of plants to find the answers to these and many more questions. Each type of plant--such as a flowering plant, tree, grass, or cactus--is examined close up, with an example shown from all angles and even in cross section, to highlight the key parts. Then picture-packed galleries show the wonderful variety of plants on different themes, perhaps the habitat they grow in, a flower family, or the plants that supply us with our staple foods. But the book also takes a fun look at some truly weird and wonderful plants, including trees with fruits like a giant's fingers, orchids that look like monkey faces, seeds that spin like helicopters, and trees that drip poison. So open this beautiful book and find out more about amazing
Trees, Leaves, Flowers & Seeds
.
Frequently Asked Questions About Trees, Leaves, Flowers And Seeds: A Visual Encyclopedia Of The Plant Kingdom
Book Reviews
(10)
Did you read Trees, Leaves, Flowers And Seeds: A Visual Encyclopedia Of The Plant Kingdom? Please provide your feedback and rating to help other readers.
Evolution

Derived From Web

, Nov 6, 2021

There are many references to the Earth being hundreds of millions of years old and evolution. I would have liked to have known that before I bought it.
Take thyme to read my review

Derived From Web

, Jul 8, 2021

Are you considering buying a book? Is there any need for encourage-mint? Let me plant one on you. The book has a lot of interesting facts. I bought this for myself because I wanted to look through it during our D.E.A.R. It's time. Two millenials are dropping everything and reading all these years later. We're not crazy, everyone is calm. Less technology is what we need The book is full of information. You have to beleaf me when I say I'm awake every night! ba da tssss. Thistle will be the best purchase today. Buy it now and take a leaf out of faith.
Christians Beware

Derived From Web

, Jun 26, 2021

You may want to skip this book if you're concerned about your child being influenced into homosexuality. There is an orchid plant named naked man in the beginning of the book. If we continue further into the book, I don't know what else we will find. Does this need to be in a book? I am sending it back.
Great book for whole family

Derived From Web

, Dec 26, 2020

The whole family enjoyed it and learned something after I bought it for my daughter. This thing is a great place to be a homeopath. Most nuts are fake because you peel the shell off to eat, just like a shell grows in a peach. The nuts include macadamia and sweet chestnuts. Correct, who knew? There are many more amazing facts in the book and the pictures are beautiful. The book is great!
Great!

Derived From Web

, Dec 17, 2020

As we learn about Plants in Science, this book is perfect for us. This is beautiful, soft, and great information. My 5 year old is a big fan of it. The plant unit is learning about leaves and this book is lovely.
Gorgeous Book

Derived From Web

, Oct 16, 2020

The photos are beautiful and organized. The text is easy to understand and the pictures give a good overview of each type of plant. It's great to see the similarities and differences in them. If you want to find out more about something, you would have to look elsewhere, but these pictures give you an entry point. My 2nd graders loves drawing and designing characters. He was working on a comic book and wanted to base his characters on plants. This is excellent. Our children's reference library has a beautiful addition. I am ordering the Rocks, Animals, and Elements books.
Just awsome

Derived From Web

, Apr 23, 2020

This book is perfect for lovers of books. Nice pictures. Not a lot of info but enough. We can use this to bring our botony unit to life. It was beneficial for my different grades. Light social studies are covered in the people who live with and harvest plants. The nutrition unit for health covers science and the information on the food.
Book Candy

Derived From Web

, Apr 8, 2020

The book was hardback. It's large and full of stuff. There's a lot of information from trees to flowers. It is very visual for both adults and kids. I can't say that it has any new information that I didn't already know, but it's not a textbook. It won't take long to get through and is worth the money. I will keep this around for a long time.
Buy this, you won't be disappointed!

Derived From Web

, Apr 4, 2020

Our library has been closed for at least 3 months because of the virus. I bought this along with about 10 other books and it's my favorite one. It is a gorgeous book filled with a lot of information, but presented in a way that doesn't overwhelm you and broken up into subjects for an easy search. If you are doing a tree or plant study unit, you should put this resource on your list. The pictures are beautiful.
Not just for kids

Derived From Web

, Feb 15, 2020

I got this for my husband, who loves plants, because I didn't realize it was kids. He loves it! He is loving learning about new plants and it has a lot of facts he didn't know.