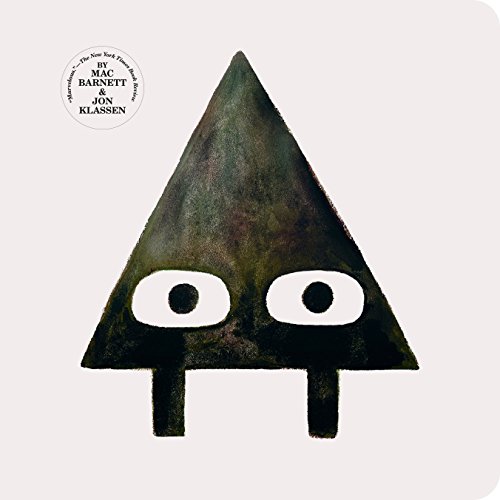  
Book Overview
Multi-award-winning, New York Times best-selling duo Mac Barnett and Jon Klassen conspire again on a slyly funny tale about some very sneaky shapes.
Meet Triangle. He is going to play a sneaky trick on his friend, Square. Or so Triangle thinks. . . . With this first tale in a new trilogy, partners in crime Mac Barnett and Jon Klassen will have readers wondering just who they can trust in a richly imagined world of shapes. Visually stunning and full of wry humor, here is a perfectly paced treat that could come only from the minds of two of today's most irreverent -- and talented -- picture book creators.
Frequently bought together
Frequently Asked Questions About Triangle
Books like Triangle
What should you read after Triangle Book? Here is a list of books to read if you read and loved Triangle
Book Reviews
(14)
Did you read Triangle? Please provide your feedback and rating to help other readers.
Pretty pictures. Terrible story.

Derived From Web

, Sep 25, 2020

The artwork in the book is playful, as is the compelling way to introduce recognition of shape. The story itself is not good... it introduces the concept of being afraid of snakes and being afraid of the dark, which is a terrible thing to do for children who do not have these fears! Also, the triangle and square characters are unkind to each other and play tricks to make the other scared.
Horrible Story

Derived From Web

, Oct 14, 2019

The entire plot is a triangle that goes to visit a square to be mean to them, then the square takes revenge and is mean back. Ugh :
Storyline is awful.

Derived From Web

, Apr 18, 2019

I 'd heard one of the authors on public radio talking about it and reading the best reviews. The quality was great, but the story sucks. There was no way that I would have given them as a gift.
Laughing together is priceless

Derived From Web

, Feb 2, 2019

My six year old son and I giggle just when we read this book. The first time it cracked us completely! We now enjoy reading that first time we laugh and still enjoy the pictures together. It is amazing how such simple appearing illustrations portray such character and emotion. I ordered Square just and I've pre-ordered Circle.
Jon Klassen is once again an amazing illustrator

Derived From Web

, Oct 15, 2018

I bought this book together with another children's book for my friend, because we're both into illustration and looking into making our own children's book one day . This book is such a great inspiration to those looking into this field of illustration, and also such a joy for children! The outside is a board book type cover and is very hardy and the interior pages are a sturdy paper, which is nice to have both. Overall, this was a great buy and my friend loved it!
3 mo old loves it

Derived From Web

, Sep 17, 2018

He is very interested in the high contrast of black and white illustrations, and I think he likes the figures because of their large eyes. My only complaint is that the pages are really flimsy and will rip easily, and they stick together terribly. This makes reading the story very difficult for him. I 'd like to have thicker pages. It is also pretty expensive for a children's book IMO.
It's really fun to read aloud and the illustrations are hilarious and ...

Derived From Web

, Jun 4, 2018

Such a funny book! It is really fun to read aloud and the illustrations are funny and are able to convey so much emotion. We loved this book so much that we had to buy our own copy.
I agree with another reviewer – I don't like the spirit of the interaction between the characters in ...

Derived From Web

, Sep 9, 2017

I agree with another reviewer - I don 't like the spirit of interaction between characters in this book. I was hoping that there would be some resolution or moral lesson at the end of the story, but there was just not. In my three-year-old pre-school classroom, where we are always trying to teach empathy and care for one another, I really would not read this story that highlights teasing and increasing the fears of each other. As much as I would love a book that focuses on shape and geometric principles, this book would not do it for me.
Strong visuals. Weak story.

Derived From Web

, Jul 28, 2017

However, great art is weak and the story is great and leaves your kid asking why? When my kid reaches for it, it is always sad.
Suitably Sssilly Storytime Book

Derived From Web

, May 15, 2017

It is a simple story, but there is also a perfectly delightful, juvenile humor to it. You can really ham up and draw out the dialogue because there isn't too much of it and because it is so childish. Triangle heads to Square's house to play a simple trick on him. He stands just outside Square's little square house and hisses like a snake. Square is initially genuinely alarmed, but once Triangle reveals himself, Square chases him all the way back to his triangular house. How do I know that this book was a hit with my storytime group? They could not stop hissing for the rest of the morning at one another and bursting into fits of giggles.