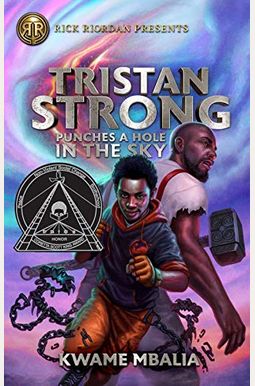  
Tristan Strong Punches a Hole in the Sky
Book Overview
Winner of a Coretta Scott King Author Honor
Best-selling author Rick Riordan presents Kwame Mbalia's epic fantasy, a middle grade American Gods set in a richly-imagined world populated with African American folk heroes and West African gods.
Seventh grader Tristan Strong feels anything but strong ever since he failed to save his best friend when they were in a bus accident together. All he has left of Eddie is the journal his friend wrote stories in. Tristan is dreading the month he's going to spend on his grandparents' farm in Alabama, where he's being sent to heal from the tragedy.
But on his first night there, a sticky creature shows up in his bedroom and steals Eddie's notebook. Tristan chases after it--is that a doll?--and a tug-of-war ensues between them underneath a Bottle Tree. In a last attempt to wrestle the journal out of the creature's hands, Tristan punches the tree, accidentally ripping open a chasm into the MidPass, a volatile place with a burning sea, haunted bone ships, and iron monsters that are hunting the inhabitants of this world.
Tristan finds himself in the middle of a battle that has left black American folk heroes John Henry and Brer Rabbit exhausted. In order to get back home, Tristan and these new allies will need to entice the god Anansi, the Weaver, to come out of hiding and seal the hole in the sky. But bartering with the trickster Anansi always comes at a price.
Can Tristan save this world before he loses more of the things he loves?
Frequently bought together
Frequently Asked Questions About Tristan Strong Punches a Hole in the Sky
#1

#2
Books like Tristan Strong Punches a Hole in the Sky
What should you read after Tristan Strong Punches a Hole in the Sky Book? Here is a list of books to read if you read and loved Tristan Strong Punches a Hole in the Sky
#4

#1

#2

#1

#1
Book Reviews
(7)
Did you read Tristan Strong Punches a Hole in the Sky? Please provide your feedback and rating to help other readers.
Good "growth as a person" story embellished with folklore motifs.

Derived From Web

, Nov 12, 2021

I grew up with Brer Rabbit stories so that I loved all the influences of African-American folktales in this book. Given that Song of the South has been out of favor for most of my life, I am a bit curious how modern children take this if it is their first introduction to the Brers and John Henry and the people could fly. I felt like there was an assumption that these things were already in a background of a readers. Still, this book's story did not depend on knowing these backgrounds ; the hero's growth cycle was exciting and satisfying, the journey draws the reader along, and it is all convincing. Given that my daughter took Calvin as hero when she was little, I would be a little leery of my grandkids deciding that Tar Baby was their hero, however. Not just a book for children.
I recommend this book!

Derived From Web

, Sep 20, 2020

I am 9 years old, so that this book is great for experienced readers. It is a great book for mythology lovers and is about African mythology.
Tristan Strong Punches a Hole in the Sky: My Kindle Review

Derived From Web

, Aug 12, 2020

The story of Tristan was pretty much what I expected from a Percy Jackson-like story with African mythology. Nevertheless, it's own story is one of exciting storytelling and full of adventure. It follows the youngster who is struggling to make his father and grandfather proud with his not so good boxing skills after losing his best friend, but an unexpected punch now puts him and his world in peril. It was certainly a great read, the blend of African mythology caught my attention throughout and Tristan's story wraps well for the next volume. A - A - A - A -
Creative method for engaged learning cultural stories!

Derived From Web

, Aug 3, 2020

Opportunity to teach the foundation of myths and storytelling while reaffirming the importance of family relationships.
Educator's Perspective

Derived From Web

, Jul 14, 2020

As an educator who seeks opportunities to introduce books that are culturally responsive, I am thrilled that Riordan has introduced this series of books. A majority of children's books are not written with students of color in mind, and some authors think that they are culturally relevant only because they include an ethnically diverse character. Before reading, I strongly recommend discussing the cultural relevance of some characters like Brer, John Henry and Gum Baby, as most of the students are probably unaware. This will also help readers develop a deeper understanding of the behavior and attitude of Gum Baby. I am considering purchasing a small set for my accelerated instructional reading group, as this book may be geared towards older intermediate students.
Great Start to a New Series

Derived From Web

, Oct 29, 2019

I greatly enjoyed the story -- action-packed without being too frantic, likable protagonist and supporting characters. Baby Gum cracked me up, Gum Baby. It was nice to see John Henry and Brer Rabbit again as well -- I hadn't thought of them since I was a kid. Looking forward to the next book in the series!
So good *I* want to punch things

Derived From Web

, Oct 20, 2019

I found Kwame Mbalia on Twitter a few months ago by accident, and he's smart and funny. When I found out that his first book was coming out, I went ahead and ordered it. Forward starts with high praise from Rick Riordan, who says he envies those of us who read it for the first time. That is my favorite compliment to give any book or show. Tristan Strong does not disappoint Tristan Strong. I am not really a fantasyfolktale kind of person, but I should really stop saying that because I loved that book and it is both of those and more. It is wise and heartfelt and unlike anything else I have ever read. If you loved Tristan, though, I can almost guarantee that you 'll love Black Panther. Buy a copy for yourself and at least one more for a child, a classroom, a free library or a library near you. It is the kind of book that you read and want everyone around you to finish it immediately so that you can gush with them.