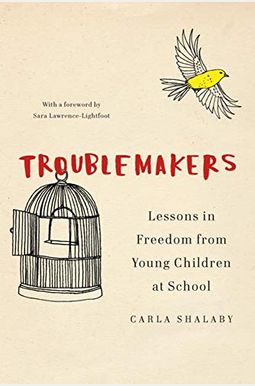  
Troublemakers: Lessons In Freedom From Young Children At School
Book Overview
This Description may be from another edition of this product.
In this dazzling debut, Carla Shalaby, a former elementary school teacher, explores the everyday lives of four young troublemakers, challenging the ways we identify and understand so-called problem children. Time and again, we make seemingly endless efforts to moderate, punish, and even medicate our children, when we should instead be concerned with transforming the very nature of our institutions, systems, and structures, large and small. Through delicately crafted portraits of these memorable children - Zora, Lucas, Sean, and Marcus - Troublemakers allows us to see school through the eyes of those who know firsthand what it means to be labeled a problem.
From Zora's proud individuality to Marcus's open willfulness, from Sean's struggle with authority to Lucas's tenacious imagination, comes profound insight - for educators and parents alike - into how schools engender, exclude, and then try to erase trouble, right along with the young people accused of making it. And although the harsh disciplining of adolescent behavior has been called out as part of a school-to-prison pipeline, the children we meet in this book demonstrate how a child's path to excessive punishment and exclusion in fact begins at a much younger age.
Shalaby's empathetic, discerning, and elegant prose gives Read More chevron_right
Frequently bought together
Frequently Asked Questions About Troublemakers: Lessons In Freedom From Young Children At School
Books like Troublemakers: Lessons In Freedom From Young Children At School
Book Reviews
(7)
Did you read Troublemakers: Lessons In Freedom From Young Children At School? Please provide your feedback and rating to help other readers.
Heavily Biased

Derived From Web

, Dec 21, 2020

This book was assigned to me in my teacher preparation class. The book was heavily biased in favor of political beliefs. I liked learning about individual students and how they were causing trouble due to underlying issues, but this isn't always the case. You can't fit the behaviors and reasonings of troublemakers in a box. When I was younger, I was very aggressive because I had a bad temper and I eventually grew out of it. I think people can be sensitive to certain things, especially in today's times, but maybe that is me.
If you haven't read this book yet, now is the time!

Derived From Web

, Dec 17, 2020

This book has been recommended to teachers, administrators, friends and colleagues by me ever since it was published in 2017. It is in my top ten favorite education books, along with Teacher, Teaching Children to Care, and We Want To Do More Than Survive. Troublemakers is an essential read for the work we will have to do in schools in the years to come. The author of Yardsticks Child and Adolescent Development is Chip Wood.
Important Theme, Progressive Worldview

Derived From Web

, Jul 4, 2019

The conclusions on the need to love all kids and be creative in reaching even the troublemakers are important, even though the author's worldview would be vastly different than mine. I try to look at the reasons behind the behavior of the disadvantaged kids I work with and remind myself to see them as troubled, not trouble. The author made this point well in her case studies. I would have liked to have gotten more practical ways to reach children. The conclusion of the love focus is compelling.
Don't miss this transformative book on education.

Derived From Web

, Aug 9, 2018

I look for books to push my thinking as a teacher. Troublemakers has pushed me more than any hook has. Anyone who works in education should read it. It will go down in history as one of the most significant books on education. Don't overlook it. The author said that we need to be love.
Thought-provoking, real, and frustrating

Derived From Web

, Jul 26, 2018

What do our classrooms feel like for students who cause trouble? How does it make you feel? The book raises a lot of questions but doesn't provide much in the way of solutions. Troublemakers is a philosophy book and not a how- to book. Four students who are struggling in their classrooms are the focus. They throw chairs and yell at other students. The scenes are from a classroom observer. The question is why. What are the responses to what? Shalaby makes a case for these students as freedom fighters. She encourages the student classroom community to find ways to include them instead of exclude them, and to find ways to be love to them. The book is both heartbreaking and frustrating at times. There is a lot of food for thought about classrooms and society.
A Must-Read For Educators

Derived From Web

, Oct 11, 2017

This book will stay with me for the rest of my career in the classroom, as I will return to its pages for centering, peace- granting, energy- giving reassurance of what our work as teachers should and must be. It is the exact text that my teacher- heart has been craving for the last 10 years in and out of the classroom. It is the exact text that all students deserve to have their teacher read. I had planned to pass the book along to a friend, but I can't part with my copy, so my only complaint is that I wasn't warned sooner to buy two, one to keep and one to pass along.
I propose that we be love. "

Derived From Web

, Jul 8, 2017

Having just finished this book, I feel the need to share it with as many people as possible, the power and importance of it, and I have never written a review on Amazon before. I have taught in public, private, and charter schools for 13 years. My undergrad degree was in education and child studies and my masters degree was in special education. I have read a lot of books about education. This is the most important book I' ve ever read. I think every teacher should read it. This book should be read by everyone. A classroom management is not a technical or mechanical skill. I propose that we love each other.