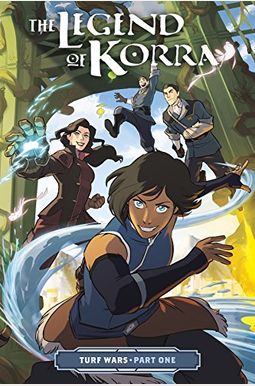 
 
Book Overview
Relishing their newfound feelings for each other, Korra and Asami leave the Spirit World . . . but find nothing in Republic City but political hijinks and human vs. spirit conflict
A pompous developer plans to turn the new spirit portal into an amusement park, potentially severing an already tumultuous connection with the spirits. What's more, the triads have realigned and are in a brutal all-out brawl at the city's borders--where hundreds of evacuees have relocated In order to get through it all, Korra and Asami vow to look out for each other--but first, they've got to get better at being a team and a couple Written by series co-creator Michael Dante DiMartino and drawn by Irene Koh
T.M.N.T., Sensation Comics featuring Wonder Woman, Secret Origins: Batgirl, Afrina and the Glass Coffin
) and with consultation by Bryan Konietzko, this is the official continuation of
The Legend of Korra
Frequently bought together
Frequently Asked Questions About Turf Wars Part One

Books like Turf Wars Part One
Book Reviews
(14)
Did you read Turf Wars Part One? Please provide your feedback and rating to help other readers.
Perverted Book!

Derived From Web

, Jan 23, 2022

Please keep in mind that your children are not allowed to read the Harry Potter series. In fact, one of my 10 year old friends came to me and asked why there were two kissing girls. He was so disturbed, his wife said. Mr. Kennedy said: "I had to open a discussion that I was not prepared for. The book is going back to the disgusting box it came from!
True Love is awesome here, not much more…

Derived From Web

, Aug 22, 2021

The final product is beautiful, too. Villains aside, the rest of the show is generally forgettable, even if the plot is original. The best part is the lovely affirmation of Korra's and Asami's love for each other, she said. All in all, a solid beginning to the story, but for 2021 it isn't that shocking to see a same-sex couple. I think we'll see some pretty radical changes in the way we think about it, Mr. Rule told the judge.
A Coming out story.

Derived From Web

, Jul 10, 2020

A good book, but the story was too good to ignore. It is just a coming out comic, not much adventure _ I'd hoped they would develop Kora and Asamis relationship further instead of jumping into them already being in one and the entire story being about telling people. I got this book for my family but it is less for his age group than I had hoped.
Hmmmm, not so much

Derived From Web

, Jul 9, 2020

Oh my!!!!!!!!! I'm new to the show and didn't catch the disclaimer about same sex relationships. To each his own, my preference is to not be blindsided, my son brought 13 pages to my attention and that's as far as he was willing to read. It's a beautiful, 3 stars for art, Tunick said.
Loved it! The characters and story are awesome!

Derived From Web

, Nov 27, 2019

Great condition and wonderful story a must have to find out what happens after the show, said one fan.
The best

Derived From Web

, Jan 24, 2018

Legend of Korra was just that - legend. And the comic is just as cool, except for the fact that I can't even begin to describe what it means to be able to read a comic about two incredible women who happen to love each other. It means so much to me that people actually care about music. The artist who did it is absolutely fantastic, it's just beautiful, McCartney said. Thanks for the support!!!!!!!!! My only wish is that it could be somehow made into the animated show again, so that I could kiss a canon Koramiras. Thanks for this, Mr. Caramore.
Good continuation of series

Derived From Web

, Nov 25, 2017

Short, but over all a nice continuation. Like many of his professors, Kline is drawn to concepts like homosexuality and classicalism. Will be expecting the next book in the series to follow on this.
Great continuation of Legend of Korra

Derived From Web

, Sep 21, 2017

A great continuation of the great TV show. Art style is different than the show but it's still great and it's for sure a must buy for anyone who liked it.
A good start with room to grow...

Derived From Web

, Aug 28, 2017

Wow! That was pretty impressive, right? This is a continuation of the tradition of great Avatar comics. I cannot wait to see how it progresses. 0 3171616 3171578 It's great to see how it progresses, he said. But there are some differences: the customs of nations deal with same-sex relationships. It seems to me that the review process was handled well, though a bit rushed. I hope it's explored a bit more in depth as the story continues. 0 1462228 1562214 I hope it's explored a bit more in depth as the story continues. Though he has a lot of potential as a villian, Tokuga is just a typical mob gang leader. And, ooh, more of the air benders and more of Bolin lava bending! They are the only ones who can never have enough of those.
Worth to wait

Derived From Web

, Aug 12, 2017

So, I'm a fan, so obviously I gave it 5 stars, haha. What a great story, added LGBT matter, made it more relatable. I would continue to support this comic, and I would also support Aang's comic as well!