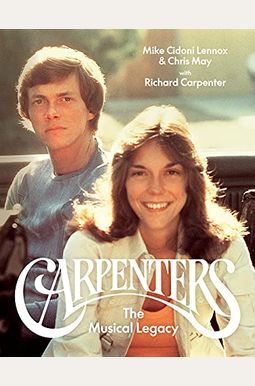 
 
Turkiye Sizinle Gurur Duyuyor: Neoliberal Solculugun Elestirisi Ve Sosyalist Program-Siyaset
Book Overview
The definitive biography of one of the most enduring and endeared recording artists in history--the Carpenters--is told for the first time from the perspective of Richard Carpenter, through more than 100 hours of exclusive interviews and some 200 photographs from Richard's personal archive, many never published.
After becoming multimillion-selling, Grammy-winning superstars with their 1970 breakthrough hit (They Long to Be) Close to You, Richard and Karen Carpenter would win over millions of fans worldwide with a record-breaking string of hits including We've Only Just Begun, Top of the World, and Yesterday Once More. By 1975, success was taking its toll. Years of jam-packed work schedules, including hundreds of concert engagements, proved to be just too much for the Carpenters to keep the hits coming--and, ultimately, to keep the music playing at all. However, Richard and Karen never took their adoring public, or each other, for granted. In
Carpenters: The Musical Legacy
, Richard Carpenter tells his story for the first time. With candor, heart, and humor, he sheds new light on the Carpenters' trials and triumphs--work that remains the gold standard for melodic pop. This beautifully illustrated definitive biography, with exclusive interviews and never-before-seen photographs, is a must-have for any Carpenters fan.
Frequently Asked Questions About Turkiye Sizinle Gurur Duyuyor: Neoliberal Solculugun Elestirisi Ve Sosyalist Program-Siyaset
Book Reviews
(7)
Did you read Turkiye Sizinle Gurur Duyuyor: Neoliberal Solculugun Elestirisi Ve Sosyalist Program-Siyaset? Please provide your feedback and rating to help other readers.
Great overall history

Derived From Web

, Dec 2, 2021

Longtime Carpenters fan from the beginning and I enjoyed the book so far and found it to be a great history of the group. In response to those who are concerned about the photographs, many photos are blurred and not the best quality, but we must remember just how old most photos are! In addition to realizing, they were taken from the pre-digital age a digital age ''!!! Plus they copied old newspaper articles... yellowed by now. Good grief, it is sort of a history book and we must appreciate the quality produced from what was available to work with. This "history book " of over 60 years is well appreciated by this long-time fan!
Statistically Comprehensive

Derived From Web

, Nov 30, 2021

I know that some have longed for a personal collection of rare and beautiful photos. Indeed, this would be nice to see. However, I value the statistics and have exhaustively detailed information on all releases. The actual details about some on the compositions and the chart performances and information about the fine recordings themselves. This is not only a fan tome, but a historian's guide to the Carpenters. Personally, I like it ''.
The book is mostly a list of dates and lists.

Derived From Web

, Nov 22, 2021

The authors and Mr. Carpenter spend the bulk of the book on dates, where records were recorded and how Mr. Carpenter updated the original recordings. The only time the book really describes the heart of Carpenter music is written by Charles Carpenter, who wrote the text to Mr. Carpenter's compositions. I also hoped that Mr. Carpenter would spend more time speaking about the musicians he worked with in the recording studio and on stage. These talented artists helped the carpenters realize the beauty of their recordings and concerts. At times, Mr. Carpenter and the authors don'; s seem to realize that they are insulting some musicians by implying in certain areas that they lack talent. Finally, I put this book aside and continue to love the music created by the Carpenters.
Great Book

Derived From Web

, Nov 20, 2021

Some have said that the book was a disappointment, but I like this perspective and Richard's frank comments on how their management and photo shoots for album covers helped perpetuate their image, such that they were stigmatized and fans were shamed for liking them. I like the focus of the book on their music and their music choices. The discography and tour times are also comprehensive. Great addition to my collection of Carpenters.
Lovely book!

Derived From Web

, Nov 19, 2021

If you are a fan, this is the book to have. Was surprised how large it is, but am happy to learn so much about it to look at and learn.
THE Definitive Carpenters Book

Derived From Web

, Nov 17, 2021

From Richard Carpenter's firsthand recollections and reminiscences to the beautiful photos and clippings to the sense of being there, this book is IT. Where others have focused on Karen's health or run the lengthy list of hits, we get the mature yet heartfelt account of the talented duo's journey. While this Kindle version is great, the full-sized hardcover book with artwork is the best... especially for gift-giving!
Essential book on Carpenters

Derived From Web

, Nov 17, 2021

This book is the go-to-book on the musical heritage of Carpenters! Filled with never seen photos and information about their releases. For any true fan of Carpenters'music, this is an essential addition to your library.