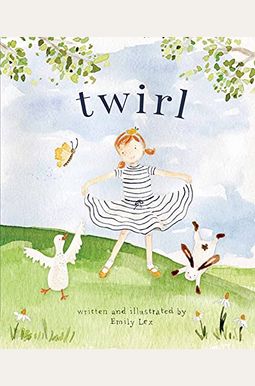 
 
Twirl: God Loves You And Created You With Your Own Special Twirl
Book Overview
This simply delightful story from watercolor artist Emily Lex encourages children (ages 4-8) to become exactly who God created them to be, living freely and lightly for Him.
The birds sang their songs and the bees buzzed and the sweet scent of wildflowers filled the air. And Audrey and her friends twirled with all their hearts, freely and lightly, just the way God made them. Each of us have been exquisitely designed by God to receive his love and reflect it in our own one-of-a-kind, never-ever-to-be-duplicated way. Help your children celebrate their specialness as you share this sweet story about a girl who discovers the truth of who God made her to be, with a little help from her adorable animal friends. Featuring original writing and watercolors from popular author and artist Emily Lex,
Twirl
is sure to become a family reading time favorite and a great way to dive in to deeper conversations with your kids about their unique place in God's creation.
Frequently Asked Questions About Twirl: God Loves You And Created You With Your Own Special Twirl
Book Reviews
(10)
Did you read Twirl: God Loves You And Created You With Your Own Special Twirl? Please provide your feedback and rating to help other readers.
Sweet art work

Derived From Web

, Jan 13, 2022

Very sweet art workillustrations are very sweet. I bought the book for the art, but the story line is lacking and did not really interest my child.
Perfect book

Derived From Web

, Nov 18, 2021

I am so happy with this purchase ''. Bought for my granddaughter for Christmas and I am so excited for her to receive it. I read the story and loved the uplifting story that encouraged the young girl in the story to be happy with herself and her abilities.
Beautiful book and illustrations

Derived From Web

, Oct 23, 2021

A beautifully written and illustrated book to remind our children that they are made in God's image and should embrace life! twirl just right!
Beautiful Message, Beautiful Artwork

Derived From Web

, Oct 19, 2021

This is the sweetest book ever written! It has the most charming artwork and a beautiful message for children -- that God made each of us in His image and with our own gifts. Instead of looking at what others are doing, we look for our purpose and value in God. This is such an important message that I have loved sharing with my kids. They love the sweet animals and especially all the twirling.
Very Important Message for Readers of All Ages

Derived From Web

, Oct 17, 2021

This children's book gets an A+. The message of realizing that God made you just the way He wants you to be, coupled with the beautiful illustrations by the author, makes for a wonderful reading experience for both the reader and the reader, who is being read. My soon 4 years old granddaughter, soon to be 4 years old, loves this book. Every time she comes to my house, which is twice a week!! We have to read it every time she comes to my house, which is twice a week!! !
Beautiful book with an even more beautiful message!

Derived From Web

, Oct 9, 2021

No surprise that the illustrations in this book are just BEAUTIFUL, but the message that God has made us uniquely, and each with special passions and gifts is even more beautiful and written in such a fun, yet clear way. I read this book to my daughter absolutely and highly recommend it for any little girl in your life!
Wonderful Children's Book!

Derived From Web

, Oct 8, 2021

My daughter and I embraced and started reading as soon as we received the book. The illustrations are absolutely precious and done so beautifully. As we climb up, my four-year-old son also read on the bed to read with us and look at the pictures. The theme of this book is such a magnificent reinforcement of the unique and special plan of God for each of us. Our journey and our talents are different than others and this book celebrates it! This message was good for my Mama's heart as well. I am so thankful for Emily's talent that she shares as an author and illustrator!
Beautiful book and perfect gift!

Derived From Web

, Oct 8, 2021

In a world where girls grow up comparing themselves, Emily has a message for her. Be yourself! You have been gifted with unique talents by God. Be free and light and enjoy who you are compared free! This book is gorgeous and has the cutest little animals! The perfect book as a gift is a gift because it will be the book passed around to look at.
Simple, sweet Truth

Derived From Web

, Oct 8, 2021

This book is as nice for the eyes as it is for the soul. Twirl might be the best '' for age 4-8, but this mama needed the message just as much as my girls do. However, the characters and story are so sweet and full of whimsy, my absolute favorite page is the author's page!! So cutesy and clever!
Fantastic story

Derived From Web

, Oct 6, 2021

What a wonderful story to read for all of us! We will all enjoy this, whether young or old, boys or girls. The art is so beautiful and the story is just what we need!