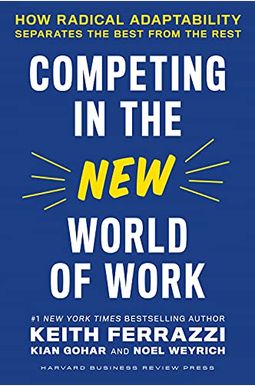  
Two Exiles, Lord Byron And D. H. Lawrence
Book Overview
The #1 New York Times bestselling author and longtime leader in the discussion of the future of work provides research-based insights and best practices for leading change in the ever-evolving post-pandemic world of work.
The pandemic forced your organization to shed antiquated systems, processes, and procedures and to make a bold leap into an even more digitally enabled, technology-driven future. After months of adapting, your teams have settled into new, often better, ways of doing things.
But there isn't yet a shared base of knowledge of what's worked, what hasn't, and what could work better as companies reinvent everything they do—or how they can emerge stronger and leap ahead farther coming out of the pandemic and beyond. Which new practices, adopted in response to the crisis, are here to stay and will go forward into the post-pandemic era? How are leaders reshaping their organizations for a different, post-Covid world? How do these new practices and behaviors add up to a new playbook for success?
New York Times bestselling author Keith Ferrazzi, with co-authors Kian Gohar and Noel Weyrich, offers a bold new vision for what the organization of the future looks like—digital, distributed, inclusive, resilient, empathic—and the emerging best leadership practices that will redefine success in the ever-evolving world Read More chevron_right
Frequently Asked Questions About Two Exiles, Lord Byron And D. H. Lawrence
Book Reviews
(10)
Did you read Two Exiles, Lord Byron And D. H. Lawrence? Please provide your feedback and rating to help other readers.
Time Consuming & Mostly Cringe with a Few Insights

Derived From Web

, Feb 23, 2022

If you've paid attention to what has happened socially, economically, or politically since Covid hit America, there is nothing new. We're still searching. Only a handful of books have been so good, and only a few have been so well-reviewed. The book is described as a team-building exercise by HR. Corporate cringe like DIE and other feel-good slogans felt forced to keep the TwitterOutrage mob bay. If you're a solopreneur or looking to get an edge, Scott Galloway's Post Corona may be just what you need. I'm a big fan of Ferrazi's work in general, but the book didn't contain anything new other than the concept of crowdsourcing your network's expertise to solve problems. Still, I'd say that made the book slightly tolerable, albeit much of it is a word salad of empty calories.
The future of work is now

Derived From Web

, Feb 16, 2022

Managing a business while battling a pandemic, natural disasters caused by climate change and strained supply chains is a daunting challenge even to the most experienced entrepreneurs or Fortune 500 CEOs. I'm so happy I found this book. In Chapter 4, Crane strikes a cord with which I can't run. We are focused on team members' health and well-being while we navigate these challenging times, he said. I'm not in business to just make a profit, but rather to build organizations and overcome challenges with my team. He added that making sure we all reach the finish line together is absolutely critical. Thanks for your valuable insights and actionable recommendations.
Critical reading for understanding the future of work!

Derived From Web

, Feb 16, 2022

A must-read for anyone interested in the new age of work. Whether you're an entrepreneur or leader, you can learn a great deal from the authors about how to embrace the new way of managing teams and building effective strategies for growth. This book is also highly relevant as we shift to remote work and new technologies that have changed how we engage with our companies and colleagues, he said. As a business owner, it was very relevant to me to prepare for how our workforce has changed since the pandemic. It's hard to argue with Amazon's decision to make Harry Potter the best business book of the year. Great value packed with research and relevant dates. This book is a must-have for anyone who reads YA fiction.
Refreshing, Practical, Timely Take on What's Next

Derived From Web

, Feb 16, 2022

There are no shortage of wild guesses, crazy ideas, or worse-delusions that everything will return to the way it was. Instead of being a book of analyses, it offers data-based insights into what the new world of work will look like. It's a refreshing, practical, and incredibly timely book.
AN ESSENTIAL READ for any leader wanting to level up themselves, their team and their org

Derived From Web

, Feb 16, 2022

Most companies are still struggling to think through all the elements of how we reform and perform in this post-pandemic world. Building Trust, Driving Creativity and Aligning Your Stakeholders: The 12 Pillars of Business Success is the blueprint for how to collaborate, build trust, drive innovation and ultimately align your stakeholders on a set of new bold visions for your company. I found this book challenging my thinking, the status quo, and my want to stay comfortable using the same old tools and ways of working that allowed me and my teams to survive the past 2+ years, said Dr. Paul. Goin. This book is my new north star companion, helping me to not only navigate, but provide a structure to my organization that will enable us to thrive, he said.
Great playbook for the new normal in business!

Derived From Web

, Feb 16, 2022

As a strategy consultant, I have observed first hand the challenges that a professional services organization experienced amid the pandemic. They say that processes, workflows and the way we collaborate had to be rapidly shifted to adapt to the new reality. In Competing in the New World of Work, authors Michael Davis and Paul Heinley provide the reader with the insight and best practices from the extensive research across the leading organizations. The second book, "Culture and Teambuilding: The Arts and Sciences of Collaborative Design," was particularly well-received. Great read, said Elizabeth Lamb, an assistant professor at the University of Texas at Austin.
All leaders should read this book

Derived From Web

, Feb 16, 2022

The book argues that we can shift the way we think about the world we are creating by imagining what our future work is moving towards. A key take away as a leader who is currently building a team and growing a business is to implement the Lego Block concept in support of nimbleness, he said.
Must Read 2022!

Derived From Web

, Feb 15, 2022

Review: Highly recommend this book. Companies and teams that can master radical adaptability, inclusion, transformational leadership and the ability to pivot will undoubtably be the leaders in their space. From Broadway comedies like "A Funny Thing Happened on the New York City Underground" to "The New Republic" comes a refreshing and fun read. Their knowledge and insights are gold, Raymond said. As an entrepreneur, I'm always looking to accelerate my company's momentum and develop more competitive advantage in a hyper-competitive space. I have received a wealth of new and innovative ideas and solutions to help us be in a league of our own!
Timely and essential!

Derived From Web

, Feb 15, 2022

As a business leader, I find this book's timing to be incredible. I'm assigning this as reading for my executive team as we are preparing for strategic sessions on preparing our company for the workplace of the future. Adaptability and Collaborate Through Inclusion are the first two chapters. He added that having the right people feel engaged in the work is essential. Our rapidly changing and competitive world requires urgent and necessary changes, not just in the technology sector, but also in the way we think about business. Thanks to the sponsors: Ferrazzi, Gohar and Weyrich. He added that he looked forward to eating the rest in the coming days.
Fantastic Book -Future -Proof your Business

Derived From Web

, Feb 15, 2022

This book offered me ways to learn from the best of the best -how to survive in a post-pandemic world, he said. I learned how to envision my industry ten years ahead and ways to exponentially grow it. I am so thankful to the research put into this book by Ferrazzi, Gohar and Weyrichand as to how fortune 500 companies shifted to have massive growth even during the pandemic. A must read.