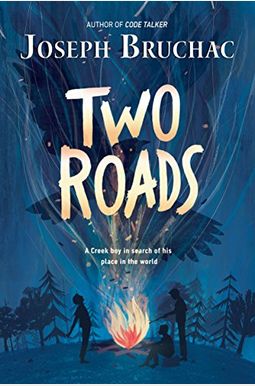  
Book Overview
A boy discovers his Native American heritage in this Depression-era tale of identity and friendship by the author of Code Talker
It's 1932, and twelve-year-old Cal Black and his Pop have been riding the rails for years after losing their farm in the Great Depression. Cal likes being a knight of the road with Pop, even if they're broke. But then Pop has to go to Washington, DC--some of his fellow veterans are marching for their government checks, and Pop wants to make sure he gets his due--and Cal can't go with him. So Pop tells Cal something he never knew before: Pop is actually a Creek Indian, which means Cal is too. And Pop has decided to send Cal to a government boarding school for Native Americans in Oklahoma called the Challagi School. At school, the other Creek boys quickly take Cal under their wings. Even in the harsh, miserable conditions of the Bureau of Indian Affairs boarding school, he begins to learn about his people's history and heritage. He learns their language and customs. And most of all, he learns how to find strength in a group of friends who have nothing beyond each other.
Frequently Asked Questions About Two Roads
Book Reviews
(8)
Did you read Two Roads? Please provide your feedback and rating to help other readers.
Great family read with historic perspectives

Derived From Web

, Oct 15, 2021

An engaging story using cultural references from the Great Depression, great depictions of indigenous boarding school history, with accurate turns of phrase. My 8 and 11 year old are captivated by the story and I find it difficult to put down as an adult.
Damaged book

Derived From Web

, Jul 22, 2021

I bought this book as brand new, but when I received it, the book was bent on the front and back and looked like the cover had peeled a little bit. When I purchase a new book, I expect it to look like a brand new book.
Eye Opening

Derived From Web

, May 22, 2021

My 6th Graduation Class reads this book. They were very interesting in learning more about the Natice American boarding schools. It is a great way to open your eyes to other cultures.
Got for my sister

Derived From Web

, Mar 18, 2021

I have no idea of course. I bought this book for my sister's class and apparently she is not even reading the book. I think I'll take the time to read it myself once I have some downtime.
GREAT READ

Derived From Web

, Dec 9, 2020

Can 't wait to use it in my ELA classroom.
Great book for kids who like US history, historical fiction & authentic Native American stories

Derived From Web

, May 9, 2020

Although the book is fictional, the Native American author did a lot of research and spoke with many individuals who had gone to these boarding schools so that his book would be as authentic as possible. It is appropriate for middle school children and older elementary students with high reading skills.
Decide Your Own Life

Derived From Web

, Jun 30, 2019

JOSEPH BRUCHAC'S TWO ROADS delivers some history of the veterans'march on D.C., depression Hoovervilles and Indian schools along with a great story. It's YA, but we're all young at heart, with much to learn. "Decide your own life, don 't let another person run or rule you ". "You shake hands like someone who trusts the other and doesn 't have to prove himself better. That is an Indian handshake , I grew up thinking as a person only. White means having the luxury to do this , being an ain 't no word in Creek for good-bye. . always going to meet one way or another down the road. Hobo Honor Code : work for food, not steal, not beg. Put something in the pot to join the meal. Keeping possessions safe, "a bo who takes it for granted that everyone else is as honest as he is, is a bo who believes in mountains made of rock candy. You could say that ''.
A well told story

Derived From Web

, Oct 30, 2018

The historical things about it are the wonderful importance and the ethics of the road. There is plenty for a 10 year old to weigh and ponder against his own experiences, no matter what cultural background he comes from. I loved it as an adult in my 70s. There is a certain 9-year-old in my life who is sure to receive it soon. Through adulthood, a great gift for middle readers.