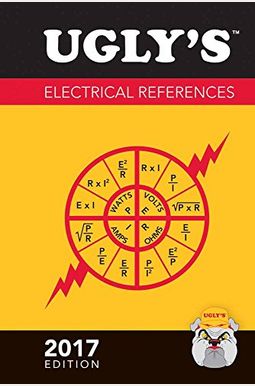 
 
Ugly's Electrical References, 2017 Edition
Book Overview
Ugly's Electrical References, 2017 Edition is the on-the-job reference tool of choice for electrical professionals. Used worldwide by electricians, engineers, contractors, designers, maintenance workers, apprentices, and students Ugly's contains the most commonly required electrical information in an easy-to-read and easy-to-access format. Updated to reflect the 2017 National Electrical Code (NEC) the new edition features full color diagrams, tables, and illustrations, expanded coverage of alternative energies, and updated electrical safety information. Ugly's offers the most pertinent information used by electricians right at their fingertips, including: mathematical formulas, National Electrical Code tables, wiring configurations, conduit bending, ampacity and conduit fill information, and life-saving first aid procedures.
Frequently Asked Questions About Ugly's Electrical References, 2017 Edition
Book Reviews
(10)
Did you read Ugly's Electrical References, 2017 Edition? Please provide your feedback and rating to help other readers.
The ultimate in electrical references

Derived From Web

, Jul 28, 2021

You are not a tech, electricalian, engineer, if you don't have a copy of an electrical reference of Ugly in your toolbox. It is the next best thing to have a copy of the NEC, except Ugly breaks down some of the theory that the NEC does not, but the Ugly does not have all the info that the NEC does, it just has the basics. As I said for a quick reference, nothing beats an Ugly. Then it was decided.
Yes you need to buy this

Derived From Web

, Jan 20, 2021

As an electrician, I keep this handy little helper in my briefcase right. It is always good to know wire sizes and calculations. If you ever forget this baby just whip out and boom, you have the knowledge. Voltage drop calculations, breaker sizing, wire gauge size, name it has it. Don 't question it. Just put it in your cart and you are done!
Important info for an electrical dyi

Derived From Web

, Jun 8, 2019

This is the book I bought the first time when I bought the Safety Book. I am not complaining because I read the safety book and it was good information and I also kept it. This book has the charts to help you figure out what size wire to use in a circuit that you run so that you do not burn your house using the wrong wire.
Electrical Motors and Controls

Derived From Web

, May 29, 2019

I am so sorry!!! I did not pay attention on the digital, is there any way to get these two books Electric Motors Control and Electrical References in a hard copy, I will pay the difference no problem. And the shipment is free, if it is more than 24 dollars and it is. They are two hardcover books of 15.99! Thank you, Please advise! Mira Ysidoro is a standard for the production of cigars.
Valuable tool.

Derived From Web

, May 1, 2019

I love Ugly's book. It is amazing how much of the NEC fit in this little handbook. Finally, I updated from my 2005 code cycle to the current one. My only disappointment was that there were two typos. I did not find any errors in the numbers, but spelling mistakes caused me to lose confidence in the editing process.
A great electrician's reference book for both students and pros alike

Derived From Web

, Feb 28, 2019

This is an excellent reference booklet for anyone who does electrical design work. I will definitely use this book for the foreseeable future. Very helpful for electricalians or electrical students.
Excellent reference booklet for Electrical Design Work

Derived From Web

, Apr 15, 2018

Electrical reference booklet for excellent design work. Have been using the booklet for many years, purchasing this one as an upgrade of the older version I have.
Nice quality product

Derived From Web

, Oct 18, 2017

Nice product of high quality. Recommended : Given to my son, who is in his latter years of apprenticeship. He was very grateful and claims that they will help him as he continues through his electrical apprenticeship.
not sure if they are all like this or just mine

Derived From Web

, Aug 16, 2017

The book has mistakes updated in it. Look at Page 101 '' ENT values and compare them to NEC 2017. These values were changed in 2014, but never made it to Ugly. I did 2017 edition, not sure if they are all like this or just mine, so make sure you check!PS! I don 't think these are some critical mistakes, but its unacceptable that its 1 star is why. We had to use these tables in class for calculations on the test, but if you use this book, you will get a wrong answer. Then its ok for references in general.
Great for any electrical career field

Derived From Web

, May 6, 2017

Life makes so much easier. They also have a great app now, I would buy it again.