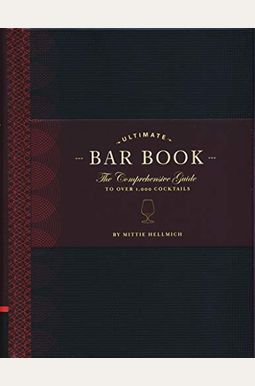 
 
Ultimate Bar Book: The Comprehensive Guide To Over 1,000 Cocktails
Book Overview
The Ultimate Bar Book -- The bartender's bible
James Beard nominee for Best Wine and Spirit Book
The cocktail book for your home:
The Ultimate Bar Book
is an indispensable guide to classic cocktails and new drink recipes. Loaded with essential-to-know topics such as barware, tools, and mixing tips.
Classic cocktails and new drinks:
As the mistress of mixology, the author Mittie Hellmich has the classics down for the Martini, the Bloody Mary--and the many variations such as the Dirty Martini and the Virgin Mary. And then there are all the creative new elixirs the author brings to the table, like the Tasmanian Twister Cocktail or the Citron Sparkler.
Illustrated secrets of classic cocktails and more:
Illustrations show precisely what type of glass should be used for each drink. With dozens of recipes for garnishes, rims, infusions, and syrups; punches, gelatin shooters, hot drinks, and non-alcoholic beverages; and let's not forget an essential selection of hangover remedies,
The Ultimate Bar Book
is nothing short of top-shelf.
If you liked PTD Cocktail Book, 12 Bottle Bar and The Joy of Mixology, you'll love The Ultimate Bar Book
This makes for a great gift for bartenders and is the ideal addition to any bartender's book collection or for anyone who's looking for books from these categories:
Essential Cocktail Books
Bartender Recipe Books
Drink Mixing Books
Alcohol Drink Recipe Books
Frequently bought together
Frequently Asked Questions About Ultimate Bar Book: The Comprehensive Guide To Over 1,000 Cocktails
Books like Ultimate Bar Book: The Comprehensive Guide To Over 1,000 Cocktails
Book Reviews
(9)
Did you read Ultimate Bar Book: The Comprehensive Guide To Over 1,000 Cocktails? Please provide your feedback and rating to help other readers.
AMAZING

Derived From Web

, Feb 9, 2022

This book is amazing. If it isn't in the book, you probably don't need it. The basic set up of a family bar or a small bar is handled by it. It gives recipes and glassware advice. Being a recent graduate of a professional Bar Tender's Course, I found it to be useful for beginners and experts. If I lost this one, I would buy it again. Anyone interested in the field of mixology should have one in their library.
Great little book!

Derived From Web

, Feb 9, 2022

There are a lot of details in this book. The recipes are detailed and tell you step by step, and each recipe has a picture of the type of glass you are going to need, and what type ofGarnish to use. The book will be useful. I haven't tried creating drinks yet, but I'm excited to start! Shipping was fast.
Totally USELESS

Derived From Web

, Aug 4, 2020

The information in this book isn't organized in a way that makes it easy to find. If you are looking for a category of drinks, there are no tabs or side color indexes that will help you find it quicker. It does not have many popular drinks, which makes me think it needs to be updated. The worst aspect of it is that it uses a very small font which makes it hard to read. I have perfect vision for distance and close- up, yet I found myself straining to read it, so I can imagine how others feel. This book is a good one to skip.
Too Much Information in Print Too Small to Read

Derived From Web

, May 20, 2019

The book seemed like a good fit. When I received it, I noticed that it contained too much information and the printing was small. I figured out how bad the printing was after reading other reviews. The reviews were correct, guess what? I don't wear glasses to read, but I had a hard time reading the contents of this book.
Great Read for Beginner Bartender Professional or Home Use

Derived From Web

, Nov 5, 2018

A few years ago, I received a book as a gift. This book is not just a compendium of recipes. The histories of many famous cocktails, where they come from, and why the names are the way they are are included in it. There is information about the importance of ice, why certain drinks should go in certain glasses, and more. I am not a professional bartender, but I do like a good drink and this book has helped my home creations tremendously. It has hundreds of pages with excellent cocktail recipes so when your friend comes to your party and asks for the most exotic drink, you' ll be ready.
Best Book Ever

Derived From Web

, Apr 29, 2018

An at- home bar tending guru I date. At a party or dinner, this man is phenomenal. I saw a book at a friend's house. I wiped it off because it looked interesting and I found the holy grail. I didn't need to use the internet once for a delicious drink. It's impossible to not find something you want, it's so extensive and organized. I'm ashamed to say that this is my most read book, but it's so helpful that I'm proud of it.
I'm satisfied it will be a good resource

Derived From Web

, Feb 15, 2018

I haven't looked at the book yet, but after reading a few of the recipes, it seems to be a very well constructed and concise guide. Information about the drinks' origin history is included in the recipes. I think it will be a good resource. I was disappointed with one thing. The desire to learn how to make a good brandy made me buy the book. There's no recipe for that. The Brandy version is from the upper mid- west. I will have to go to the back alley to find what I need.
Helped complete the ultimate bar cart for wedding gift!

Derived From Web

, Nov 7, 2017

The gift was part of a group gift. The book gave detailed information about everything you need to know about bar tending and it was a hit with them.
Have a Proper Bar

Derived From Web

, Sep 28, 2017

The book is a great addition to the home bar. The book is large enough to be tucked out of the way, but still long enough to be useful. Its hard cover looks good. You won't run out of cocktail recipes here. There's a lot of information about the basic tools and drinksmixers, as well as what you may want for a large home wet bar. The history of the cocktails and various types of alcohol is provided in the book.