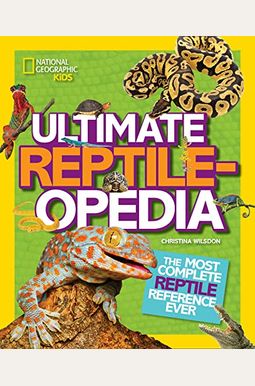  
Ultimate Reptileopedia: The Most Complete Reptile Reference Ever
Book Overview
The natural world experts at National Geographic present the ultimate reference book on reptiles, designed just for kids. Crawling with fascinating facts, lively text, and tons of cool, colorful, images of the weirdest and wackiest reptiles on planet Earth, it is sure to be their coveted, #1 reference. Snakey, slimey, scaley, and sensational Welcome to the amazing world of the most popular reptiles on Earth. With colorful photographs and fun facts, this easy-to-use encyclopedia profiles snakes, lizards, amphibians, turtles and tortoises, crocodilians, and tuatara. Profiles are accompanied by Did You Know? details and fast facts including scientific name, size, diet, and habitat.
Frequently bought together
Frequently Asked Questions About Ultimate Reptileopedia: The Most Complete Reptile Reference Ever
Book Reviews
(10)
Did you read Ultimate Reptileopedia: The Most Complete Reptile Reference Ever? Please provide your feedback and rating to help other readers.
Love it!

Derived From Web

, Apr 27, 2022

It was a present from my neice that I bought this for her birthday present. My daughter had a great time reading and looking through the pictures, Weinshall said. He has a 4-year-old niece who also loves the book.
Arrived very fasr

Derived From Web

, Oct 17, 2021

She has a very good reading level, and she reads well, too.
good

Derived From Web

, Oct 22, 2020

My 3yo LOVES books, especially about dinosaurs, sharks and snakeslizards. There are tons of pictures, tons of animals, and interesting information on each. Brand new carpet, would buy again.
Not at all complete.

Derived From Web

, Aug 28, 2020

I was lead to believe that it would include North America lizards, he said. It is a wonderful and colorful book, but it is generally worthless for learning about the lizards and snakes we see on our daily basis.
Perfect for any Reptile-Loving Child

Derived From Web

, Aug 26, 2020

My son, who has a passion for reptiles, has saved his money to buy a book about them. We looked through a number of different titles, but this one stood out for good reason. It has vibrant pictures, interesting facts and even includes almost any reptile you could think of. I would recommend this book to any child.
Helpful for herpetology!

Derived From Web

, Feb 18, 2020

This book is a great resource for preparing for the Science Olympiad division A herpetology. Upper elementary kids were not the only ones who enjoyed the book.
Not as "ultimate" or thorough as I was hoping for.

Derived From Web

, Nov 30, 2019

Overall, I was not as disappointed as I was hoping. 0 31716163171 It was a tad slow, but I was hoping for more. While the pictures are great and lots of good info on the animals they do cover, I feel like they have skipped over a good deal of reptiles, even some basic ones, like a Russian Tortoise, a pet I used to have and a very common one found in most pet stores. Only a few of the snakes are mentioned. It's just that my son still does love it. This is a big book of reptiles, said Dr. Goin. Despite the fact that he's still very pleased with this book and happy with all the reptiles that are included, Mr. Karas said.
Reptilian masterpiece

Derived From Web

, Sep 14, 2019

My 7 year old LOVES it. A great addition to your arsenal of nonfiction reads. An excellent writer, photographer and radio host.
We love them all

Derived From Web

, Jun 10, 2018

We received this as a present as my son already has the dino-pedia and ocean-pedia. We love them all, we rock! I've found the Reptileopedia to be my favorite. This one seems to have more animals in it and I like how it is broken down in categories such as snakes, worms, lizards, turtles, crocodilians, etc. As a mom who enjoys learning with her son, this book is our favorite for bedtime reading and we usually end up reading a few extra pages because they are all so interesting! Thanks to NatGeo! Xoxo.
Great source of information for curious children

Derived From Web

, Jan 16, 2018

The little guy is absolutely thrilled with the whole thing, even though he's only 8 years old. Ms. Daschlenick reads a couple of entries from the night before, and then goes back to the drawing board. There are a LOT of pictures, but it's broken down in easy to read sentences and easy to understand. 0 20622201 The book is written in a spiral-bound format that makes it easy to read. Even toddlers will enjoy the colorful pictures. Simply put, it means that older children will enjoy the information without having to ask too many questions. And even an adult with a curious child will enjoy these books as you get to explore the creepy crawlies of the world, the experts say. For right now, this Reptileopedia are her most treasured books and as long as she's satisfied with them, I am too.