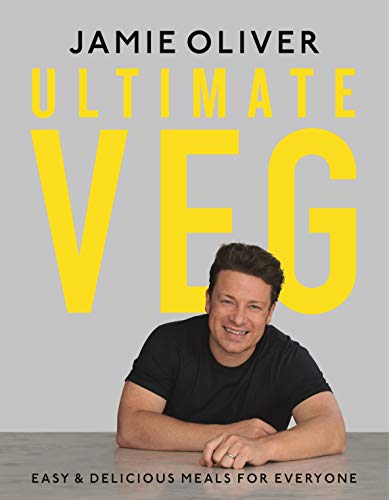  
Ultimate Veg: Easy & Delicious Meals for Everyone [American Measurements]
Book Overview
NEW YORK TIMES BESTSELER
Jamie Oliver, one of the bestselling cookbook authors of all time, is back with brilliantly easy, delicious, and flavor-packed vegetable recipes.

This edition has been adapted for the US market. It was originally published in the UK under the title Veg.
From simple suppers and family favorites, to weekend dishes for sharing with friends, this book is packed full of phenomenal food - pure and simple. Whether it's embracing a meat-free day or two each week, living a vegetarian lifestyle, or just wanting to try some brilliant new flavor combinations, this book ticks all the boxes.
Super-tasty, brilliantly simple, but inventive veg dishes include:

-
AMAZING VEGIE CHILI
, comforting black rice, zingy crunchy salsa and chili-rippled yogurt
-
GRENS MAC 'N' CHESE
with leek, broccoli & spinach and a toasted almond topping
-
VEGIE PAD THAI
, crispy fried eggs, special tamarind & tofu sauce and peanut sprinkle
-
SUPER SPINACH PANCAKES
with avocado, tomato and cottage cheese
-
SUMER TAGLIATELE
, basil & almond pesto, broken potatoes and delicate green veg With chapters on
Soups & Sandwiches, Brunch, Pies & Bakes, Curries & Stews, Salads, Burgers & Fritters, Pasta, Rice & Noodles,
and
Traybakes
there's something tasty
Read More chevron_right
Frequently bought together
Frequently Asked Questions About Ultimate Veg: Easy & Delicious Meals for Everyone [American Measurements]
Book Reviews
(13)
Did you read Ultimate Veg: Easy & Delicious Meals for Everyone [American Measurements]? Please provide your feedback and rating to help other readers.
What do I substitute for …

Derived From Web

, Jan 30, 2021

Even if he did make a profit, I don't think Jamie will ever make anything from this book. Every recipe calls for specific ingredients that I cannot find at my local grocery store.
great book great recipes

Derived From Web

, Dec 14, 2020

It arrived almost on time, but then went to the wrong address, we got it the next morning. We love this chef and his shows so we had to get this book. The format is great and the illustrations are simple and logical, making it easy to read and cook, the authors said.
It's okay

Derived From Web

, Dec 1, 2020

It's okay but wasn't as expected, some of the items mentioned here are not available in the market. For me, I'm getting ideas from the book and managing the recipe in my own way.
Everything we expected and more!!!

Derived From Web

, Nov 9, 2020

G and I cannot wait to start cooking! We watch Jamie religiously and he takes the yam out of veggies! If you have any questions, please don't hesitate to call us.
Not great but not bad

Derived From Web

, Oct 19, 2020

I like the fresh approach to veggies, however, after making 3 different recipes I realized that these recipes take minimum of 40 minutes to cook and prep. It's great to be back home, cooking, eating, drinking and having a good time, he said. They are a bit bland going by the recipe. It has to be added salt and pepper, and I've had to do some other things to make it more appealing.
Not a cookbook for the practical cook

Derived From Web

, Aug 25, 2020

Overall, I would rate this program as great. The ingredients list for most recipes calls for at least one item not found in most U.S. kitchens, rendering the recipe useless for me.
Need a US version

Derived From Web

, Jul 15, 2020

I have read through the entire book and tried two recipes, and I believe there needs to be a U.S. version created, she said. There are many UK specific ingredients and colloquialisms that are not familiar to US audiences. I am a trained cook, so I'm able to navigate the book more as a guide, rather than someone who needs instructions, she said. There are some really basic instructions on how to cut vegetables, and I wouldn't recommend this book to inexperienced cooks.
Had high hopes but returning

Derived From Web

, Mar 9, 2020

The recipes look delicious and the photos are beautiful, too. The binding was so horrible, Mr. D'Antonio said, that he couldn't read the book. Entire sections of the book were falling out of the plane. Many of the recipes contain items that are unfamiliar or difficult to find for the average American. Living in a larger metro area with good access to international ingredients and I'm a decently experienced cook, I still felt daunted by recipes for ras el hanout, marmite, rose harissa, uncooked papadams and dukkah.
PHOTOS & MACROS!!

Derived From Web

, Jan 26, 2020

The Ultimate Veg Kindle Edition was the only one I ordered. You never know what you may find on the Web site. It seems I was worried about nothing because this one has both, Morgenthau said. I'm not sure about the reviews with metric units, I can guarantee my edition is imperial, thanks to the macros and the first few ingredients for the puff pastry sheet pan pizza. Also, be aware that all of the ingredients are normal items you can find in a regular grocery store, and there isn't a ton of ingredients per recipe. If you're not looking to go full-on vegan, but just want to add a couple extra plant-based meals to your week, this is a great way to get started. Jamie makes cooking - and eating healthily - so accessible.
Excellent book for experienced cooks!

Derived From Web

, Jan 24, 2020

I have been cooking for 40 years, 10 of them plant-based and many veg cookbooks are the same old thing. I bought this book because 1) it was the only one that said so. Jamie brings a lifetime of professional culinary experience to the table and we couldn't be happier. In my opinion, it's great to see Microsoft's name back on the map. But if you like to follow a recipe to the T then this might not be for you.