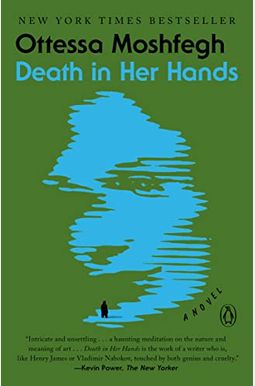  
Umwelt Und Empirische Sozial- Und Wirtschaftsforschung: Beitrage Und Diskussionsberichte Zu Einer Tagung Der Projektgruppe 'Das Sozio-Oekonomische Pan
Book Overview
Named a Most Anticipated Book of 2020 by: The Washington Post, Vogue, Marie Claire, Entertainment Weekly, The Millions, New York Magazine, Paste Magazine, LitHub, E News Online, and many more
From one of our most ceaselessly provocative literary talents, a novel of haunting metaphysical suspense about an elderly widow whose life is upturned when she finds an ominous note on a walk in the woods. While on her daily walk with her dog in a secluded woods, a woman comes across a note, handwritten and carefully pinned to the ground by stones.
Her name was Magda. Nobody will ever know who killed her. It wasn't me. Here is her dead body.
But there is no dead body. Our narrator is deeply shaken; she has no idea what to make of this. She is new to this area, alone after the death of her husband, and she knows no one. Becoming obsessed with solving this mystery, our narrator imagines who Magda was and how she met her fate. With very little to go on, she invents a list of murder suspects and possible motives for the crime. Oddly, her suppositions begin to find correspondences in the real world, and with mounting excitement and dread, the fog of mystery starts to fade into menacing certainty. As her investigation widens, strange
Read More chevron_right
Frequently Asked Questions About Umwelt Und Empirische Sozial- Und Wirtschaftsforschung: Beitrage Und Diskussionsberichte Zu Einer Tagung Der Projektgruppe 'Das Sozio-Oekonomische Pan
Book Reviews
(17)
Did you read Umwelt Und Empirische Sozial- Und Wirtschaftsforschung: Beitrage Und Diskussionsberichte Zu Einer Tagung Der Projektgruppe 'Das Sozio-Oekonomische Pan? Please provide your feedback and rating to help other readers.
Animal abuse wrapped in a cutesy fake mystery story

Derived From Web

, Mar 9, 2021

Summary of the book : An animal shelter takes a puppy to a woman with serious mental health issues. The dog experiences repeated neglect and abuse for the next year until it suffers a gruesome death in the hands of the woman. The story is wrapped it a cutesy mystery about a supposedly dead teenager to keep the reader's interest. I would have thought we have moved beyond such shaming as entertainment in this day of age, but based on published reviews it appears that it now passes as intellectual thinking. Overall, very disappointing.
Strange story

Derived From Web

, Feb 12, 2021

A very odd novel about an elderly widow who moves to a cabin in a rural wooded area after her husband's death. While walking in the woods, she discovers a short vague note that accompanies the murder of a young woman. The book's plot reconstructs the girl's life story, how she lived, how she looked, and a number of suspects who could have killed her, etc. There was even a murder at the time?
Start with Eileen

Derived From Web

, Oct 4, 2020

The One Star reviews of this book appear to either crave a more literal storytelling or be offended at the climax, which involves the narrator and her dog, which is a silly thing to be offended by, especially given the dog's state. And dumped, it's a book about murder after all - if anything there's a surprising lack of violence. This is not an author who wraps stories comfortably - you can see her straining to stitch things together at the end. But, Oh man can develop a character! The fifty people in this book are all interesting, and the book's premise combine with the author's gift for writing to make this a rare page turner. But, it is probably a mistake to begin with this book if you don 't already know the author.
As if these times weren't troubling enough...

Derived From Web

, Sep 4, 2020

After page 12, I started speed reading through the rest of this extremely depressing book, and you could also skip this book together. An interesting, grim, predictable and tedious character's narrow life closes in a not hampered way. As other reviewers have noted, there are some minor, superficial similarities to Tokarczuk's Drive Your Plow over the Bones of the Dead, but this book is a masterpiece, a triumph. This book is a notion that goes on and on. And if that wasn 't enough, there is also gratuitous animal cruelty. This pandemic year is sadly the year for some very disappointing, but hugely anticipated books. Each to their own, but do you really want to be taken to such a dull, dark, yet utterly predictable place for their reading pleasure?
Painful

Derived From Web

, Aug 12, 2020

I have all too much experience in my family with mental health issues ; I felt uncomfortable reading this, as I have experienced first-hand behavior of this type. At first, I thought this might be a psychological thriller, but its really just the ramblings of a person who needs desperately help.
Otessa Moshfegh rules!

Derived From Web

, Aug 1, 2020

Three novels by Otessa Moshfegh established herself as a master of the interior narrative, with a particularly sharp angle on women living on the edge. Sanity is the society's sanity itself. This novel plays with the very concept of how character and narrative are born, with a protagonist who draws her own murder mystery for us. Is it real or imagined? The character voice is as strong as the leads of her first two stellar books, and Moshfegh proves herself one of the most droll observers of the human condition currently working. Too funny, too!
What a profoundly unsatisfying book

Derived From Web

, Jul 15, 2020

Why did I read the reviews first? Clearly, I am not the only one who found this book a waste. I kept trying to figure out what was happening, waiting for loose ends to be tangled together for some sort of ah-ha' '' moment. The pacing of the story made me think that something would happen. The plus-spoiler alert has disturbing animal cruelty. I wish I could get my money back.
The story will stay with you

Derived From Web

, Jul 5, 2020

First off, I do not like this book, but I woke up in the middle of the night thinking about 72-year-old Vesta and how living in solitude led her to believe she has discovered a murder, but in actuality she is a bonkers. After reading the book, it has an entirely different meaning than before. I 'll be pondering what is read and what is a figment of Vesta's imagination for some time to come. The publisher calls it "disorienting " and I can hardly agree.
An Original

Derived From Web

, Jul 3, 2020

Riveting and banal, laugh-out-loud funny and darkly tragic Ottessa Moshfegh strikes again with a psychological character study that winds its way through your own mind-space as you follow Vesta's interior path-a path that starts with a murder that may or may not have occurred. Audible listened to it on Audible and the narration is brilliant.
Don't waste your time and money

Derived From Web

, Jun 30, 2020

I don 't understand it. Due to the reviews, purchased the. A piece of garbage with no point. Abstract '' If there was deep meaning, it was too deep for me.