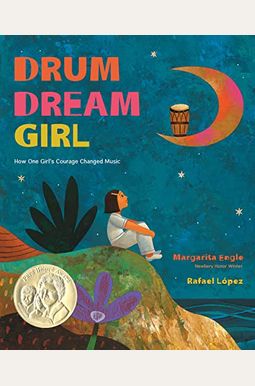 
 
Una Nina Un Tambor Un Sueno
Book Overview
Girls cannot be drummers. Long ago on an island filled with music, no one questioned that rule--until the drum dream girl. In her city of drumbeats, she dreamed of pounding tall congas and tapping small bongos. She had to keep quiet. She had to practice in secret. But when at last her dream-bright music was heard, everyone sang and danced and decided that both girls and boys should be free to drum and dream.
Inspired by the childhood of Millo Castro Zaldarriaga, a Chinese-African-Cuban girl who broke Cuba's traditional taboo against female drummers, Drum Dream Girl tells an inspiring true story for dreamers everywhere.
Frequently bought together
Frequently Asked Questions About Una Nina Un Tambor Un Sueno
Books like Una Nina Un Tambor Un Sueno
Book Reviews
(10)
Did you read Una Nina Un Tambor Un Sueno? Please provide your feedback and rating to help other readers.
Enchanting

Derived From Web

, May 11, 2022

I read it with my children ages 9 and 4, they not only loved the story, but also loved the illustrations. A few days later, my 4-year-old told me, Mom, I dreamed of the Drum Dream Girl! The drums played by me! This book is important not only for its beautiful prose and its appealing art, but also for remembering how women were not allowed to follow their dreams at a certain point in our history.
Fun, aspirational book for little girls & boys

Derived From Web

, May 11, 2022

I bought this book for my 2.5 yr old daughter and she absolutely loves it and has asked for it every night for about 2 months now for bedtime. She can now recite the first half of the book verbatim. It is so fun to hear her recite it from memory.
The rhythm of girl power!

Derived From Web

, May 19, 2021

The cover is beautiful and the illustrations are durable. A true story, especially since it is positive and inspiring. Stresses diversity, family values and the message that girls can overcome the cultural prohibition of females playing drums! I read it to the children at the church and everybody lov's.
Drum Dream Girl

Derived From Web

, Jan 21, 2021

Should be read to any child as an example of life's reward for unwavering determination and joy in what you do.
A Powerful Story For Musicians and Females Who Love Percussion!

Derived From Web

, Nov 25, 2020

I love this story so much! I'm a percussionist and have had different challenges playing within a system that encourages men to play and women to dance. But I'm also a dancer, I like to dance and drum. I have listened to several groups of students in general education classes as well as music classes. It allows a teacher to introduce it into a curriculum that promotes courage, individuality, and culture. This book is also great for homeschooling and reading just for pleasure. I love this story and the fact that it was based on a true story. From the author and illustrator, Cuddos. Well '' is worth the investment.
Book will not open on Kindle App or Cloud Reader

Derived From Web

, Oct 20, 2020

I am certain that this book is wonderful. I would love sharing it with my students. It does not open, however, on the Cloud Reader or the Kindle app, despite the app being updated to the latest version. It is essentially a fraud.
Beautiful book

Derived From Web

, May 25, 2020

Beautiful story about a girl who wanted to play drums and had to go against cultural norms to do so. Just so you know, I am not a big fan of feminist books. I don 't like books that advance women at the expense of men or attack men. But the great news is that this book does not do any of these things. She takes lessons only once her father approves and performs once her teacher approves. At the end of the book it also says that boys and girls should be allowed to pursue their dreams. Consequently, I feel that this book did feminism beautifully in a wonderfully balanced way. I have no qualms reading this book to my drum-playing boys.
Girls Music Dream Positively Personified

Derived From Web

, Apr 26, 2020

I love the integration of such colorful and detailed eye catching illustrations richly bold. The focus is on the imagination and achieving dreams despite cultural obstacles is a wonderful message.
Very Inspiring

Derived From Web

, Jul 25, 2019

I love this book ''. I checked it out in the library and my son and I read it many times. And then ordered several copies to give to my friends as gifts.
Cute book with good message.

Derived From Web

, Jun 13, 2019

Very simple book, but wonderful message of a strong girl changing her world. Good for 4-5 year olds who think that drumming is cool.