Buy 3 Get 1 Free
Our Best Sale Yet! Add 4 Books Priced Under $5 To Your Cart     Learn more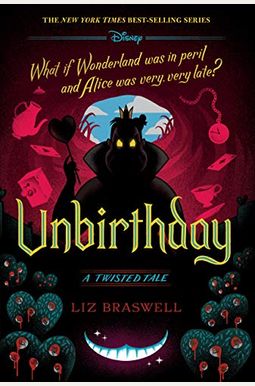  
Unbirthday: A Twisted Tale
Book Overview
The 10th installment in the New York Times best-selling A TWISTED TALE series asks: What if Wonderland was in peril and Alice was very, very late?
Alice is different than other eighteen-year-old ladies in Kexford, which is perfectly fine with her. She'd rather spend golden afternoons with her trusty camera or in her aunt Vivian's lively salon, ignoring her sister's wishes that she stop all that nonsense and become a respectable member of society. Alice is happy to meander to Miss Yao's teashop or to visit the children playing in the Square. She's also interested in learning more about the young lawyer she met there, but just because she's curious, of course, not because he was sweet and charming.
But when Alice develops photographs she has recently taken about town, familiar faces of old suddenly appear in the place of her actual subjects--the Queen of Hearts, the Mad Hatter, the Caterpillar. There's something eerily off about them, even for Wonderland creatures. And as Alice develops a self-portrait, she finds the most disturbing image of all--a badly-injured dark-haired girl asking for Alice's help. Mary Ann.
Returning to the place of nonsense from her childhood, Alice finds herself on a mission to stop the Queen of Hearts' tyrannical rule and to find her place in both worlds. But will she able to do so . . . before the End Read More chevron_right
Frequently bought together
Frequently Asked Questions About Unbirthday: A Twisted Tale
Book Reviews
(16)
Did you read Unbirthday: A Twisted Tale? Please provide your feedback and rating to help other readers.
Too long and wasn't exciting

Derived From Web

, Feb 19, 2022

This book, while reading it felt like it went on forever and not in a good way. It was very difficult for me to read the storyline, it was boring and didn 't make sense. I read a similar book by the same author and love it. This was hopefully just a fluke. You may like it, but if you are expecting something very similar to the movie, this is going to be a disappointment.
A very merry unbirthday to you

Derived From Web

, Mar 2, 2021

3.5 Not my favorite in the Twisted Tales series, but I enjoyed reading it. At 500 pages, Unbirthday is longer than the others in the Twisted Tales series before it is wordier, as well, I definitely think it is intended for an older audience, as younger readers may feel overwhelmed by the challenge. Braswell's descriptions are fantastic and the dialogue is crisp. If you love Disney and read fantasy, this is a book for you! I can 't wait for the next one! Thanks to #netgalley for the opportunity to preview #unbirthday with #LizBraswell #Unbirthday.
Love love love!

Derived From Web

, Jan 6, 2021

I simply could not put this down! Finished it in a day, because the story is so rich in imagination and madness! I love Alice in Wonderland and the Tanger is no exception, making you love it even more! A highly recommended book by me to those readers who want a fun, mysterious adventure from our life today.
A very merry Unbirthday to YOU!

Derived From Web

, Nov 2, 2020

I LOVED it! To be fair, I am trash for retellings and Alice in Wonderland is probably my favorite children's classic, so that Alice retellings I am particularly fond. This particular twisted tale picks 11 years after Alice fell down the rabbit hole. She has not heard Wonderland nor hairs of hide. She is frustrated with the politics of England and how hateful the influential women and those not there are. When developing previous photos, she sees her former friends from Wonderland in the shadows. I read Heartless, The Looking Glass Wars, Return to Wonderland and am working on the Alice series by Christina Henry. I find that this story is DEFINITELY lovingly written by someone who adores Lewis Carroll and wants to stay true to Wonderland. Buy this book for yourself or if you're twisted for a silly relative who can not abide by nonsense!
Wonderful Alice Story

Derived From Web

, Oct 29, 2020

I enjoyed reading this book! It was a page-turner full of adventure and balanced with two stories. I would say that for young readers a caution of violence and hate-fueled politics comes into play. So far, none of Braswell's books have been appropriate for my 15-year-old daughter to read. For the older Alice fans, her imagination of Wonderland and the romance she added for Alice was an excellent addition to the Alice Classic that we already love.
Better quality control

Derived From Web

, Oct 28, 2020

I'm sure the book is great, I actually ended up buying 2 of the same book, bc the first had some of the pages bent all the same way. Fortunately, my daughter likes this collection, so she bought the defunct book and took another for a gift. There were no issues with the second book.
Stuck on chapter 1

Derived From Web

, Oct 23, 2020

Alice bought this book for my 8 Year-old daughter, who loves to read Alice in Wonderland. But... it is soyyyyy to old for her. She is a gifted reader, but the use of foreign language phrases and common large words made it difficult for her to read. I also tried to get it through to her '' and found it hard to read by herself.
Wonderland is in trouble and Alice has to go back to save it.

Derived From Web

, Oct 13, 2020

This is a great read, full of fun and intrigue, as you dive back into the world of Wonderland and follow Alice on another journey. Alice is in trouble, Wonderland is the one who is late this time. She is older and living in the real world, but when pictures from the real world start giving her glimpses of Wonderland, she learns that she must return.
Alice Returns to Wonderland to Save a World Full of NONSENSE

Derived From Web

, Oct 10, 2020

I was really excited when I found out that there would be a DISNEY TWISTED TALE on ALICE IN WONDERLAND. I really enjoyed this book '' and came back to Wonderland. I loved how Alice worked so hard to assist others not just in Wonderland, but also in her world. It was great to reunite with Mad Hatter and the Cheshire Cat again, and to encounter new characters as Alice returned to save Wonderland from the Queen of Hearts.
Not recommended for young readers

Derived From Web

, Sep 25, 2020

To say I am disappointed in this read would be less than accurate, a better word would be disgusting, who does not honor Lewis Carroll nor lend a layer of fabric to the legacy of Disney, I have read four of Liz Braswell's published works and found them all interesting, but certainly not for adolescent readers.