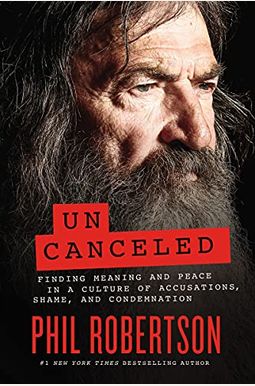  
Uncanceled: Finding Meaning And Peace In A Culture Of Accusations, Shame, And Condemnation
Frequently Asked Questions About Uncanceled: Finding Meaning And Peace In A Culture Of Accusations, Shame, And Condemnation
Book Reviews
(8)
Did you read Uncanceled: Finding Meaning And Peace In A Culture Of Accusations, Shame, And Condemnation? Please provide your feedback and rating to help other readers.
More Godly truth and wisdom from Phil

Derived From Web

, Feb 28, 2022

Phil Robertson has such a gift of applying Scripture to problems in this world. He is exactly the right man. Cancel Culture is not social media, it has just gotten worse with the Internet and new media. Instead, they tried to re-create Jesus, instead he died on the cross for our sins, rose up on the 3rd day and will return for us. I put my faith and hope in this! You will read this book and you will too!
Wonderful book

Derived From Web

, Feb 23, 2022

Just finished reading Uncanceled by Phil Robertson. The book was so lovingly written towards both Christians and non-Christians. It was refreshing to read the Gospel, proclaimed clearly and precisely showing the love of God. His biblical references were explicit and applicable. He provides the cure to cancel culture with Romans 831 if God is for us, who can be against us. I give a resounding with this, Amen. Phil, thank you for such an encouraging book.
Awesome!

Derived From Web

, Feb 21, 2022

Mr. Robertson hits it again out of the park. I love the content and conversational style in which Phil writes. This book is a cultural diagnosis of the great issues we have today in America. Jesus is the answer to so many complexities. Thank you, Mr. Robertson, for reminding believers of the power of God and introducing this power to unbelievers.
Great book that preaches the truth

Derived From Web

, Feb 20, 2022

We all know that we are in a time where the culture of cancellation rules through the media. Phil does a fantastic job at showing the life of the cancel culture and how the cancel culture has been around for thousands of years. Not only do you see the history of how Jesus and others today deal with the void culture, you find solutions in how to be part of the solution through Christ and not part of the problem. Very eye opening and a new way to view and deal with the adversity we see in the cancel culture today. If you are new in your faith or have been awake for a while with the Lord, this book has a message for you.
The Gospel!!

Derived From Web

, Feb 19, 2022

I love hearing Phils view on preaching the gospel, love hearing about changed lives. I wished that I had some of his boldness. In talking about social media culture, there is a lot of talk about cancel culture. I agree that there is much negativity associated with it that goes with it. Phil admits that he is not on the social media. In my opinion, this is why he has wrong views of Jan 6 and the presidential election. He must get his information from MSM news sources, all of which cannot be trusted. The truth is out there, but not for Phil.
Absolutely fantastic and truthful

Derived From Web

, Feb 18, 2022

This book is marvelous and speaks truth. The book speaks volumes about the world we are in today. I bought one to keep for my family at home and another as a gift. I highly recommend ''.
fantastic response to Cancel Culture

Derived From Web

, Feb 15, 2022

This is currently Phil's best book. As I read it, I began to notice his move away from politics and his growing allegiance to the Kingdom of God instead. I often get overwhelmed when I consume too much news, but his very biblical approach to the cancel culture has put me on a new path. I will make a renewed commitment to be a Jesus-man and take what the world gives me. I know just one thing - they can 't silence me. Phil, thank you!
Unsigned copy

Derived From Web

, Feb 9, 2022

I have a copy of this book preordered. Phil Robertson was uncanceled by UnCanceled Phil Robertson. I received my copy yesterday ''. It is not advertised as signed. I'm really disappointed, because it was a gift to my son. My son has written every book Phil Robertson as '' Phil Robertson . I 'll think twice before ordering in the future for a signed copy. I feel it was fake advertising ''. This is not about the book itself. I have not yet read it '', I have not yet read it.