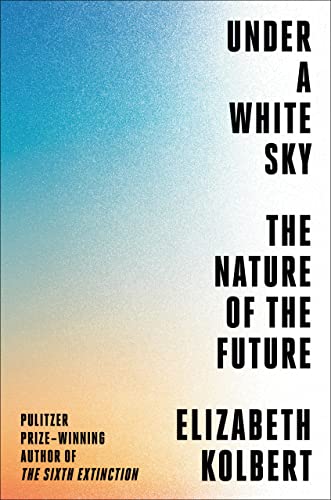  
Under a White Sky: The Nature of the Future
Book Overview
NATIONAL BESTSELER - The Pulitzer Prize-winning author of The Sixth Extinction returns to humanity's transformative impact on the environment, now asking: After doing so much damage, can we change nature, this time to save it?
A superb and honest reflection of our extraordinary time.--
Nature
That man should have dominion over all the earth, and over every creeping thing that creepeth upon the earth is a prophecy that has hardened into fact. So pervasive are human impacts on the planet that it's said we live in a new geological epoch: the Anthropocene. In
Under a White Sky,
Elizabeth Kolbert takes a hard look at the new world we are creating. Along the way, she meets biologists who are trying to preserve the world's rarest fish, which lives in a single tiny pool in the middle of the Mojave; engineers who are turning carbon emissions to stone in Iceland; Australian researchers who are trying to develop a super coral that can survive on a hotter globe; and physicists who are contemplating shooting tiny diamonds into the stratosphere to cool the earth. One way to look at human civilization, says Kolbert, is as a ten-thousand-year exercise in defying nature. In
The Sixth Extinction,
she explored the ways in which our capacity for destruction has reshaped the natural world. Now she examines how the very sorts of interventions that have imperiled our planet are increasingly seen as the only hope for its salvation. By turns inspiring, terrifying, and darkly comic,
Under a White Sky
is an utterly original examination of the challenges we face.
Frequently bought together
Frequently Asked Questions About Under a White Sky: The Nature of the Future
Book Reviews
(5)
Did you read Under a White Sky: The Nature of the Future? Please provide your feedback and rating to help other readers.
Thin Soup

Derived From Web

, Apr 3, 2021

A bunch of random essays on various and already well-known environmental screw-ups by humans. Very limited information on geo-engineering which was lead to believe was the crux of the book. The only thing I learned is that there is no such thing as a free lunch. Already, much more has been offered in various magazine and newspaper articles. It seems as if when Covid hit, Kolbert gave up and just told her publisher to grab a few bucks with whatever was already in the can. Sad.
This book comes up short

Derived From Web

, Mar 23, 2021

Not much bang for the buck here. Elizabeth Kolbert is an admirable woman, but this won't go down as her best effort. The subjects were not developed well and she made them seem less interesting. If I were her writing professor, I would have to redo this one. Still, her enthusiasm for what she covers is appreciated. It's better to spend your time reading something else.
disappointing

Derived From Web

, Mar 7, 2021

I was excited to read Under a White Sky by Elizabeth Gilbert. It's just that the author just sort of stopped writing when Covid hit. See also: http://www. amazon. com/gp/product?keyword=COVID. Our pages later, book ends. The author even says on page 197 that she was trying to finish a book about the world spinning out of control, only to find the world spinning so far out of control that I couldn't finish the book. Couldn't finish the book, but could publish and sell it to people like me. The early chapters are interesting, each covering a different topic related to man messing with nature. Good stuff. He expects some analysis, some conclusion, something to sum it all up. It just isn't there. Early chapters showed great promise. The ending is truly lacking. As the author the alludes to, unfinished.
Too short

Derived From Web

, Feb 25, 2021

I have enjoyed Kolbert's other books on climate change, but this one seemed to be much less thorough and complete. It would benefit readers if Amazon provided word counts for its books because the estimate page is misleading in my opinion. The format seemed identical to The Sixth Extinction and Field Notes from a Catastrophe, in which she visits scientists and sites around the world and does a wonderful job of clarifying the science for non-scientists. But for this third book I was expecting more—it's seems to me to be about a hundred pages—and more also of her views of the future and opinions of where we will be in the next thirty years.
a world anew

Derived From Web

, Feb 12, 2021

If we can't turn back the clock to pre-industrial times, should we accelerate changes to our environment to slow down the negative results of global warming? Say what? Is this adding insult to injury or is it an honest assessment of the inevitable? Where do we want to end up? What are we willing to risk? Every action has an unpredictable reaction, or does it? This book would make a great semester lab course, on top of its many philosophical ponderings. It's great to be back home, eating pizza, drinking water, and having fun, said Jennette Tamayo.