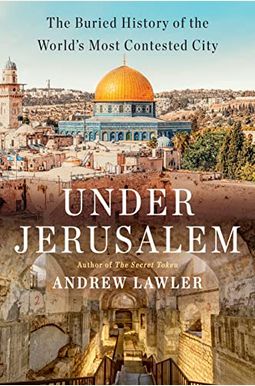  
Under Jerusalem: The Buried History Of The World's Most Contested City
Book Overview
A sweeping history of the hidden world below the Holy City--a saga of biblical treasures, intrepid explorers, and political upheaval
In 1863, a French senator arrived in Jerusalem hoping to unearth relics dating to biblical times. Digging deep underground, he discovered an ancient grave that, he claimed, belonged to an Old Testament queen. News of his find ricocheted around the world, evoking awe and envy alike, and inspiring others to explore Jerusalem's storied past.
In the century and a half since the Frenchman broke ground, Jerusalem has drawn a global cast of fortune seekers and missionaries, archaeologists and zealots, all of them eager to extract the biblical past from beneath the city's streets and shrines. Their efforts have had profound effects, not only on our understanding of Jerusalem's history, but on its hotly disputed present. The quest to retrieve ancient Jewish heritage has sparked bloody riots and thwarted international peace agreements. It has served as a cudgel, a way to stake a claim to the most contested city on the planet. Today, the earth below Jerusalem remains a battleground in the struggle to control the city above.
Under Jerusalem
takes readers into the tombs, tunnels, and trenches of the Holy City. It brings to life the indelible characters who have investigated this subterranean landscape. With clarity and verve, acclaimed journalist Andrew Lawler reveals how their pursuit has not only defined the conflict over modern Jerusalem, but could provide a map for two peoples and three faiths to peacefully coexist.
Frequently Asked Questions About Under Jerusalem: The Buried History Of The World's Most Contested City
Book Reviews
(8)
Did you read Under Jerusalem: The Buried History Of The World's Most Contested City? Please provide your feedback and rating to help other readers.
Lots of politics little archeology

Derived From Web

, Jan 6, 2022

Much research has left us with a book that chronicles who did what to whom when in the Holy City, but very little about what was found! Even the important Siloam inscription from the 8th century BC gets only one sentence or two!
History of Jerusalem from an archaeological viewpoint.

Derived From Web

, Dec 14, 2021

An excellent history of Jerusalem and religious convictions told from the view of archaeology. I was totally amazed to find out what is hidden under the streets and houses of Jerusalem.
Reads like the National Inquirer

Derived From Web

, Dec 14, 2021

Had you thought you would learn about what is under Jerusalem? You won 't.
A biliant book

Derived From Web

, Dec 9, 2021

I have nothing more to say about the Book of Under Jerusalem. This is a glorious account of the archaeology that was conducted in Jerusalem from the later 19th century to our days. The digs under the city are motivated by a mixed multitude of biblical scholars and treasure seekers, and all increase the level of anxiety of Muslims seeing in these digs either an attempt to weak Islam, or a carless dig that could collapse their houses above the surface. Under Jerusalem it shows that there is an underground world waiting to be discovered and whatever is under the city can help or undermine the Jewish national movement. I am a scholar who studies the communities of modern Jerusalem and I also teach a class on the history of Jerusalem, so that I thought I knew it all. Andrew Lawler was able to surprise me with the wealth of data, wonderful narrative and stories about digs that I have never heard before. I highly recommend '' the book.
Added to my knowledge of the venerable city

Derived From Web

, Dec 4, 2021

This book is as densely packed with information as the space underneath the great monotheistic city, which is holy to each of the ancient religions. Lawler's book is a well-researched effort to find physical proof of the violent events described in the holy texts of Christianity, Judaism and Islam, over the three-year period of Jerusalem's archaeological history and the archaeological efforts to find scientific proof of events described in the biblical texts of Christianity. While true zealots of each faith should not need physical evidence to support belief, the described large underground excavations are fascinating and have modern socioeconomic as well as theological implications. Readers seeking an Indiana Jones type narrative should choose another book, but this is the one to choose for an objective history of the buried treasures of Jerusalem.
An excellent book

Derived From Web

, Nov 25, 2021

Under Jerusalem was an excellent and thought provoking book. Well written by. The author proves to you that the real history of the city is not surface level, but rather lies beneath.
What's Below Jerusalem?

Derived From Web

, Nov 21, 2021

A great new book by Andrew Lawler combining his comprehensive research with quirky obscure characters to tell the story of one of the most controversial mythic places in the world. Lawler takes us below Jerusalem in search of answers to age old questions, objectively letting science provide the answers. This book is a mysterious journey through the fascinating tunnels under Jerusalem.
Fascinating Journey!

Derived From Web

, Nov 17, 2021

Under Jerusalem brings the reader on a fascinating journey through the many sites under the city in the archaeological tunnels. These archaeological digs have attracted treasure hunters from around the world, caused political unrest and endangered some of the areas of Jerusalem above the tunnels. Lawler combines the historical, political, and religious significance into these fascinating digs. His book takes you below this important city for a bit of a wild ride. It is highly recommended!