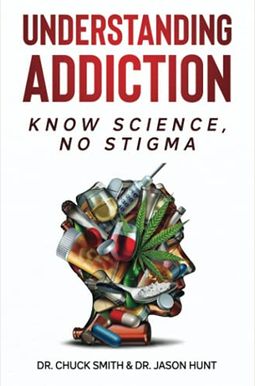 
 
Understanding Addiction: Know Science, No Stigma
Frequently Asked Questions About Understanding Addiction: Know Science, No Stigma
Book Reviews
(8)
Did you read Understanding Addiction: Know Science, No Stigma? Please provide your feedback and rating to help other readers.
Focus on the Reality of Substance Abuse

Derived From Web

, Feb 6, 2022

Good call go action for our country to recognize additions as a chemical imbalance and a disease, just like other diabetes or cancer! What was missing in this book were references to current research on this chemical imbalance relating to the gut, referred to as the 2nd brain by current research. By adding a chapter or two to include current MindGut connection research findings about the important role of the vagus nerve within the human body and adding additional brain addition research findings made since 2015, additional hope for better treatment can be offered to those afflicted with this disease.
Informative

Derived From Web

, Nov 10, 2021

Understanding addiction science, NO Stigma... most informative book... a must-read for those suffering from the tragic effects of drugs and alcohol and for their families to understand the behaviors often associated with this disease of addiction. Dr. Hunt and Dr. Smith are experts in this field with personal, firsthand experience with the humiliation and shame that accompanies substance abuse disorder. They point out that addiction is a disease, no less so than diabetes, heart disease or high blood pressure, and must be treated as such. It is a deterrent in the fight against addiction and getting to the root of this disease.
Great piece of work

Derived From Web

, Oct 15, 2021

This book is a great resource for clinical social worker with a specialization in substance use disorders for over 30 years. I wish I could buy a copy to give it to all my clients.
Authors with integrity and authenticity, sharing needed information.

Derived From Web

, Jul 21, 2021

I had the pleasure of working with Dr. Smith in a treatment center for 5 years and for a short time with Dr. Hunt. Dr. Hunt is well loved by his patients, especially for his easy going manner, non-judgment, authenticity and advocacy for his patients being well. As a licensed mental health counselor specializing in addiction recovery, I can not recommend this book enough. It is just nerdy enough for those who dig the brain part, with great metaphors to make it easily understandable. I recommend it to all my clients who need to understand more about addiction. Buy two for you and one to give the person you know needs it.
Good 101 Understanding

Derived From Web

, Jul 14, 2021

This was such a great first book to read on this subject. An easy read, but beyond that. If you are open to understanding the mind of someone suffering from a substance abuse disorder or alcohol use disorder, this is a MUST READ. Tackles the basic stigma that is placed on people who are suffering when we are dominated by their side with thoughts of WHY CANT YOU JUST PULL YOURSELF TOGETHER! I now understand people like my father and certain friends and i admit that I was looking at things from a wrong perspective.
Addiction is hard to understand. This book will help anyone better grasp the addict mind.

Derived From Web

, Jul 8, 2021

I have spent 33 years in the field of addiction recovery. I have authored countless times in countless arenas on addiction as a brain disorder and a disease. In my opinion, this book is one of the best in describing addiction and it's subsequent shame reactions. It will guide the reader in an easy to understand explanation through both personal explanations and expert experience. I recommend this simple to read book to anyone interested or influenced by addiction.
Outstanding book on combatting Addiction

Derived From Web

, Jun 30, 2021

Written by 2 authorities in the field of addiction, it is believed. They not only have the expertise in this vastly misconceived field, but also have personal experience in fighting back and conquering their own substance use disorders. This book tells their own remarkable personal stories of loss and redemption, how they fought their illness and succeeded in remission, effectively putting it in the remission. Explains in clear and easily understood terms why addiction is a disease rather than a mere moral failure scientifically. Provides a fresh and much-needed perspective on this devastating disease and the solutions one can use to achieve long-term recovery. There is Hope amd, you will find it in this book!
One of the best books about addiction! Great for family

Derived From Web

, Jun 30, 2021

I love this book, as an addict, it helped me to understand my addiction on a more scientific plane. But it was easily written and, since I am not a scientist, well understood. If you or a loved one suffers from addiction, it is a great book to help understanding the brain of someone in addiction. RECOMMEND THIS BOOK HIGHLY! Can 't say enough about it.