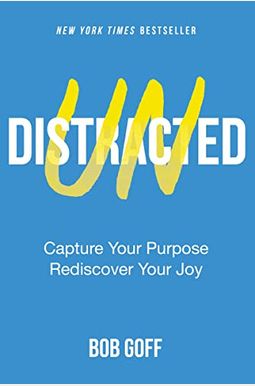 
 
Undistracted: Capture Your Purpose. Rediscover Your Joy.
Frequently Asked Questions About Undistracted: Capture Your Purpose. Rediscover Your Joy.
Book Reviews
(15)
Did you read Undistracted: Capture Your Purpose. Rediscover Your Joy.? Please provide your feedback and rating to help other readers.
Couldn't put it down

Derived From Web

, Mar 11, 2022

The way Bob relates his stories to the Bible inspired me. I want to keep a journal so I can give my kids advice.
So good!

Derived From Web

, Mar 10, 2022

I have been wavering, if not completely walking away, from my faith for the past year and a half after a traumatic illness, but when I saw Bob Goff had a new book out, I didn't care where I was in my faith. I knew I needed to buy this book, and I am so happy I did. Bob is a master story teller and has such a gift that he can take his stories and turn them into a lesson. This book is not about getting more pews in the church, or converting someone. No matter where they are in their life, the guy is telling his story to help other people. I finished this in three days, and will probably re-read it every time I start to feel distracted.
Storytelling that transforms

Derived From Web

, Mar 5, 2022

Each Bob Goff book has had an impact on me. I am surprised that simple communication can have so much depth. Undistracted is another book written by Bob. It is full of stories and invites you to live a focused full life. How do all these things happen to a man? It is very real and relevant. Bob invites us to live a better story and shows us how to do it. I highly recommend this book for anyone who wants to get more out of their life. I was given an advanced e-copy of Undistracted to review. I have bought three hard copies and will be buying more.
Yet another Bob Goff classic!

Derived From Web

, Mar 4, 2022

Our world desperately needs a book like this one by Bob. Thank you for taking the time to show us how to live an undistracted life. Your friends from Canton, GA are cheering for you! !
A Must Read

Derived From Web

, Mar 3, 2022

This is in my top 3 books. The practical ways to lead an undistracted life were exactly what I needed. I didn't know I needed this book until I started reading it. Simple points are easy to remember in the real life stories contained in each chapter. Do you want to buy this book? Purchase the book for your friends, family members, neighbors and co-workers as well. I am starting a book club for anyone who wants to join so we can discuss the book and make new friends. Bob hit another one out of the ballpark and I was so happy for him. I am so thankful for your constant encouragement to live life to the fullest!
Bob Goff delivers again!

Derived From Web

, Mar 2, 2022

Bob delivered again! Bob weaves stories and advice to keep you motivated. I want to see what he does next.
Grateful for this book

Derived From Web

, Mar 2, 2022

Bob is able to help you gain a new perspective on life. He wants you to explore and be encouraged to do so. I am grateful for the words in these pages.
Set aside distractions to pay attention to your life

Derived From Web

, Mar 1, 2022

Bob Goff wrote a book to help readers identify distraction because we all find ourselves bombarded by distraction. Bob reminds readers that the clock is on and that distraction blocks other possibilities in his stories. Your years can get overshadowed by the many daily decisions life demands of you, but you have permission to pursue your beautiful ideas and interests. Bob is a life coach, mentor, spiritual director, a story-teller, a guy who practices what he preaches, inspiring and enthusiastic about life. Bob hopes that readers will challenge themselves to live their best life as well. The only ticket you need is your existence. I read the advance copy with joy.
Such a timely book for me

Derived From Web

, Mar 1, 2022

I've always been a huge fan of Bob. His writings have always spoken to me in ways that other writers can't, even in the most trying and difficult times of my life and faith. The book is not exception. I have been struggling with many of the things covered in this book. The first couple of chapters helped me see things in a different way. Bob's words are relevant, humble, and really speak to the challenges that many of us face in Undistracted. I will be applying the book to my daily life.
The Gentle yet Deliberate Encouragement We All Need to Be Undistracted + Live Our Purpose!

Derived From Web

, Mar 1, 2022

If you have read any of his other books, you know they leave you better off than when they found you. Undistracted is the same thing. This book is full of stories, lessons and honesty, but it is also designed to encourage us to let go of what distracts us in order to live the life we already have permission to live. It encourages us to dive in, be available, emancipate whatever holds us back from living our purpose, to have a keen eye to discern what's true and meant to last and to fully dive into the goodness offered to us. Filled to the brim with so many great quotes, tangible questions and actionable insights, and Bob's signature humor and heart for God and for people, this book is the perfect antidote to the things that pull us in 100 different directions today. This book will allow you to dial back, dive in, and do what you are called to do! Couldn't recommend it enough!