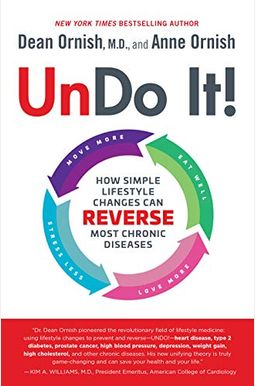  
Undo It!: How Simple Lifestyle Changes Can Reverse Most Chronic Diseases
Book Overview
Fight cancer, diabetes, heart disease, weight gain, and even the aging process itself with one simple, scientifically proven plan to actually reverse disease--as well as prevent and reduce symptoms--from the world-renowned pioneer of lifestyle medicine.
Forty years of peer-reviewed research has proven that the program Dr. Dean Ornish developed to treat heart disease--rated the #1 heart-healthy diet by
U.S. News & World Report
every year since 2011--can also begin reducing risk factors and reversing type 2 diabetes, high cholesterol, obesity, and depression in as few as nine weeks, as well as prevent cancers and Alzheimer's disease. Now, for the first time, Dr. Ornish pulls all the remarkable science together into a simple four-part plan: eat a whole foods diet low in fat and refined carbohydrates; practice de-stressing techniques like yoga and meditation; get moderate exercise; and make time for love and intimacy. With 75 recipes, meal plans, tips for stocking your kitchen and eating out, recommended exercises, stress-reduction advice, and inspiring patient stories of dramatic weight loss and life-transforming benefits--one man was able to avoid a heart transplant after the nine-week program --
Undo It
will help readers prevent, stop, and even reverse chronic disease.
Frequently Asked Questions About Undo It!: How Simple Lifestyle Changes Can Reverse Most Chronic Diseases
Books like Undo It!: How Simple Lifestyle Changes Can Reverse Most Chronic Diseases
Book Reviews
(10)
Did you read Undo It!: How Simple Lifestyle Changes Can Reverse Most Chronic Diseases? Please provide your feedback and rating to help other readers.
Very comprehensive. Provides results of studies for their recommendations.

Derived From Web

, Jan 18, 2020

Provides many recipes, but the are complicated and need items I don 't have. They do provide menus using prepared frozen meals, which I decided to use just to get started. The book is awarded with 4 stars because the book is very comprehensive. Other readers can perhaps put together the recipes.
Had to return it

Derived From Web

, Apr 29, 2019

I bought the book because I heard an interview with Dean Ornish and was intrigued by the studies cited in that interview. I thought the book would help me figure out how to live a whole foods - based lifestyle. The book was, however, a disappointment and I had to return it. The most serious issue was that Appendex A was billed as having 2 weeks of menus of prepared foods you could buy to make the transition easier, but were IMPOSSIBLE to read even if I tried to read it on my computer. Given that the printed version is only $1 less than the kindle version, this is TOTALLY unacceptable. In addition, I am surprised that a glance through Appendix B shows that despite all the talk about whole foods, there were lots of processed foods, including a lot of fake meats listed there.
misleading title

Derived From Web

, Apr 12, 2019

This is nothing more than a promotion of a vegan lifestyle. The title is simple, misleading lifestyle change it is not. You give up dairy, meat, seafood, oils and of course sugar. That is not a simple change. Then they include that you should be active, don 't stress and be around loving people. Your book promotion on Dr Oz implied that you can still have animal protein and carbs, but that's not what you say in the book. A total waste of my money. I am sure his statistics and medical conclusions are sound, but call this book what it is, go vegan.
Good balance of information

Derived From Web

, Apr 10, 2019

This is more than a diet book, it covers lifestyle recommendations that make this a better book for reversing chronic diseases and improved health. I found that lifestyle changes something better presented in similar books than in traditional books.
Changed my diet

Derived From Web

, Mar 21, 2019

I need a heart valve replacement, but surgeons consider it too risky because of previous operations. After readingUn Doit, I decided to try the vegan diet. I was astonished when my legs were not as tired as before. I feel better after 1 month. I can not say whether the valves have improved, but I am not short of breath and have more energy.
Bringing down your cholesterol numbers.

Derived From Web

, Mar 21, 2019

LDL has been an issue for me specifically with bad cholesterol. This high program has my ornish hopes of bringing my cholesterol down to my target numbers and reversing my heart disease.
Very Vague on Suggested Dietary Changes

Derived From Web

, Feb 7, 2019

The book was very vague about what foods to include in your diet to obtain the positive results of testimonies given and described in spectacular outcomes. I was left not knowing what to do.
I think the content was likely good...but had to return the Kindle version

Derived From Web

, Jan 11, 2019

I just couldn t read some of the more helpful materials in the Appendix on any of my devices. I don 't like anymore having hardcopy books, and there is currently no Audible version, so it is a little disappointing.
A Must-Read and a Must-Do!

Derived From Web

, Jan 10, 2019

Dr. Dean has done it again, this time with a beautiful touch of upgrades by Anne Ornish, who leads the reader to the health benefits of meditation, stress management, and delicious and nutritious recipes. This book summarizes over 30 years of research on the health benefits of the Ornish disease prevention and reversal program, used worldwide, taught in top universities and practiced by smart doctors. Dr. Dean's research gave me a jump start in convincing me about the health benefits of plant-based eating as a path to enjoy vibrant health. Want to live longer, happier and healthier? Read it and do it!
Amazing~The Best of Dr Ornish's work

Derived From Web

, Jan 8, 2019

After owning, using and enjoying most of Dr Ornish's books, I truly believe that this one is his best. I read and the recipes appear very doable and delicious. His material is supported with special and extraordinary scientific studies. However, I found his 2 week starting plan, where you can use frozen food, etc. Especially helpful was the fact that : Since I am a heart patient, I believe that this book will be my next guide to better health. I'll update this offering after I started this helpful guide to a more refreshing lifestyle.