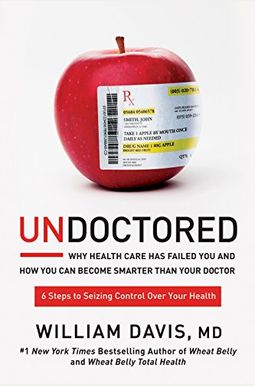 
 
Undoctored: Why Health Care Has Failed You And How You Can Become Smarter Than Your Doctor
Book Overview
Conventional health care is no longer working in your favor--but thankfully, Dr. Davis is.

In his New York Times bestseller Wheat Belly, Dr. William Davis changed the lives of millions of people by teaching them to remove grains from their diets to reverse years of chronic health damage. In Undoctored, he goes beyond cutting grains to help you take charge of your own health. This groundbreaking exposé reveals how millions of people are given dietary recommendations crafted by big business, are prescribed unnecessary medications, and undergo unwarranted procedures to feed revenue-hungry healthcare systems.
With
Undoctored
, the code to health care has been cracked--Dr. Davis will help you create a comprehensive program to reduce, reverse, and cure hundreds of common health conditions and break your dependence on prescription drugs. By applying simple strategies while harnessing the collective wisdom of new online technologies, you can break free of a healthcare industry that puts profits over health.
Undoctored
is the spark of a new movement in health that places the individual, not the doctor, at the center. His plan contains features like: - A step-by-step guide to eliminating prescription medications
- Tips on how to distinguish good medical advice from bad
- 42 recipes to guide you through the revolutionary 6-week program
Undoctored
gives you all the tools you need to manage your own health and sidestep the misguided motives of a profit-driven medical system.
Frequently Asked Questions About Undoctored: Why Health Care Has Failed You And How You Can Become Smarter Than Your Doctor
Book Reviews
(12)
Did you read Undoctored: Why Health Care Has Failed You And How You Can Become Smarter Than Your Doctor? Please provide your feedback and rating to help other readers.
Great information

Derived From Web

, Oct 26, 2019

This book is by far the best. That means doing what I can to prevent health issues, he said. Thanks for the book. Bought one for a friend.
Worth the purchase if you want to take control of your own health!

Derived From Web

, Apr 19, 2019

The book is an engaging read, said Dr. Doc This Doc. Worth the investment. JD and I are thrilled we finally bought it.
Incredible read

Derived From Web

, Dec 19, 2018

Dr. William Davis, co-author of the book, is a noted authority on the subject. We met Dr Davis a few years ago and he is very educational.
Eye opening read!

Derived From Web

, Mar 28, 2018

This book is a great read, said Dr. Chester Floyd, director of the University of Pennsylvania's Center for Health Research. Doctors don't always keep up with the latest medical news, so you need to do your research and educate your doctor if necessary, she said. If your doctor is not available, you need to find a new one. The Vatican has repeatedly said that the church will never renounce God.
Great concept and will help to change the course of ...

Derived From Web

, Feb 19, 2018

Empowering women to make the world a better place.
A must read

Derived From Web

, Oct 30, 2017

I am learning a lot. This is a MUST READ for everyone!!! It answers a lot of questions and makes things more clear about our health and what we have done as a society, he said.
Another hit for Dr. Davis of Wheat Belly fame

Derived From Web

, Jul 11, 2017

I have been a fan of Dr. Davis since his first book, Wheat Belly, and was thrilled to see this book. This book goes way beyond his earlier works. Thanks for the recommendations! It also includes some recipes that I'm not familiar with.
The truth and nothing but the truth.

Derived From Web

, Jun 25, 2017

Dr. Davis has changed my life for the better with the Wheat Belly book and lifestyle, he said. I couldn't wait to get my hands on this book. It was enlightening to me, Graham said. His gumption is legendary. Even though Blair admits that he is not afraid to tell it like it is. Buy the book and you will open your eyes to the world of fiction.
I am very happy with this book and everything Dr

Derived From Web

, Jun 19, 2017

Overall, I would have given it 5 stars, but it did lack specifics that I was looking for to help implement the plan. For instance, I would have thought there would have been a list at the end of the book where a synopsis of all the components of following the plan would have been. As you read, I would suggest that you make notes so that you don't have to go paging through the plan to find all the components. I have made a few of the recipes so far and all are very good, except for the fact that they do not include Net Carbs. I can try to figure this out for myself, but how hard would of it be to add the net carb value to each recipe since counting net carbs is essential to the success of the plan?
Undoctored for Life

Derived From Web

, May 17, 2017

I was just entertaining with the small percentage of 1-star Amazon reviews of the original Wheat Belly book, which completely changed my life, Melissa said. Much of it is the same kind of criticism I run into in real life, so I won't bother trying it. It's just that terrible, right? They are so big, I think I am going to have to change my size. It's just that most of the critics remain fat and unhealthy, Levine said. If you don't do something about it, then you have to admit that you are wrong. Follow them on Twitter: @YouTubeMag. com/WatchMojo. It won't hurt a bit, but you have to be willing to give health a try.