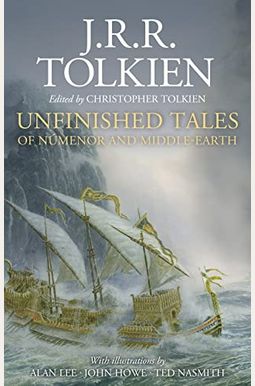  
Unfinished Tales Of Numenor A
Frequently Asked Questions About Unfinished Tales Of Numenor A
Book Reviews
(9)
Did you read Unfinished Tales Of Numenor A? Please provide your feedback and rating to help other readers.
In Depth

Derived From Web

, Jun 2, 2022

Christopher Tolkien undertook an immense task when he decided to transform the decades of work of his father into publishable, cohesive literature. This book is comprehensive in detail, with a myriad of names and locations to remember and make sense of and at the same time apply it to several time lines and plots that one should already know from the Lord of the Rings series. This is indeed heavy reading and text book like at times and should be only tackled by someone who is already familiar with the Middle Earth. Many answers are solved and some mysteries are revealed. I enjoyed learning especially about the kingdom of Numenor and the origins of the Five Wizards and Gandalf's efforts in the decades leading up to the War of the Ring. There are also new characters and stories from the first two ages that you will enjoy. There is a lot of information to digest in this book, but is well worth the time in my opinion.
A great book for Tolkien Fans

Derived From Web

, Jun 2, 2022

This book is filled with background information on Middle Earth that may help you understand why Peter Jackson put certain things into his Hobbit movie.
My friend loved it. The condition of the book was excellent ...

Derived From Web

, Jun 2, 2022
Just like the Allen Lee illustrated edition of the Silmarillion, this one is a must have.

Derived From Web

, Nov 21, 2021

Silmarillion is smaller in size than the Silmarillion, but large enough. The papers are of great quality, the size and placement of the fonts are perfect. As expected, the illustrations are not only jaw dropping and bringing the stories to a new life, but also numerous. I would say that if this is your first reading Unfinished Tales, this edition would actually be a great choice. The very old, paperback editions could be more difficult due to a compact font and thinnish papers. This edition increases the readability tenfold and the otherworldly paintings fit the atmosphere in beautiful ways.
Beautiful

Derived From Web

, Nov 2, 2021

The mine arrived in perfect condition. The pages are thick and of glossy material, the illustrations are beautiful... can 't ask for more!
Ordered 3 times, arrived in poor condition every time

Derived From Web

, May 7, 2021

This is the third time I ordered this book and now I return it for the third time. Every time it arrived in the condition pictured the dust jacket torn, bent, dented and worn off. I am very disappointed ''. This was supposed to be a gift for my husband, but it looks like it will arrive in poor condition, so that I have to look elsewhere.
Great Addition to a Collection

Derived From Web

, Jan 28, 2021

While most copies are now printed in China, including the one I received, they retain the above-average quality you can expect for a Deluxe edition. I, however, recommend looking for copies printed in Italy, as they have an even greater quality and feel. Shipping was cheap, considering it was to the US. The handling was surprisingly exceptional, as the slipcases on the deluxe line can easily be damaged. The price was also satisfactory. The only downside of this edition is the lack of illustrations, being one of the few Deluxe Edition publications to have alternate HarperCollins illustrative versions.
Gorgeous book

Derived From Web

, Dec 4, 2020

I was on the fence about buying this issue because I already have a 1st edition, 1st print, but I am glad I did. The pages are thick and have color printed chapter titles, ribbon marker, colored end pages, vibrant illustrations. You won 't be disappointed.
Arrived Damaged

Derived From Web

, Oct 26, 2020

I'm very disappointed that this book arrived in the condition it did. Upon opening the book, I found a cover torn, as seen in the photos. And there was damage on the corners of the slipcase found. I need a replacement order sent to me.