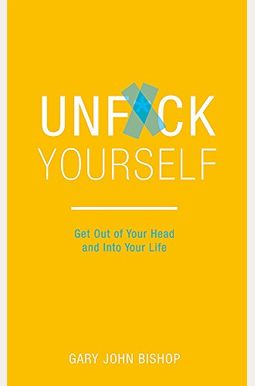  
Unfu*K Yourself: Get Out Of Your Head And Into Your Life
Book Overview
This Description may be from another edition of this product.
New York Times bestseller. Over two million copies sold
Joining the ranks of The Life-Changing Magic of Not Giving a F*ck, The Subtle Art of Not Giving a F*ck, You Are a Badas*, and F*ck Feelings comes this refreshing, BS-free, self-empowerment guide that offers an honest, no-nonsense, tough-love approach to help you move past self-imposed limitations.

Are you tired of feeling fu*ked up? If you are, Gary John Bishop has the answer. In this straightforward handbook, he gives you the tools and advice you need to demolish the slag weighing you down and become the truly unfu*ked version of yourself. ''Wake up to the miracle you are, '' he directs. ''Here's what you've forgotten: You're a fu*king miracle of being.'' It isn't other people that are standing in your way, it isn't even your circumstances that are blocking your ability to thrive, it's yourself and the negative self-talk you keep telling yourself.

In Unfu*k Yourself, Bishop leads you through a series of seven assertions:

I am willing.
I am wired to win.
I got this.
I embrace the uncertainty.
I am not my thoughts; I am what I do.
I am relentless.
I expect nothing and accept everything.

Lead the life you were meant to have--Unfu*k Yourself.
Frequently Asked Questions About Unfu*K Yourself: Get Out Of Your Head And Into Your Life
Book Reviews
(15)
Did you read Unfu*K Yourself: Get Out Of Your Head And Into Your Life? Please provide your feedback and rating to help other readers.
Great, but not for everyone

Derived From Web

, Nov 26, 2021

I enjoyed this book a lot. It speaks to the brand of language that is familiar within the military, but also very motivational.
Take control of your life!

Derived From Web

, Jan 20, 2021

This was very helpful and inspiring. You want to be in control of your life. Take it! It was an eye opener. I hope my oldest daughter takes the advices, tips, and inspiring words from the book to heart. I would recommend it to everyone.
A small motivational book

Derived From Web

, Jul 19, 2020

If you have successfully completed high school, you probably don't need this book. This short book will try to get you to do the things you are supposed to do, and that you just need to take action. Just do it. You can do that. The book has quotes from other people who say you are what you do not say you will do. If you can't get most things done in your life, you should read this book.
Loved it!! So inspiring !!

Derived From Web

, May 20, 2019

This book is different than everything I have read before. It brings awareness to acting, it's not just inflaming you like most of the motivational books or speeches. The reason for changing your habits and negative thinking is the ephemeral nature of life. We are here now and that could be it. Knowing that you can't accept to live a short, beautiful life. Because you don't. We should appreciate life 100%, every day, and realize how short it is, so that we can eventually become the best version of ourselves.
In the process of Unfu*king

Derived From Web

, Apr 25, 2019

The book is what I needed. He calls it as it is and I love that. I picked this book up again because I was going through something. I only had a few more chapters left and those were written for me. Everything he said was what I needed to hear. There is a message on this page. I highlighted the chapters I wanted to read. Are you going to Unfu*k yourself?
Powerful Book!! Absolutely LOVE it!!

Derived From Web

, Mar 31, 2019

This book has helped me a lot. I keep re-reading it because it has had such a strong affect on me. I lost 10 pounds in no time. There are many areas of my life that have improved. I can not say enough. I would suggest a different title. I wanted to give it to a friend as a gift but felt like it would be seen as a slap in the face. It's funny. I absolutely love this book. !
Not for me.

Derived From Web

, Mar 22, 2019

It was well written, but not for me. I have no issues with owning my mistakes and strong points. It was recommended by a friend who may have misinterpreted what I wanted. I gave it to my daughter at college. I believe it could help the person.
Loved the audio so much I needed the book too!

Derived From Web

, Mar 17, 2019

I like to highlight the good ideas in books. I decided I needed to buy it because it had so many in the first chapter. People need to learn that we don't have to listen to all of the thoughts that come to us. They don't serve us well. Keep up the honesty.
Great book! I recommend it to anyone looking for that extra kick

Derived From Web

, Feb 24, 2019

The book is great. I have it audible as well. I bought the book to have Gary John Bishop sign it after he spoke at the conference. It's a great book for anyone. Even if you feel like you're doing well, there's always one thing that keeps you from being the best version of yourself.
Thinly veiled money grab masquerading as basic philosophy for idiots

Derived From Web

, Jan 30, 2019

For those that find obvious, dumbed down statements, spoken with the eloquence of a street corner drug dealer, may very well feel like they are being enlightened by the breakthrough wisdom in this book. This books is a superficial attempt at one-size-fits-all enlightenment, regurgitating simplified ideas originated by other philosophers, for anyone else with standards for writing in general, philosophy and complex nuanced thought. The margins are large, the blank space is plentiful, but there is no useful substance to justify the time needed to get through this thinly veiled money grab. I felt like I wasted time on this book.