BLACK FRIDAY DEALS CONTINUE - SAVE 20% AT CHECKOUT WITH CODE CYBERBOOK. Learn more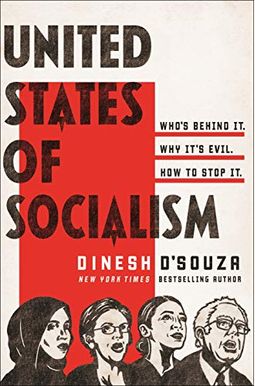 
 
United States Of Socialism: Who's Behind It. Why It's Evil. How To Stop It.
Book Overview
This Description may be from another edition of this product.
**A New York Times bestselling audiobook**
This program is read by the author. For those who witnessed the global collapse of socialism, its resurrection in the twenty-first century comes as a surprise, even a shock. How can socialism work now when it has never worked before? In this pathbreaking audiobook, bestselling author Dinesh D'Souza argues that the socialism advanced today by the likes of Alexandria Ocasio-Cortez, Bernie Sanders, Ilhan Omar and Elizabeth Warren is very different from the socialism of Lenin, Mao and Castro. It is identity socialism, a marriage between classic socialism and identity politics. America's typical socialist is not a working-class union man but a Black Lives Matter activist, a transgender militant or a prophet of environmental apocalypse. Today's socialists claim to model themselves not on Mao's Great Leap Forward or even Venezuelan socialism but rather on the socialism that works in Scandinavian countries like Norway and Sweden. This is the new face of socialism that D'Souza confronts and decisively refutes with his trademark incisiveness, wit and originality. He shows how socialism abandoned the working class and found new recruits by drawing on the resentments of race, gender and sexual orientation. He reveals how it uses the
Read More chevron_right
Frequently Asked Questions About United States Of Socialism: Who's Behind It. Why It's Evil. How To Stop It.
Book Reviews
(13)
Did you read United States Of Socialism: Who's Behind It. Why It's Evil. How To Stop It.? Please provide your feedback and rating to help other readers.
United States of Socialism

Derived From Web

, Jul 21, 2021

I'm 12 way through it, I am amazed at how things have progressed to the destructive point at which America is. Dinesh D 'Souza has done a lot of research. It is a necessary read an easy one ''.
I thought it was a book of praise not a fascist smear..

Derived From Web

, Mar 31, 2021

To be mentioned in it should be like an award for these people! I just hope the people handling it were not the same ones that AOC says were infecating in bags and handling human excrement while packing boxes in Jeff's distribution facilities.
A primer on the demise of Western republics.

Derived From Web

, Jan 2, 2021

You were having second thoughts about socialism, this book details why you feel so uneasy. You may not agree with all the examples presented by the author, but does give you something to think about. A liberal should read this book to support their reasoning for their views better and hone their reasoning.
The Author Has been Unjustly Defamed

Derived From Web

, Oct 27, 2020

He did something dishonest in an election, not nearly on the scale of what a lot of politicians do, and the media went after him, including Wikipedia exhausting itself by defaming him. Let him, who is the first stone, the Indian immigrant Dinish D'Sousa, be one of the greatest gifts that India ever gave us.
Outstanding

Derived From Web

, Sep 8, 2020

Dinesh explains in detail from the very beginning to our current political climate why socialism has failed and we must stop it from becoming a reality here. Dinesh exposes the Left game Plan and gives various ideas in which to stop them.
Superior view of socialism

Derived From Web

, Aug 25, 2020

Born and raised in India, Dnesh D 'Souza is written by Dnesh D 'Souza. His wife is from Venezula, so that they both see socialism up front and personal. He gives it to the max and has a superior description. No pictures, only words -- put together expertly. If you don 't understand socialism, this is the book for you. Even if you think you know socialism, this book will bring you discussions you have never heard.
Yet another great, accurate detailing from a brilliant, real-world scholar

Derived From Web

, Aug 20, 2020

Highly recommended to all those wanting to at least remotely fathom the leftist-marxist phenomenonmania that is currently sweeping the Western World. If you ARE a leftist-marxist, well, naturally and predictably, you 'll reject every other sentence on each page and slam down. After all, the bitter truth hurts. Regardless, no critic's view will take away the brilliantly researched and thought-out arguments that this book expounds.
If you want to learn about Socialism, look elsewhere.

Derived From Web

, Jul 31, 2020

How do people seriously take this guy on? If you want to learn about Socialism, look elsewhere. Read about the origins of Socialism in the 1860s, as it grew out of global workers'movements responding to the devastating effects of capitalism. Read Peter Kropotkin, Ricardo Flores Magon, Emma Goldman, Errico Malatesta, Karl Marx, Michel Bakunin, Ricardo Flores Magon, Emma Goldman, Errico Malatesta, etc... Trust me, there are plenty of actually socialists from which many are unaware. Don 't read poorly reasoned strawman arguments from secondary sources like this, unless you appreciate this kind of thing because it reaffirms your worldview.
Disturbing But Important

Derived From Web

, Jul 11, 2020

The rising of socialism in America today is alarming. It is an insidious disease, not only economic, but also political and cultural hellbent on dragging us down the same unfortunate road to destruction that other socialist nations have traveled in the past hundreds of years. D'Souza spells out what is happening in this well-documented work in great detail. He implores those who love America to wake up and take a bold stand before it is too late.
Amazing Analysis & Explanation of Socialism Threat to the USA

Derived From Web

, Jun 29, 2020

This book explains the current threat of socialism to our society clearly. It is clear that the upcoming presidential election is not about choosing between Biden and Trump... It is really about choosing to destroy our society with socialism or to preserve our core beliefs, ideals and way of life.