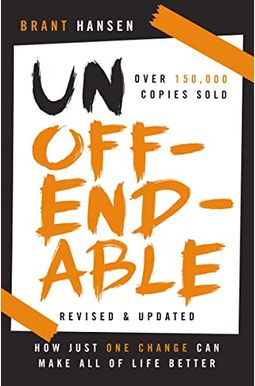  
Unoffendable: How Just One Change Can Make All Of Life Better (Updated With Two New Chapters)
Book Overview
This Description may be from another edition of this product.
Not entitled to get angry? Really?
It s a radical, provocative idea: We re not entitled to get offended or stay angry. The idea of our own righteous anger is a myth. It is the number one problem in our societies today and, as Dallas Willard says, Christians have not been taught out of it.
As it turns out, giving up our right to be offended can be one of the most freeing, healthy, simplifying, relaxing, refreshing, stress-relieving, encouraging things we can do.
InUnoffendablereaders will find something of immeasurable value a concrete, practical way to live life with less stress. They ll adjust their expectations to fit human nature and replace perpetual anger with refreshing humility and gratitude.
The book offers a unique viewpoint, challenging the idea that Christians can ever harbor righteous anger or that there evenissuch a thing for believers.
Few other books exist with such a radical, provocative proposal to consider. We have no right to anger. We are to get rid of it, period. Completely. And itispossible to choose to be unoffendable.
Through the author s winsome, humorous, and conversational style, this book doesn t add another thing to do on a stressed-out person s ever-growing list. Better, it actually seeks toliftreligious burdens from readers backs and allow them to experience the joy of gratitude, perhaps for the first time, every single day of their lives.
Frequently Asked Questions About Unoffendable: How Just One Change Can Make All Of Life Better (Updated With Two New Chapters)
Books like Unoffendable: How Just One Change Can Make All Of Life Better (Updated With Two New Chapters)
Book Reviews
(17)
Did you read Unoffendable: How Just One Change Can Make All Of Life Better (Updated With Two New Chapters)? Please provide your feedback and rating to help other readers.
Good read, convicting, yet still not 100% sure anger is always a sin

I like the way Brant Hansen writes, as his stories are entertaining and easy to read. I also gained a lot of perspective on our anger almost always being unrighteous. I still believe that Paul isn't telling us we can never be angry but instead not to sin in our anger. Of course, stewing in anger mostly hurts oneself, so it's counterproductive. Some anger can be healthy to provoke us to action, but most anger is definitely not that kind. The author definitely revealed how prideful we can be in thinking we have a right to be angry about anything. I'm in agreement that God has a right to be angry, but we more often than not, don't.
Unputdownable

Derived From Web

, Apr 20, 2022

As a pastor, I wish I could distill this book down and hand out shot glasses of it to everyone I meet. This book is well worth reading, insightful, witty, well written, cutting, and laugh-out-loud honest. It could even change your life, changing your life. I had my doubts when I started reading. But I was convinced by the time the final chapter rolled around, I was convinced. Delighted Delighted. Renewed. As the author tells his story and makes his case, I couldn 't help but admit that my most effective and rewarding conversations and relationships occurred when I have forgotten my own agenda, put aside my own perogatives and simply loved people. As a great know-it-all, this book is a recovering medicine. Plus, it tastes great, goes down easy and has zero calories. Brant Hansen, Rock on, Brant Hansen, whoever you are. Nicely done, Nicely.
A whole new perspective about my right to be angry and offended...even when I have good reaon

Derived From Web

, Apr 20, 2022

When I first heard about this book, I did not think that it would be much of interest to me. I have, however, struggle with several major issues, especially dealing with others who are dead wrong... it focuses me and the people I love... and there is nothing I can do about it. When the book was offered at a substantial discount, it seemed to me that God's timing was at God's. I finished the book with a completely changed perspective and why I must give it all up and allow God to be God.
I have very much enjoyed this book

Derived From Web

, Apr 20, 2022

I enjoyed this book very much ''. I first plan to restart reading it immediately, then I plan to read it again immediately. I believe that the material is poignant for all of us, no matter how much anger we find ourselves. Secondly, if you are familiar with Brant Hansen's radio personality, you may feel, just as I do, that he is actually sitting right there with you, gesturing, being funny, being real, and being humble. I am grateful for this book. I am grateful for it. It has not only given me a real perspective, but also a very great attitude of thought. Tangibly useful is something tangibly tangibly useful. Brant thanked Brant. P.S. P.S. is a P.S. - based system. I listen to the Brant and Sherri podcast every day and am so glad to be able to spend my afternoons with you guys again. Please send uniform ASAP! Please send uniform ASAP!
This book could (and should) change your life.

Derived From Web

, Jul 31, 2021

Obviously I don 't know Brant personally, but I have listened to him for years and he is one of my favorite people. I've completely respected his views on things, and this book is absolutely no exception. It is so challenging and fully supported by Scripture, so I trust the guidance that he offers on this subject. If we all lived this way, the world would be unrecognizable for the better.
Life changing!!

Derived From Web

, Oct 13, 2020

Brandt does an extraordinary and comprehensive job of showing the fallacies of righteous anger. This book has changed our lives for the better and for many of our friends and relatives as well! Amazing book! ! !
great book

Derived From Web

, Aug 7, 2020

This book is so good - the writer has a humorous style and is good - but really makes you think about being humble and unoffendable. He will also read his other book,
Easy to read and filled with truth!

Derived From Web

, Jun 26, 2020

Our culture and our social media have been fostering outrage in all areas of our lives. Honestly, we can become irate over issues we never even knew we cared about. As a follower of Jesus, it is refreshing to read this easy to read, biblical perspective, shared with deep truths and lots of humor, God has given us the position as peacemakers in a world bent on finding offense. We can t take the bait! It is not about us putting the other guy straight. It is about understanding our tendency to need to be kind more than we desire to be right. "Refusing to be angry about others'views is not a conflict avoidance or happy-talk. It is the very nature of serving people. -B Hansen Buy this book.
Inspiring, life changer and thought provoking!!

Derived From Web

, Jun 13, 2020

Unoffendable is an inspiring, enlightening, thoughtprovoking, much needed Christian perspective!! It's very convicting with the direct truths expressed, without being offensive, but refreshingly humorous. Highly recommended for correcting judgmental self - righteous attitudes. Helps get you back on track on the right path for living.
Excellent book on forgiveness!

Derived From Web

, Feb 24, 2020

I love this book! '' I love it! A very different perspective on forgiveness from a very different perspective. I took notes and typed them out for review and will likely still read it again!