Buy 3 Get 1 Free
Our Best Sale Yet! Add 4 Books Priced Under $5 To Your Cart Learn more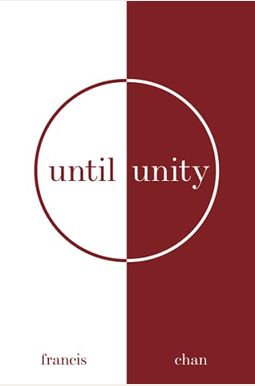 
 
Book Overview
The Church becomes more divided each day.
Many seek reassurance or perceived unity by creating doctrinal statements, but that misses the point. Doctrine is necessary but it is not the solution. In his new book
Until Unity
, New York Times best-selling author, Francis Chan, shows readers that the real problem is shallow or even non-existent love for each other. Do we truly understand the gospel? Do we believe in the miracle of the Holy Spirit in us? As believers, Christians are supposed to yield the fruit of supernatural love for one another. Instead, we allow jealousy and selfish ambition to prevail. God hates this division between His children--and our indifference to it. He has provided the solution to the Church through gifting of leaders to equip His people in a way that leads to unity of the faith--but not at the expense of truth or holiness. Believers have done a poor job at this, but we can hear the call and be eager to maintain the unity of the Spirit in the bond of peace (Ephesians 4:3). Although the Bible commands unity, some will resist these unifying efforts. We see it every day. We have to
hate sin, love truth, and pursue unity
for the Church
.
This is messy, but no matter what, Christians must give everything they have to the pursuit of a unified, restored Bride.
Frequently bought together
Frequently Asked Questions About Until Unity
Book Reviews
(14)
Did you read Until Unity? Please provide your feedback and rating to help other readers.
Praying for unity / loving people

Derived From Web

, Mar 28, 2022

Loved the second one, too. I looked for this in my church and found a lot of it. The parts that tell what is wrong with medicine are necessary but proving it with so much data was overwhelming. A "balanced appeal" is more accepted and influential, he said. If the spotlight is on the problem, it can seem hopeless. At times I had to skip over to the solution. Our life group began praying for forgiveness and restoration of our church body and the body of Christ worldwide. We're seeing a lot of movement, said Darl McBride, executive director of the Alcohol and Tobacco Alliance. Sermons by pastors who were not in our life group keyed in on loving people and how Jesus was intentional with people. He continued to speak to us from the Lord's side. Realizing this, we began to make the most of opportunities, he said. Within a few years, more people began accepting Jesus. We baptized 10 more people today, plus 2 more people who decided last minute to get married and more requesting Baptism next week. It's amazing how fast these guys can change the game of music.
Fresh Approach, Desperately Needed Perspective

Derived From Web

, Feb 7, 2022

For a brief volume, this is a good deal without getting tedious. His ideas are sound, fresh and balanced, Raymond said. His style is so simple it appeals to less seasoned readers, yet still challenges mature believers.
Convicting

Derived From Web

, Jul 6, 2021

He urged his disciples to "look at the source of truth" - the Bible. Many people will not like his message because he is calling us to examine whether or not we have the Spirit of God in us.
May Be Chan's Best Book Yet!

Derived From Web

, Jun 25, 2021

This book is thought-provoking and convicts. It will change the way we look at and respond to others, he said. We often complain about the state of the union, but we also divide on so many other non-essential issues. Let them all be apart and love one another. The book has created within me a burning desire to love those who I normally would not. He urged his followers to "unite in love and show the world we are His."
It's a blessing!

Derived From Web

, May 22, 2021

I am so happy I found this book, Graham said. I will give 2 more to our pastors as a Christmas present. Lord, I thank you for your mercy. nan
Looking for Commonality

Derived From Web

, May 11, 2021

In the beginning, I was told that we were God's enemy, destined to face His wrath. He said that when he heard the news, "I knew this was not for me." Only then will we find the unity that brings us all together, Bruno said. However, we the undersigned are responsible for our own understanding.
Much needed words for today

Derived From Web

, May 10, 2021

The thing I love most about books by Francis Chan is that they are completely backed up by scripture, Raymond said. In "Until Unity," Chan calls us to wrestle with some hard truths and take a look at our heart. I am grateful Chan continues to use his platform to explain the scriptures and is using this book to call the Church to unity, said Blair. This is a must read for any member of the church body — especially those in leadership positions, he said.
Don't read this if you are just looking for more knowledge. This is a heart changing book.

Derived From Web

, Apr 29, 2021

Thanks for the support. Thanks for the support. Thanks for the support. This book is a breath of fresh air, Salman said. Rarely do we find an author who simply wants to turn our heads upward. This is not a quick read, and should not be considered a substitute for thorough research. The book takes you on a journey through the heart of worship, through the mysteries of the Lord. As we walk in a spirit of worship, we will be joined by those around us. It's just a natural outpouring of grief. Yes, I do. The heart of unity is walking with the heart of God, Raymond said.
So convicting and challenging.

Derived From Web

, Apr 29, 2021

The Lord's Prayer should be read by every Christian. Whether you're a Christian or not, this book is a must.
Such a needed book for our time.

Derived From Web

, Apr 21, 2021

I've always said that Chan is one of the greats. He has a heart of gold, and I'm so thankful for his heart and his earnest words. This book is by far the best seller of all time.