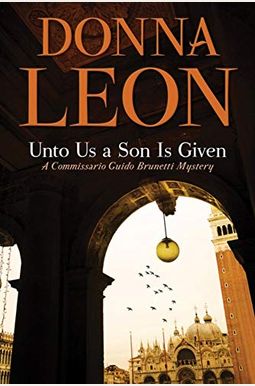  
Unto Us A Son Is Given: A Comissario Guido Brunetti Mystery
Book Overview
This Description may be from another edition of this product.
Your situation is always ambiguous, isn't it, Guido?, his father-in-law, Count Orazio Falier, observes of Donna Leon's soulful detective, Guido Brunetti, at the beginning of her superb 28th Brunetti novel, Unto Us A Son Is Given. The world we live in makes that necessary, Brunetti presciently replies. Count Falier was urging his Venetian son-in-law to investigate, and preferably intervene in, the seemingly innocent plan of the Count's best friend, the elderly Gonzalo Rodr guez de Tejada, to adopt a much younger man as his son. Under Italian inheritance laws this man would then be heir to Gonzalo's entire fortune, a prospect Gonzalo's friends find appalling. For his part, Brunetti wonders why the old man, a close family friend, can't be allowed his pleasure in peace.
And yet, what seems innocent on the Venetian surface can cause tsunamis beneath. Gonzalo unexpectedly, and literally, drops dead on the street, and one of his friends just arrived in Venice for the memorial service, is strangled in her hotel room--having earlier sent Gonzalo an email saying We are the only ones who know you cannot do this, referring to the adoption. Now with an urgent case to solve, Brunetti reluctantly untangles the long-hidden mystery in Gonzalo's life that ultimately led to murder--a resolution that brings him way more pain than satisfaction. Once again, Donna Leon brilliantly plumbs the twists and turns of the human condition, reuniting us with some of crime fiction's most memorable and enduring characters.
Frequently bought together
Frequently Asked Questions About Unto Us A Son Is Given: A Comissario Guido Brunetti Mystery
Book Reviews
(8)
Did you read Unto Us A Son Is Given: A Comissario Guido Brunetti Mystery? Please provide your feedback and rating to help other readers.
A little murder and a lot of thought

Derived From Web

, Mar 29, 2019

I liked this book more than others in the series. The crime is more than half way through the novel and is almost forgotten. Donna Leon felt an obligation to include a murder, but she didn't feel like she was committed to it. She was committed to human feelings and human weaknesses, the claims and obligations of family, and the complications of love. In this novel, the delicious meals, the great sense of Venice and the pleasure of the company of really nice people are served up.
Not the Most Complex Leon Storyline

Derived From Web

, Mar 16, 2019

I'm between three and four stars on her book. Brunetti is one of my favorites. He never fails, she's developed him beautifully. His family life is also appreciated. Leon's depiction of Venice is a mini- vacation to one of my favorite places, and every single Leon character is magnificent. I'm wavering between three and four stars because of a storyline. Early on in the book, the killer was obvious to me. The relationship that led to the death of one character was found by me. It's not that I'm a super- sleuth because I don't read fiction to engage my brain. The plot wasn't as complex as most Leon works make it out to be. It's very transparent. The book is a great read and worth the trip to Venice to sip an espresso.
Perhaps Ms. Leon's finest novel.

Derived From Web

, Mar 15, 2019

I' ve read all of the Brunetti novels and they are always enjoyable. The explorations of the moral and ethical choices made by people and the effects of those choices have been seen mostly through the perceptive mind of Brunetti. The plotline may be slight, but that's not the point. The discussions of the issues are both fascinating and moving. The reader knows who the killer is, but that doesn't stop the inevitable climax from being very much to be enjoyed.
Not up to her usual high standard

Derived From Web

, Mar 12, 2019

It takes a long time to get to anything. There was too much introductory explanation. Lots of talk. I usually like Leon's careful descriptions of her characters' actions, but this time it was too much he put his hand on her knee, she put two fingers to her cheek. The conversation is accompanied by something that the character is doing. When a crime is committed, it gets more interesting, but it's only 23 in the book. It's still hard. Leon padded his story out with lots of conversations because he didn't have enough to meet the annual deadline.
Seems like an interesting departure

Derived From Web

, Mar 10, 2019

We are given brief tours of the city of Venice, as well as updates about Brunetti children, in- laws, workmates, and the amazing signorina. The items make one feel at home in the story. One surprise that hardly seems like a surprise is what the story is all about. Brunetti's thoughts are more deep as he ages. These are people who are with us. I would have liked more of a story. The next Brunetti is something I look forward to.
Little of Venice and no mystery

Derived From Web

, Mar 8, 2019

I have loved Donna Leon books for a long time. There were many plot lines in the first books about Venice. But no more. The most recent two books have been almost plotless, since she started harping on topics. I swore after her memoir that I wouldn't buy any more from her. This time, I succumbed. No more. If you want to read more than a few books, read the first dozen. You should skip the last 10 or so. I could not give any stars.
Not a mystery - a study of Venetian lore?

Derived From Web

, Mar 5, 2019

Donna Leon is unfocussed and the twist at the end is unpleasant. This is a story of deliberate, vicious cruelty revenge which is not clearly explained. There is a slip of the tongue in chapter 25 by a suspect who is not taken into custody by Brunetti. The secondary plot was dismissed. Why are they three stars? Leon's tales of Venice and Venetians are always enjoyable to follow.
Slow Moving and Tired

Derived From Web

, Dec 25, 2018

I think Ms Leon has forgotten that she is writing a murder mystery. A murder doesn't happen until the novel is two thirds of the way through, and the victim is someone from left field. The story involves an elderly gay man and best friend of Brunetti's father- in- law who decides to adopt his younger lover as his son, much to the displeasure of his friends and family. The killer is obvious from the beginning and the motive is obvious as soon as the murder occurs. There is a lot of filling here, walks, meals etc. This is the worst Brunetti novel I have ever read, but it always has a good story. Slow moving. It still reminds me of Venice.