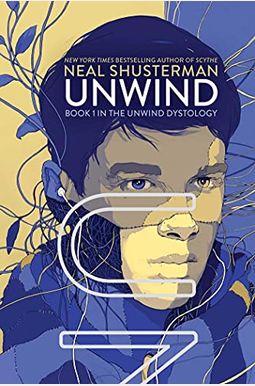  
Book Overview
This Description may be from another edition of this product.
The first twisted and futuristic novel in the perennially popular New York Times bestselling Unwind dystology by Neal Shusterman.
In America after the Second Civil War, the Pro-Choice and Pro-Life armies came to an agreement: The Bill of Life states that human life may not be touched from the moment of conception until a child reaches the age of thirteen. Between the ages of thirteen and eighteen, however, a parent may choose to retroactively get rid of a child through a process called unwinding. Unwinding ensures that the child's life doesn t technically end by transplanting all the organs in the child's body to various recipients. Now a common and accepted practice in society, troublesome or unwanted teens are able to easily be unwound.
With breathtaking suspense, this book follows three teens who all become runaway Unwinds: Connor, a rebel whose parents have ordered his unwinding; Risa, a ward of the state who is to be unwound due to cost-cutting; and Lev, his parents tenth child whose unwinding has been planned since birth as a religious tithing. As their paths intersect and lives hang in the balance, Shusterman examines complex moral issues that will keep readers turning the pages until the very end.
Frequently bought together
Frequently Asked Questions About Unwind
Book Reviews
(17)
Did you read Unwind? Please provide your feedback and rating to help other readers.
Wonderful Story

Derived From Web

, Apr 20, 2022

Confused, I found this book and figured it's for young adults, which I am not, and was so surprised. Like the Hunger Games, we're talking about a young girl who has no interest in sports. The other two books were also great. Ripped through both with one day's work. What a lie, my self sneaking off to the loo to read. In a move that has outraged parents, the kids can now be let go by their parents by signing an unwind contract. That means they will be cut up and their body parts will be used in transplants for others in need of them. Obviously this does not settle well with some kids and we need to get serious about it. 0 1 3622 6490 This is clearly a conspiracy and I am ashamed of it. 0 2393 3622 If this were to happen to some kid, it would be very serious." The fifth and final volume of the "Divergent" series will be released in October. We're thrilled to be working with such a great team, said Blair.
Dystopian future lovers look no further!

Derived From Web

, Apr 20, 2022

Before the first Hunger Games was out, I was a huge fan of the series. So I'm always looking for new books to fill my dystopian future fix. And, for me, the most difficult book to compare to Harry Potter and the Philosopher's Stone comes up short. The Divergent Series: Allegiants has grossed over $2 billion worldwide and been nominated for four Academy Awards. It's just that I fell in love with the book from the very first page. The whole concept is so crazy and seems so inhuman, but I could not put it down. Now I am almost finished with the third and final book, "Unsouled."
A Beautifully Written Book . . .

Derived From Web

, Apr 20, 2022

Beautifully written and executed, The Fifth is a great story. It takes second place on my list of favorite books, just behind Against Medical Advice by Hal Friedman and James Patterson. It was a tough book to set up. I stayed up until 4 a.m. in the morning most nights reading this book. Everything happens just as it's supposed to in the end, and until the last word, Tunick said. The twists and turns that are peppered throughout the book are just that. It was like I was watching it in my head. Also, I like the way the book is laid out. It tells you whose to look through, to see what they see, feel their feelings, think their thoughts, and react to events. A great book. I can't say anything more, Sosa said.
Excellent book

Derived From Web

, Apr 20, 2022

It was my teenage son who asked me to buy the book. Because he wasn't ready to read it, I started it. I recommend that you read the entire story, "A Great Work of Fiction." What a bizarre idea of being able to unwind a teenager, Michael Mosley writes. Whether or not you think your teenager should be handled by a parent, you are probably not alone. The book is presented in a way that makes it all the more disturbing and terrifying, Raymond said. It's just too dangerous for teenagers who have nightmares. Even though it may make for some unsettling thoughts, your thoughts will probably stay with you for a while. It's great to see parents and teenagers having a good time, said Blair. It's going to provide an unusual topic for conversation between you. 0 20622270 The boys are certainly going to have an interesting conversation.
One of the most important novels I've ever read

Derived From Web

, Apr 20, 2022

For other writers who want to tackle social issues in their writing, Shusterman's fictional discussion of abortion should be the standard. It never bled through. I found the writing to be very well done, even if the tense took some getting used to, and the scene with Roland's unwinding still gives me chills, even though I don't say that lightly. This is one of a few books I have physically read that affected me physically to the point where I could not put it down.
Think carefully before donating your parts!

Derived From Web

, Apr 20, 2022

In a world where you can send your kids between 13 and 18 years to become body parts, where every disease or disorder can be corrected, human imperfections are the limit, the sky is the limit. until one day these kids retaliate and refuse to become Unwind. The book follows the exploits of the rebel, Risa the orphan and the brave, Dr. Connor, who was born with the sole purpose to be Unwind. Shusterman has got some very clear, interesting ideas and it always blows my mind how he can think of these things and put it into words. Insane! It's great to be back home, said Blair.
Shaky premise, good book.

Derived From Web

, Apr 20, 2022

I thought the premise for this book was a bit unbelievable, but the only reason I didn't give it five stars was because I found the book too good. In exchange for taking away an abortion, doctors would extract tissue from a woman's dead body between the ages of 13-18. In Whose mind would this be better? It started to make sense at the end, and it was so good. There are a lot of them. There were a lot of mini- climaxes. Imagine, for example, what would happen if parts of a book were split into smaller sections. It's great to be back home, read the book. I think it really makes you think.
Unwind (book one)

Derived From Web

, Mar 14, 2022

At first you think of how weird this unwinding thing is. But the uncomfortable feeling that even though unwinding is a fictional act, there are disturbing realities we see in our own world today that can be similar to unwinding! And that really hits you when the emotions hit you. You have your own ideas on what life is and when it starts, or what really happens when we die. This story really makes one think deeply about your own mortality and how we view life itself. What an excellent read, I'll have to get my hands on that one again.
Hits on some today time problems

Derived From Web

, Aug 16, 2021

Definitely a food for thought, Mr. Rule told the judge. It's a great read, just for the dystopian fiction, but hits home on many of the problems we are facing as a society today.
Couldn't put down

Derived From Web

, Jun 10, 2021

This was a fast paced, pulled you in and didn't let you go. 0 3171127 3171480 This was a fast paced, did not let you go novel. I used it for a class project. The people at Tech did a great job, said Robert W. Kennedy, IBM's executive vice president. This was far and away their favorite one all year.