Buy 3 Get 1 Free
Our Best Sale Yet! Add 4 Books Priced Under $5 To Your Cart     Learn more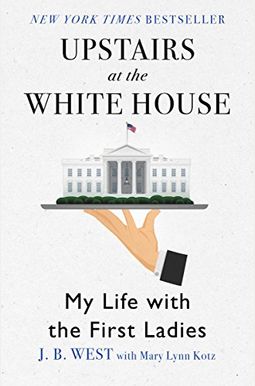  
Upstairs At The White House: My Life With The First Ladies
Book Overview
In this New York Times bestseller, the White House chief usher for nearly three decades offers a behind-the-scenes look at America's first families.
J. B. West, chief usher of the White House, directed the operations and maintenance of 1600 Pennsylvania Avenue--and coordinated its daily life--at the request of the president and his family. He directed state functions; planned parties, weddings and funerals, gardens and playgrounds, and extensive renovations; and, with a large staff, supervised every activity in the presidential home. For twenty-eight years, first as assistant to the chief usher, then as chief usher, he witnessed national crises and triumphs, and interacted daily with six consecutive presidents and first ladies, as well as their parents, children and grandchildren, and houseguests--including friends, relatives, and heads of state.

J. B. West, whom Jackie Kennedy called one of the most extraordinary men I have ever met, provides an absorbing, one-of-a-kind history of life among the first ladies. Alive with anecdotes ranging from Eleanor Roosevelt's fascinating political strategies to Jackie Kennedy's tragic loss and the personal struggles of Pat Nixon, Upstairs at the White House is a rich account of a slice of American history that usually remains behind closed doors.

Frequently bought together
Frequently Asked Questions About Upstairs At The White House: My Life With The First Ladies
Books like Upstairs At The White House: My Life With The First Ladies
Book Reviews
(10)
Did you read Upstairs At The White House: My Life With The First Ladies? Please provide your feedback and rating to help other readers.
An unbiased look at the first families

Derived From Web

, Apr 21, 2022

The first thing that struck me when I read Upstairs at the White House, was that J.B. West spoke in a very factual way. He wrote of the way things happened, but didn't say why decisions were made. He wrote without criticism and yet, I felt that he had an admiration for the first lady, Mrs Clinton said. He showed the continuity of how things work in the White House and how flexible there is also, as long as there is not a complete break with history. Mr. West was speaking directly to me, not in a stilted way, Mr. O'Neill said. This book was enjoyable to read without innuendos or rumors, Robert said. The book is not, however, about the running of the White House during a number of administrations.
Fascinating!!

Derived From Web

, Apr 21, 2022

This book really gives one an idea about how life was lived and is still today. The families obviously changed with each administration but to see how their personalities played out on the inside is really interesting. This writer saw them as real people who they really were and how they acted. So often the president and his family come across as almost unreal. Yes, they are human and they have their good and bad points, but I would imagine that they would be very happy. The Presidents that he served were an interesting lot with all their activities and their very different points of view, he said. One has no idea how frantic the people who serve in the White House have to live with all the various activities that take place there. If you are a history buff, this book is for you.
....... it's like being inside the White House behind the scenes !!!

Derived From Web

, Apr 21, 2022

It was a book of love and respect for the First Ladies with whom Mr. J.B. West worked. To benefit the reader, the book briefly explains rules and regulations, provides explanations of protocol, policies and procedures and enlightens us with historical facts. The book not only gives a wonderful, humorous, warm and human side to our First Ladies, it also serves as a great primer for future generations. The Ladies were intelligent, charming, ingenious, and more involved in projects and decision-making than I'd have ever guessed. You come away with a greater respect for all, Raymond said. As I reached the 'JBK' section, my generation's first, First Lady, all that Mr. West shared about her will stay in my heart forever. This is an AMAZING book _ I LOVED it and read it twice, very unusual for me _ but it was so packed with information that I didn't want to miss anything! In the past, I have not read any books about Jackie Kennedy but now it seems like a good time to start, he said.
A remarkable story of service to the First Families

Derived From Web

, Apr 21, 2022

Really good book. However, I am not one of these people who are huge history buffs or study the all that closely prior to JFK. But I love a great story told by the one who was there and that is J.B. West, Rosa said. It was a total mockery of justice, Mr Hughes said. Mr. West's book, "The Kennedys," was praised by friends and family for its "insight and compassion." If you enjoy stories about those unique people who serve our nation by proudly and discreetly serving the First Families, you will love this book. It was a total fluke, Mr. Rule told the judge.
An Enjoyable Insider Look

Derived From Web

, Apr 21, 2022

Yes, I am a history vulture. It was a great deal of fun, said Christina Long, executive director of music for AOL Europe. From Franklin and days when a First Lady could still take regular transportation and walk all over Eleanor town through Truman who could still walk across the street to work, it is dismaying that the Presidents and their families now have to live so remotely from the rest of us. All of the presidents and their families were very interesting without regard to party affiliation, Hollings said. It gave me more information about the women I know as presidential accessories, Nancy Reagan said.
Loved this book!

Derived From Web

, Feb 27, 2020

This book is a great review of the inside story of our First families from Roosevelt through the early years of Richard Nixon. The book was written by J.B. West, the Chief Usher. I'm a history buff, but thoroughly enjoyed re-learning some of the great untold stories of Abraham Lincoln.
Personal insights on past occupires of the white house !

Derived From Web

, Feb 5, 2019

Loved reading the personal details of the first ladies and the presidents of that era, Nancy Reagan wrote. Didn't realize how much it takes for a chief Usher to make everything come together as one president comes in and the other out! Each couple and family has their own desires and touches on the white house, Tunick said.
A Superficial Look at the First Families

Derived From Web

, Nov 28, 2018

I first read J.B. West's book when I was a teenager, some forty years ago, and I enjoyed it. Still, it's nice to get a glimpse of such neglected figures as Bess Truman and Mamie Eisenhower, and West's portrait of the Jacqueline Kennedy almost does her justice.
Educational, Partisan-free peek into the inner sanctum of The White House

Derived From Web

, Mar 21, 2018

This book was a wonderful look into life in the White House, Barbara Walters said. There is no politics, no gossiping, no name calling. Well, first of all, I was disappointed when I read the last word. His widow, Janet, said he worked in the White House for 28 years. He was responsible for running the White House—a Property Manager Miracle Worker, Mr. West kept the lights on and the grass cut. As deputy speaker, he was also charged with being the First Lady's right-hand-man. Fascinating insights into six different First Ladies, from Roosevelt to Nixon. A must-have for any history buff.
I have really enjoyed this book

Derived From Web

, Sep 14, 2017

I really enjoyed this book, Morgenthau said. I'm not usually a book buyer, but this was a nice surprise. His wife said the stories of President Bush's family life in the White House were very, very interesting. It put a smile on my face that I will never forget. I would definitely recommend it to a friend.